EMICoin Review: BitCoin based faux-mining Ponzi scheme

EMICoin, which stands for "Europe Mining Infrastructure Company", provide no information on their website as to who owns or runs the business.
The EMICoin website domain ("emicoin.com") was registered on the 15th of November 2014, however the domain registration is set to private.
A UK Companies House registration number is present in the footer of the EMICoin website (9603585).
Records show "Europe Mining Infrastructure Limited" was registered with the provided registration number on the 21st of May, 2015.
The address used to register Europe Mining Infrastructure Limited however is that of virtual office space in Hertfordshire, London.
Listed as the sole Director of EMICoin in the registration is Tan Eng Sion. Eng Sion's country of residence is listed as Singapore, which is likely where EMICoin is being operated from.
It is extremely unlikely that EMICoin has any actual physical presence in the UK.
Why Eng Sion has registered EMICoin with a virtual office space address in the UK is unclear. Ditto why Eng Sion's name does not appear anywhere on the EMICoin website as the Director of the company.
I was unable to find any further information on Tan Eng Sion. Whether or not he has any previous experience in MLM is unknown.
Read on for a full review of the EMICoin MLM business opportunity.
The EMICoin Product Line
EMICoin has no retailable products or services, with affiliates only able to market affiliate membership with the company itself.
The EMICoin Compensation Plan
The EMICoin compensation plan sees affiliates deposit BitCoin on the promise of advertised "fixed profit" ROIs.
ROIs are paid out daily, with how much of a ROI paid out determined by how much an EMICoin affiliate invests:
0.001 to 3 BTC (24 cents to $732 USD) – 1.72% ROI daily
3 to 15 BTC ($732 to $3662 USD) – 2.15% ROI daily
15 to 60 BTC ($3662 to $14,649 USD) – 2.6% ROI daily
60 or more BTC ($14,649 USD or more) – 3.5 to 4.5% ROI daily (only variable ROI)
There does't appear to be any cap on the ROIs advertised, with payouts assumed to be made indefinitely.
Referral commissions are paid out on investments made by recruited affiliates, paid out down three levels of recruitment (unilevel):
level 1 (personally recruited affiliates) – 5%
level 2 – 3%
level 3 – 2%
Joining EMICoin
Affiliate membershp with EMICoin is free, however affiliates must invest BitCoin if they wish to participate in the income opportunity.
As such the defacto minimum cost of EMICoin affiliate membership is 0.001 BTC (24 cents USD).
Conclusion
With each new investor, the system continues to grow, which benefits both current and future participants.
EMICoin claim to be
a world class network and software development company, designs and operates networks that power the bitcoin block chain system
Despite the implication that EMICoin are mining BitCoin to pay the ROIs they advertise though, upon scrutiny the facade doesn't hold up.
For starters, despite claiming to 'mine anonymously with 10 Peta Hash on different nodes', there's no information provided to verify the claim.
For security reasons, we do not disclose the exact location of our mining farms.
Riiiiiiiiight.
Then there's the whole UK registration thing, when EMICoin is obviously being run out of Asia.
To that end EMICoin functions rather as a BitCoin Ponzi sinkhole.
Affiliates invest bitcoin to generated "unique wallet addresses", and are then at the discreionary mercy of EMICoin.
And of course being BitCoin, any recourse that might otherwise be granted to investors is unavailable.
Perusal of the EMICoin website lists recent daily ROIs in the vicinity of 3.56% (June 22nd) to 4.42% (June 19th).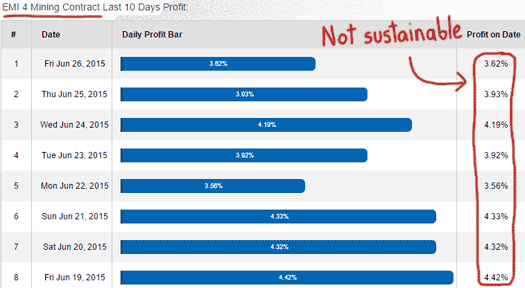 Needless to say that this amount of ROI is not feasible through BitCoin mining alone.
The only other explanation, given the information provided on the EMICoin website, is that all they are doing is using newly invested funds to pay off existing investors.
This of course would make EMICoin a Ponzi scheme.
As with all Ponzi schemes, once new affiliate investment dries up EMICoin will find themselves unable to meet their advertised daily ROI obligations.
And a review of EMICoin's Facebook page suggests this might already be happening:
23rd June – login withdraws etc. nothing is working because account seems to be deleted.. no answer from support…

24th June – EMICoin 100% SCAM! do not give him money, he stole my money bitch. I'll help you die thing.

25th June –  I cant login 2 6 days ago

27th June – SCAM AFTER 06.22.2015 JUST SAVE WITHDRAWAL REQUESTS AND NEXT DAY EVERYTHING COME BACK TO BALANCE !!! SUPPORT DOESN'T RESPOND STAY AWAY!
Sounds like Tan Eng Sion might have already done a runner…