DGPBot Review: Rebooted crypto trading bot securities fraud

DGPBot fails to provide company ownership or executive information on its website.
DGPBot's website domain ("dgpbot.com"), was first registered in 2020. The domain registration was last updated on January 26th, 2022.
Toto Dinar Wijaksono of PT. Hayuning Indo Tech is listed as the owner, through an address in Megelang, Indonesia.
From what I've been able to put together, Wijaksono operates out of Indonesia and has put together multiple trading bot investment schemes.
DGPBot launched in mid 2021, alongside DigiBot last year.
An October 2021 press-release names Zainul Wasti as the scheme's "top leader":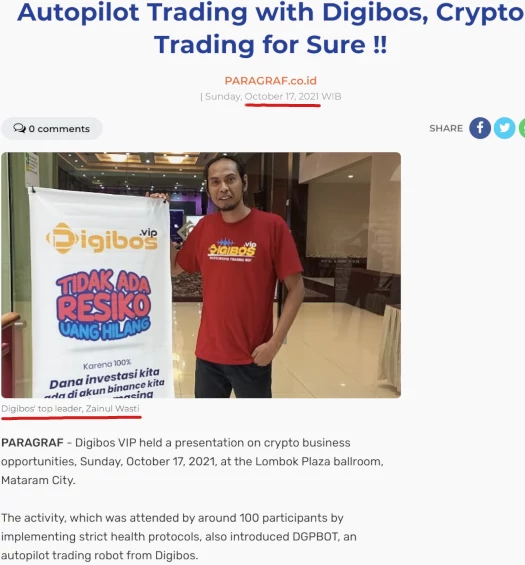 Toto Wijaksono is cited as owner of the company;
Digibos presents the Digibos Trading Platform called DGPBOT Autopilot, a robotic application for crypto trading that has been tested for excellence and success.

The event was also attended by the owner of Digibos, Toto Dinar Wijaksono who was specially asked to be the main speaker.
Digibos operated from "digibos.vip", offering investors passive returns through its "DGPBot" trading bot.
Launched on or around June 2021, Digibos lasted less than six months. After it collapsed, Digibos was rebooted as DGPBot in early 2022.
Between Digibos and DGPBot there might have been a short-lived Dgibos reboot (no "i"), operating from "dgibot.co" (circa Oct/Nov 2021).
Another company name worth noting is DGPaytech;
DIGIBOS is an amazing AUTOPILOT TRADING ROBOT.. Created By DGPaytech.com Under license of Hyuning Tech of Indonesia.
The above is from a Digibos YouTube promo video dated August 5th, 2021. DGPaytech's website domain has since been disabled.
Hayuning Indo Tech operates from "hayuningindotech.com". It's a faceless blockchain bro company that represents it's behind DGPBot and other crypto scams:

If Toto Wijaksono is behind DGPBot, then it follows he owns Hayuning Indo Tech too.
Finally we have "dgptrading.com", a poorly set up DGPBot support website set up in late 2021.

Due to language barriers, tracking down Toto Dinar Wijaksono presented a challenge.
Last September, Digibos held a potato-quality livestream featuring "Digibos leaders":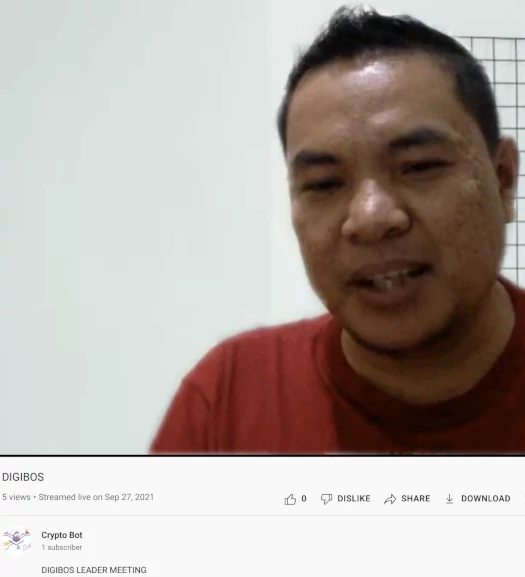 The guy above had the Zoom account "TDW", which I believe corresponds to Toto Dinar Wijaksono.
As always, if an MLM company is not openly upfront about who is running or owns it, think long and hard about joining and/or handing over any money.
DGPBot's Products
DGPBot has no retailable products or services.
Affiliates are only able to market DGPBot affiliate membership itself.
DGPBot's Compensation Plan
DGPBot affiliates pay for rolling two-month trading bot subscriptions
DGPBot offers four subscription tiers, all of which are paid in tether (USDT):
Sapphire – $100 USDT every 2 months, can trade up to $1000 USDT
Ruby – $300 USDT every 2 months, can trade up to $3000 USDT
Emerald – $500 USDT every 2 months, can trade up to $5000 USDT
Diamond – $1000 USDT every 2 months, can trade up to $25,000 USDT
DGPBot pays commissions on bot subscriptions down three levels of recruitment (unilevel):

level 1 (personally recruited affiliates) – 20%
level 2 – 5%
level 3 – 1%
Recruitment Bonus
DGPBot affiliates earn a recruitment bonus if they meet set subscription sales targets:
recruit at least seven affiliates who spend $2500 USDT on subscriptions, within 30 days of joining = $250 recruitment bonus
recruit at least seven affiliates who spend $5000 USDT on subscriptions, within 30 days of joining = $500 recruitment bonus
recruit at least seven affiliates who spend $10,000 USDT on subscriptions, within 30 days of joining = $10,000 recruitment bonus
Note that recruitment bonuses are tiered. Only the highest achieved tier is paid out.
Diamond Bonus Pool
DGPBot takes 3% of company wide monthly subscription volume and splits it into three smaller Diamond Bonus Pools.
Diamond tier affiliates qualify for shares in each pool by meeting set criteria:
Pool 1 (0.5%) – recruit and maintain 10 affiliates who together are spending at least $10,000 on subscriptions
Pool 2 (1%) – recruit and maintain 20 affiliates who together are spending at least $20,000 on subscriptions
Pool 3 (1.5%) – recruit and maintain 50 affiliates, who together are spending at least $50,000 on subscriptions
Joining DGPBot
DGPBot affiliate membership is tied to bi-monthly payment of ongoing subscription fees:
Sapphire – $100 USDT
Ruby – $300 USDT
Emerald – $500 USDT
Diamond – $1000 USDT
DGPBot appears to operate in tether.
DGPBot Conclusion
Putting everything thus far in this review together, Toto Dinar Wijaksono appears to have downloaded a trading script from somwhere – and he's not flogging it for all it's worth.
DGPbot is an automated crypto trading bot that combines AI technology with our unique trading algorithms.

DGPbot will auto-execute based on Telegram signal groups and TradingView alerts.
The game-plan seems to be launch the bot, wait for the bot to blow up, and then relaunch under a different name.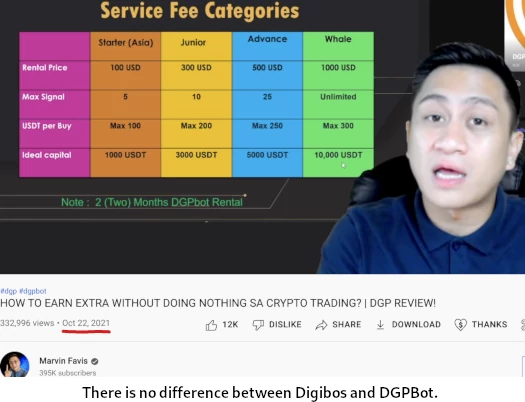 DGPBot marketing suggests the scam was primarily being pitched to Indonesians. Now that DGPBot has collapsed (again) in Indonesia, the scam has migrated to the US and Philippines:
At a bare minimum, DGPBot is offering a passive investment scheme: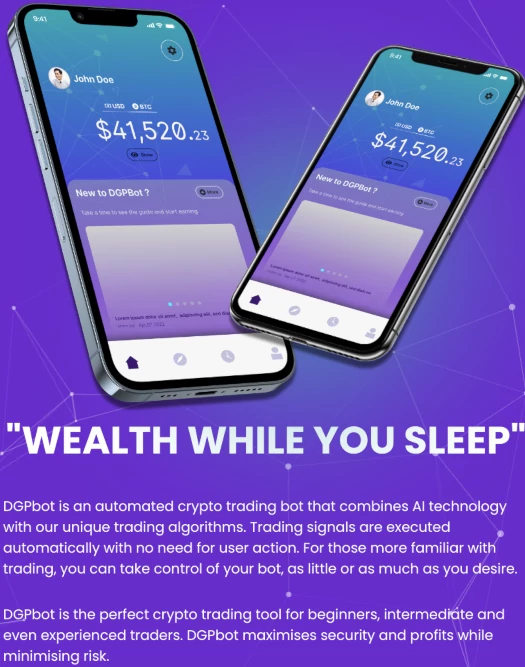 This constitutes a securities offering, meaning DGPBot has to register with financial regulators.
Securities in Indonesia, the Philippines and US are regulated by the Financial Services Authority, Philippine SEC and US SEC respectively.
DGPBot provides no evidence it has registered with any financial regulator, meaning that at a minimum DGPBot and Wijaksono are committing securities fraud.
Promoters of DGPBot should know that promotion of unregistered securities is also a crime.
MLM companies committing securities fraud are more than likely operating Ponzi schemes. This would see DGPBot manipulating trading on the backend, eventually resulting in an inevitable collapse.
When DGPBot is finished recruiting new suckers in the Philippines, their next scam is ready to go:
DGFX was supposed to launch in August. As far as I know that hasn't happened.
Whenever DGFX does launch, expect another DGPBot reboot with a new coat of paint (crypto trading –> forex trading).