CryptZek Review: Hourly/daily ROI Ponzi scheme

CryptZek provides no information on their website about who owns or runs the business.
CryptZek's website domain ("cryptzek.com") was privately registered on March 27th, 2019.
On their website CryptZek claims to be
an investment company registered in the United States Of America, under the Accounting and Corporate Regulatory Authority (ACRA) with Registration Number 10874403.
ACRA is a Singapore regulatory body that has nothing to do with the US.
Furthermore even if you punch in the supplied registration number on ACRA's website, nothing comes up: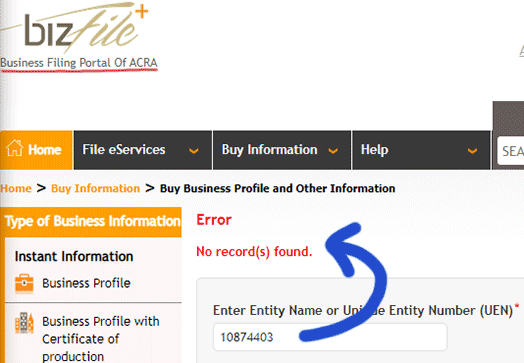 As always, if an MLM company is not openly upfront about who is running or owns it, think long and hard about joining and/or handing over any money.
CryptZek's Products
CryptZek has no retailable products or services, with affiliates only able to market CryptZek affiliate membership itself.
CryptZek's Compensation Plan
CryptZek affiliates invest funds on the promise of advertised hourly and daily returns.
Premium Market Plan – invest $500 or more and receive a 104.5% ROI in two hours
Silver Market Plan – invest $300 or more and receive a 105% ROI in two days
Gold Market Plan – invest $700 or more and receive a 107% ROI in five days
UltraModern Market Plan – invest $1000 or more and receive a 109% ROI in seven days
CryptZek advertise they pay referral commissions on invested funds down two levels of recruitment:
Our affiliate program is so well paying, it would be a big loss not to use it!

In fact, we pay not just one, but 2 LEVELs deep!
The company however only specifies a 10% referral commission on funds invested by personally recruited affiliates (level 1).
The level 2 referral commission rate is not provided.
Joining CryptZek
CryptZek affiliate membership is free.
Full participation in the attached income opportunity however requires a minimum $500 investment.
CryptZek accepts both fiat and cryptocurrency payment.
Conclusion
With their lies about being registered in the US, right off the bat CryptZek engage in fraud.
That follows through with the company's compensation plan, which is your typical Ponzi offering.
In the absence of any external verifiable source of revenue, all CryptZek are doing is recycling newly invested funds to pay existing affiliate investors.
Despite the obvious fraudulent nature of CryptZek's business model, the company insists it's not a scam:
We are neither offering an HYIP, MLM or Ponzi scheme.

We are a profit-sharing venture helping one another grow in a harsh economy by providing a network that offers a unique partnership between the real cash kings and partners who are imperative to achieving our goals.
"Profit-sharing" is MLM underbelly speak for Ponzi scheme.
If I run an investment scheme and "profit share" newly invested funds with existing investors, that's still a Ponzi scheme.
As with all MLM Ponzi schemes, once affiliate recruitment dies off so too will new investment.
That will starve CryptZek of ROI revenue, eventually prompting a collapse.
The math behind Ponzi schemes guarantees that when they collapse, the majority of participants lose money.