Cryptonomics Capital Review: Unregistered securities ICO investment

Cryptonomics Capital operate in the MLM cryptocurrency and appear to be based out of Russia.
The company provides a corporate address in California on their website, however further research reveals a number of virtual office providers operating from this address.
Heading up Cryptonomics Capital is founder Nikolay Evdokimov.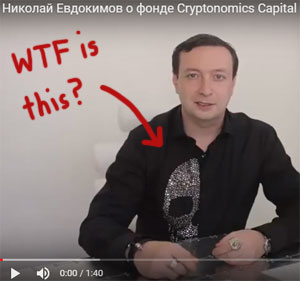 Evdokimov appears in a marketing video on the Cryptonomics Capital website wearing a sequined skull shirt and godfather rings:
Note the title of the video, hosted on the official Cryptonomics Capital YouTube channel, is mostly in Russian.
Pretty much all of the company's marketing material is in Russian and as per Alexa, Russia is currently the top source of traffic to the Cryptonomics Capital website (31%).
According to his Cryptonomics Capital corporate bio, Evdokimov has 'lots of experience in creating and developing innovative blockchain projects'.

Evdokimov's Twitter profile ("Nick Evdokimov") cites his location as California in the US.
In 2015 Evdokimov placed 11th in a list of Russia's "most successful young entrepreneurs".
Nikolay started his activities in search engine optimization (SEO) during his studies at Faculty of Energetics in Moscow State Technical University of Bauman.

He got big success in 2008 – soon after its launch, his service Seopult became a leader in the SEO market and started bringing $500 000 per month.

Further, the revenue has been doubling on an annual basis. In 2013, last year, when Pult Group (the name of the holding that combines assets of Evdokimov and other shareholders at Seopult) was disclosing its financial indicators, the revenue increased by more than 80% and exceeded $50 mln.

Last year Seopult seemed to reach its ceiling – its growth has slowed down.

According to the latest data, the revenue of the service was around $53 mln adapted to the pre-crisis exchange rate, which means $30 mln with the current level of exchange rate.
I wasn't able to tie Evdokimov to the MLM industry, suggesting Cryptonomics Capital is his first network marketing venture.
Read on for a full review of the Cryptonomics Capital MLM opportunity.
Cryptonomics Capital Products
Cryptonomics Capital has no retailable products or services, with affiliates only able to market Cryptonomics Capital affiliate membership itself.
The Cryptonomics Capital Compensation Plan
Cryptonomics Capital affiliates invest 0.07 BTC or more on the promise of a 50% to 700% ROI.
Portfolio 1 – invest 0.07 BTC or more and receive a 50% ROI in 2 months
Portfolio 2 – invest 0.07 BTC or more and receive a 700% ROI in 4 to 8 months
Cryptonomics Capital pay referral commissions via a unilevel compensation structure.
A unilevel compensation structure places an affiliate at the top of a unilevel team, with every personally recruited affiliate placed directly under them (level 1):

If any level 1 affiliates recruit new affiliates, they are placed on level 2 of the original affiliate's unilevel team.
If any level 2 affiliates recruit new affiliates, they are placed on level 3 and so on and so forth down a theoretical infinite number of levels.
Cryptonomics Capital cap payable unilevel levels at four, with commissions paid out as a percentage of funds invested as follows:
level 1 (personally recruited affiliates) – 4%
level 2 – 3%
level 3 – 2%
level 1 – 1%
Cumulative Bonus
The Cumulative Bonus is a monthly bonus that pays a percentage of downline ROI volume.
How much of a percentage is paid out is determined by accumulated ROI volume paid to recruited affiliates:
20 BTC = 1%
40 BTC = 1.5%
65 BTC = 2%
95 BTC = 2.5%
125 BTC = 3%
Joining Cryptonomics Capital
Cryptonomics Capital affiliate membership is free, however free affiliates only earn referral commissions.
Full participation in the Cryptonomics Capital MLM opportunity requires a minimum 0.07 BTC investment.
Conclusion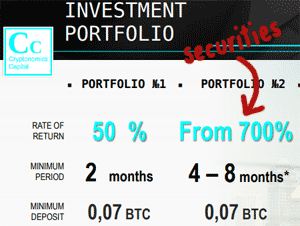 Cryptonomics Capital claim to have
built the team of professionals from various fields united by their interest to blockchain entrepreneurship and technological startups.
Unfortunately they seem to have left out anyone remotely familiar with securities law or regulatory compliance.
Cryptonomics Capital claim to generate ROI revenue through ICO investment and selling ICO tokens on the stock exchange (???).
Portfolio 1 sees the Cryptonomics Capital claim to invest in tokens, something something 300% profit, 25% discount and then ROI: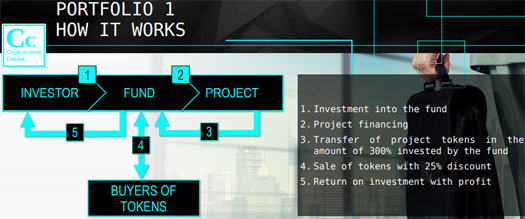 Portfolio 2 sees the company claim to invest in ICO tokens which are then sold on the "stock exchange":

Putting aside the fact you can't sell ICO tokens on a stock exchange, the company provides no evidence of any ICO investment activity.
Furthermore, neither Cryptonomics Capital or Nikolay Evdokimov are registered to offer securities with the SEC.
At best this sees Cryptonomics Capital and Evdokimov violating federal securities law.
At worst Cryptonomics Capital are violation federal securities law and running a Ponzi scheme.
At a minimum Cryptonomics Capital are operating as a pyramid scheme, having no products or services marketed to or sold to retail customers.
Given the lack of disclosure, it's highly probably all Cryptonomics Capital are doing is using newly invested funds to pay off existing investors.
A token level of ICO investment might be happening, but without legally required disclosure who knows.
In any event should affiliate investor recruitment slow down, it's highly likely Cryptonomics Capital will be unable to meet its advertised ROI obligations.
This will prompt a collapse, resulting in the majority of investors losing money.
Given the use of bitcoin and Cryptonomics Capital's evidently strong ties to Russia, in the event of collapse victim fund recovery is highly unlikely.