Crypto Mining Review: 48 month daily returns Ponzi

Crypto Mining provides no information on their website about who owns or runs the company.
Crypto Mining's website domain ("crypto-mining.biz") was registered on February 18th, 2020.
The domain is registered to "Crypto Mining LTD", through an incomplete address in London, UK.
The UK corporate address provided on Crypto Mining's website belongs to I-Support Business, a virtual office services provider.
In an attempt to appear legitimate, Crypto Mining provides a UK incorporation number on their website.
This number corresponds with Crypto Mining LTD, which was incorporated on February 19th, 2020.
UK incorporation is dirt cheap and effectively unregulated. It is a favored jurisdiction for scammers looking to incorporate dodgy companies.
In Crypto Mining's whitepaper, the company identifies "Morgan Finch" as its CEO.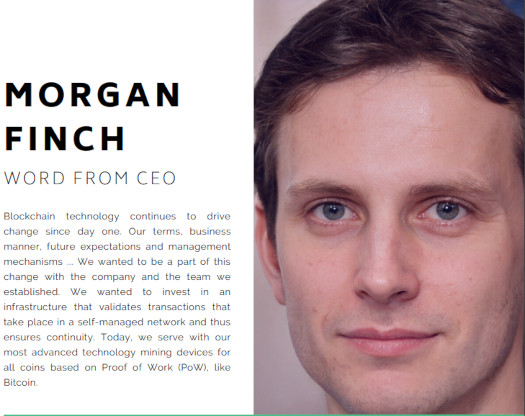 Finch has supposedly
worked with numerous brands, from Fortune 500 companies to reputable startups including Google, Microsoft, SONY, NFL, NYU, P&G, Fleet Bank and NASA.
Oh and he also
has columns in Forbes, Entrepreneur, The New York Times, and American Express.

He has made numerous media appearances, from Bloomberg and Reuters to ABC News and CNN.
You can verify yourself that none of this exists, casting considerable doubt on whether Finch, as represented by Crypto Mining, himself exists (spoiler: he doesn't).
At the time of publication Alexa cites Venezuela (11%), Brazil (11%) and Russia (8%) as the top three sources of traffic to Crypto Mining website.
Crypto Mining's official Facebook account is primarily managed from Bangladesh.
As always, if an MLM company is not openly upfront about who is running or owns it, think long and hard about joining and/or handing over any money.
Crypto Mining's Products
Crypto Mining has no retailable products or services, with affiliates only able to market Crypto Mining affiliate membership itself.
Crypto Mining's Compensation Plan
Crypto Mining affiliates invest funds on the promise of an advertised 48 month ROI, paid daily.
Bitcoin
Starter – $70
Advanced – $980
Superior – $5250
Ethereum
Starter – $102
Advanced – $1037
Superior – $5015
Litecoin
Starter – $108
Advanced – $1020
Superior – $5004
Dash
Starter – $95
Advanced – $1045
Superior – $5035
Dogecoin
Starter – $120
Advanced – $1050
Superior – $5550
ZCash
Starter – $128
Advanced – $1020
Superior – $5100
Referral Commissions
Crypto Mining pays a 5% referral commission on funds invested by personally recruited affiliates.
By qualifying as a Promoter, referral commissions are extended down three levels of recruitment (unilevel):

10% on level 1 (personally recruited affiliates)
4% on level 2
2% on level 3
Note that Crypto Mining does not provide Promoter qualification criteria.
Joining Crypto Mining
Crypto Mining affiliate membership is free.
Full participation in the attached income opportunity however requires an initial $70 to $5550 investment.
Conclusion
Crypto Mining claims to generate external revenue via "state of art mining facilities".
Operating in 6 countries, we have the latest technology infrastructures.

Facilities are sensitive to environment and social life, taking the advantage of government policy, weather conditions and cost advantages.
Crypto Mining also claims to have filed over one hundred and twenty patent applications.
We invest a major portion of our revenue on blockchain and crypto money research and has been the most patent application institution in the last 1 year.
No evidence for any of the marketing claims Crypto Mining makes is provided. Nor is there evidence of any other source of external revenue being used to pay returns.
There is one image of what appears to be a mining farm provided on Crypto Mining's website. A video on Crypto Mining's official YouTube channel also features a video walk through of a mining facility, claimed to be in China.
The only link to Crypto Mining in both instances are the obligatory freshly printed marketing banners.
Neither photos or videos of mining farms are actual proof of external revenue generation, or external revenue being used to pay returns.
As it stands the only verifiable source of revenue entering Crypto Mining is new investment.
Using new investment to pay affiliates a daily return makes Crypto Mining a Ponzi scheme.
As with all MLM Ponzi schemes, once affiliate recruitment dries up so too will new investment.
This will starve Crypto Mining of ROI revenue, eventually prompting a collapse.
The math behind Ponzi schemes guarantees that when they collapse, the majority of participants lose money.
It's important to note that specific to Crypto Mining, 48 months is an extremely long time.
The company's anonymous owners have plenty of time to do a runner with invested funds, leaving victims with no recourse.