Crypto 7 Continents Review: Global Trading Club clone Ponzi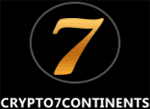 Crypto 7 Continents provide no information about who owns or runs the company on their website.
Marketing copy on the company's "about us" section on their website appears to be copy and pasted from the Global Trading Club website: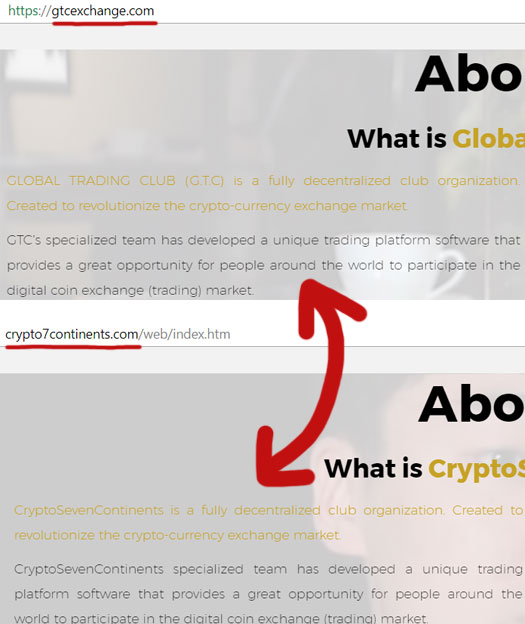 Further analysis reveals the Crypto 7 Continents website to practically be a clone of Global Trading Club's website.
Global Trading Club is a Ponzi scheme that launched in late 2016.
Global Trading Club affiliates invest $250 to $31,000 on the promise of a daily ROI for up to 475 days.
Reports of a collapse from Global Trading Club affiliates first surfaced in early May.
The Crypto 7 Continents website domain ("crypto7continents.com") was privately registered on June 13th, 2017.
As always, if an MLM company is not openly upfront about who is running or owns it, think long and hard about joining and/or handing over any money.
Crypto 7 Continents Products
Crypto 7 Continents has no retailable products or services, with affiliates only able to market Crypto 7 Continents affiliate membership itself.
The Crypto 7 Continents Compensation Plan
Crypto 7 Continents affiliates invest $500 to $10,000 on the promise of a 25% monthly ROI for 12 months.
In total there are six Crypto 7 Continents affiliate investment packages:
Basic – $500
Basic 2 – $1000
Medium – $3000
Medium 2 – $5000
Premium 1 – $8000
Premium 2 – $10,000
Recruitment Commissions
Crypto 7 Continents affiliates are paid a 15% to 30% recruitment commission when they recruit new affiliates who invest.
Basic and Basic 2 affiliates receive a 15% recruitment commission
Medium and Medium 2 affiliates receive a 20% recruitment commission
Premium and Premium 2 affiliates receive a 30% recruitment commission
Residual Commissions
Crypto 7 Continents pay residual commissions via a binary compensation structure.
A binary compensation structure places an affiliate at the top of a binary team, split into two sides (left and right):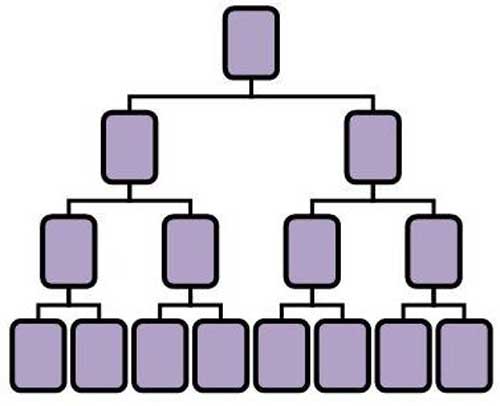 The first level of the binary team houses two positions. The second level of the binary team is generated by splitting these first two positions into another two positions each (4 positions).
Subsequent levels of the binary team are generated as required, with each new level housing twice as many positions as the previous level.
Positions in the binary team are filled via direct and indirect recruitment of affiliates. Note that there is no limit to how deep a binary team can grow.
At the end of each day Crypto 7 Continents tally up newly invested funds on both sides of the binary team.
Affiliates are paid a flat 10% of matched invested funds.
Matched funds are flushed, with leftover funds on the stronger binary side carried over.
Joining Crypto 7 Continents
Crypto 7 Continents affiliate membership is tied to an investment of $500 to $10,000.
Conclusion
As with Global Trading Club, the ruse behind Crypto 7 Continent's annual 300% ROI is cryptocurrency trading.
We have developed the best digital coin trading software in the market place, it allows to analyze trends and make multiple micro transactions per minute 24 hours a day 7 days a week obtaining earnings per every transaction.

We use our innovative technology to trade the top 20 digital currencies in the market place.

Once you become a member, our service is 100% automated so you can make money daily.

With our atomated [sic] trading software and monitoring system, trades are done automatic for members with no risk.
As with Global Trading Club, Crypto 7 Continents provide no evidence whatsoever of any cryptocurrency trading taking place.
Claims of "no risk" would no doubt be amusing to Global Trading Club victims, if it wasn't for the fact the majority of investors lost money in the scam.
I've seen rumors that former Global Trading Club investors Joel Castañeda and Cesar Castañeda are behind Crypto 7 Continents, but I was unable to verify this information myself. Regardless, it's pretty obvious whoever is behind Crypto 7 Continents obviously has or had ties to Global Trading Club.
Basically the same scam is going to play out again. Affiliates will invest on completely bogus claims Crypto 7 Continents feed them, and after a few months the money runs out.
For Global Trading Club the initial collapse hit about seven months in. The Global Trading Club website did go offline for a bit, but seems to have been resurrected with larger investment packages than originally offered.
Reload scams rarely last as long as their predecessors, so Crypto 7 Continents probably won't last half as long a second time around.
Especially if it's confirmed to be operated by Global Trading Club scammers.
Even if we discard apparent ties to Global Trading Club, the bottom line is Crypto 7 Continents is just another crypto trading Ponzi scheme.
People who can legitimately generate 300% annual ROIs don't waste their time launching Ponzi schemes. Much the less sharing it with randoms they solicit investment from over the internet.
And once you factor in recruitment and residual commissions, you realize the actual ROI required to sustain Crypto 7 Continents is even higher.
Combine that with currency trading of any kind certainly not being "no risk", and you're left with the same old Ponzi scenario: Admin(s) get rich and investors lose money.