Cryptify Trading Review: Telegram bot Ponzi
Cryptify Trading exists on the Telegram messaging platform and various social media channels.
The company has no website, and is run by persons unknown.
Cryptify Trading's use of euros to solicit investment suggests whoever is running the company is likely based out of Europe.
One possibility is Austria, which hosted Cryptify Trading's "global launch" last October: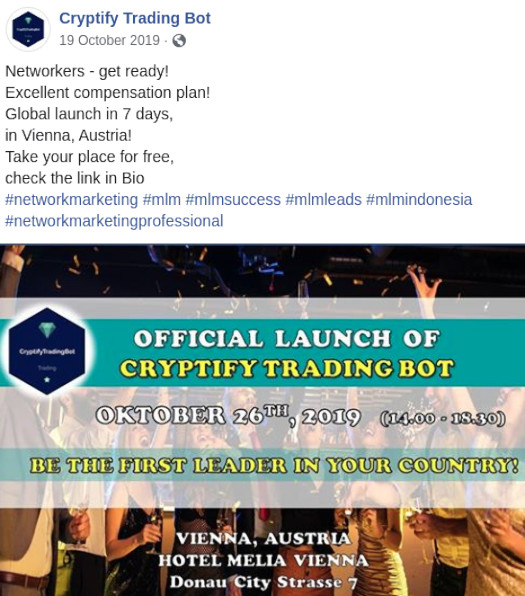 This is further supported by Austria's Financial Market Authority issuing a Cryptify Trading securities fraud warning last month.
The FMA's warning cites CTFY Trading LLC, which is purportedly operating through a Panama City address.
This is likely a shell incorporation for whoever is/was actually running Cryptify Trading from within Austria itself.
As always, if an MLM company is not openly upfront about who is running or owns it, think long and hard about joining and/or handing over any money.
Cryptify Trading's Products
Cryptify Trading has no retailable products or services, with affiliates only able to market Cryptify Trading affiliate membership itself.
Cryptify Trading's Compensation Plan
Cryptify Trading affiliates invest €100 to €50,000 EUR or more on the promise of a 4.9% weekly ROI, paid out for 18 months (~78 weeks).
Cryptify Trading Affiliate Ranks
There are nine affiliate ranks within Cryptify Trading's compensation plan.
Bronze
Silver
Gold
Platinum
Sapphire
Ruby
Emerald
Royal Star
Diamond
Double Diamond
Triple Diamond
Black Diamond
Carbonado Diamond
Note that Cryptify Trading does not provide qualification criteria in their compensation material.
Based on Cryptify Trading's business model however, it's likely that rank progression is tied to personal investment, recruitment and downline affiliate investment.
Direct Referral Commission
Cryptify Trading affiliates receive 10% of funds invested by personally recruited affiliates.
Rank progression increases direct referral commission rates as follows:
Bronze affiliates receive 12%
Silver affiliates receive 14%
Gold affiliates receive 16%
Platinum affiliates receive 18%
Sapphire affiliates receive 20%
Ruby affiliates receive 21%
Emerald affiliates receive 22%
Royal Star affiliates receive 23%
Diamond affiliates receive 24%
Double Diamond affiliates receive 25%
Residual Commissions
Cryptify Trading pays residual commissions via a binary compensation structure.
A binary compensation structure places an affiliate at the top of a binary team, split into two sides (left and right):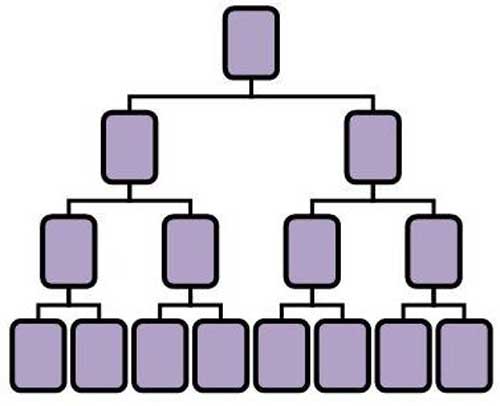 The first level of the binary team houses two positions. The second level of the binary team is generated by splitting these first two positions into another two positions each (4 positions).
Subsequent levels of the binary team are generated as required, with each new level housing twice as many positions as the previous level.
Positions in the binary team are filled via direct and indirect recruitment of affiliates. Note there is no limit to how deep a binary team can grow.
At the end of each day Cryptify Trading tallies up new investment
Bronze – 2%
Silver – 4%
Gold – 6%
Platinum – 8%
Sapphire – 10%
Ruby – 11%
Emerald – 12%
Royal Star – 13%
Diamond – 14%
Double Diamond and higher – 15%
Worldwide Share Bonus
Cryptify Trading takes 2% of company-wide investment and places it into three bonus pools;
Triple Diamond – 1%
Black Diamond – 0.7%
Carbonado Diamond Pool – 0.3%
How often the Worldwide Share Bonus is paid out is not disclosed in Cryptify Trading's compensation material.
Joining Cryptify Trading Bot
Cryptify Trading Bot affiliate membership is free.
Full participation in the attached income opportunity however requires a €100 to €50,000 EUR investment.
Conclusion
Cryptify Trading is a callback to Telegram Ponzi bots. These were a thing a few years ago and have mostly died out.
Typically Telegram shuts the bots down or they collapse after a few months.
Cryptify Trading Bot represents that it generates external revenue via cryptocurrency trading. Apparently there are some bullshit reports provided to affiliates each week, however this is not a substitute for audited accounting.
Nor is it a substitute for registration with financial authorities, which Cryptify Trading has not done.
The only reason an MLM company wouldn't register with authorities and operate legally, is if it isn't doing what it says it is.
In this case, that'd be using external revenue to pay a weekly return.
Furthermore Cryptify Trading's business model fails the Ponzi logic test.
If the company anonymous owners really had a bot capable of generating returns of up to 4.9% a week, why not just run the bot and become unbelievably rich?
It makes zero sense to whore out the golden goose for just €100 EUR a pop.
As it stands the only verifiable source of revenue entering Cryptify Trading is new investment.
Using new investment to pay existing affiliates a weekly ROI makes Cryptify Trading a Ponzi scheme.
As with all Ponzi schemes, once affiliate recruitment dies down so too will new investment.
This will starve Cryptify Trading of ROI revenue, eventually prompting a collapse. That or, as mentioned previously, Telegram will shut the bot down at some point.
Either way Cryptify Trading's anonymous owners will do a runner with the majority of invested funds. This is how every Telegram Ponzi bot scheme plays out.