CrypArena Review: 200% ROI Boris CEO Ponzi scheme

CrypArena provides no credible information on its website about who owns or runs the company.
CrypArena represents it is run by CEO "Oscar Moore".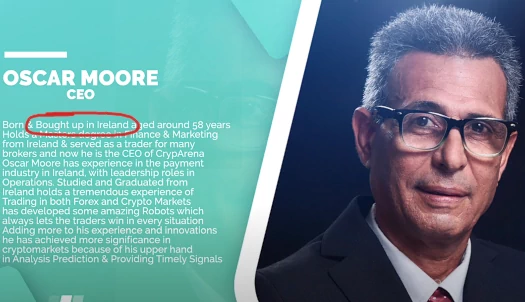 CrypArena's marketing has Moore "born & brought up in Ireland".
The very obvious actor playing Moore appears in a marketing video uploaded to CrypArena's official YouTube channel on September 2nd.
I can barely make out what he's saying in English, which why I assume the scammers behind the video only gave the actor two lines.
Anyway it should be obvious Moore doesn't exist, nor does the actor playing him come from Ireland.
I'm by no means an expert but CrypArena's marketing video and the people in it gave off strong Central or South American vibes.
Fake CEO actors in rented office space is typically the work of Russian and/or Ukrainian scammers.
CrypArena's tie to Russia/Ukraine comes by way of an admin account used in one of their marketing videos: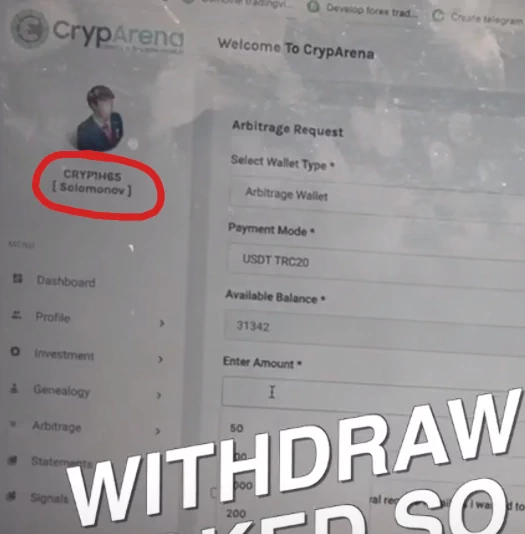 The name "Solomonov" appears as the account holder. CrypArena hasn't named any of its actors Solomonov so this is a fresh name.
This could just be a stab in the dark but one of our readers tied a Solomonov to the Russian Skyway Capital Ponzi scheme.
That I can't verify. What I can verify is:
CrypArena isn't operating from New Zealand as represented by their Regus virtual office address on their website;
none of the actors in the CrypArena marketing video have New Zealand accents; and
none of CrypArena's represented executives and staff are actual people.
CrypArena's website domain ("cryparena.com") was registered with bogus details on July 4th, 2021.
As always, if an MLM company is not openly upfront about who is running or owns it, think long and hard about joining and/or handing over any money.
CrypArena's Products
CrypArena has no retailable products or services.
Affiliates are only able to market CrypArena affiliate membership itself.
CrypArena's Compensation Plan
CrypArena affiliates invest cryptocurrency on the promise of a 200% monthly ROI.
Note that CrypArena's actual investment plans don't offer anywhere near 200% a month.
Alt Alpha AI – invest $25 to $20,000 and receive 1.8% to 2% a day for 120 days
Alt Aqua AI – invest $20,500 to $50,000 and receive 2.5% to 2.75% a day for 100 days
Alt Amaze AI – invest $50,500 to $100,000 and receive 3.25% to 3.5% a day for 80 days
Note that a 7% withdrawal fee is charged for both returns and commissions.
Referral Commissions
CrypArena affiliates earn 8% to 10% of cryptocurrency invested by personally recruited affiliates.
Referral commission rates are determined by how much an affiliate has invested:
Alt Alpha AI tier affiliates earn an 8% referral commission rate
Alt Aqua AI tier affiliates earn a 9% referral commission rate
Alt Amaze AI tier affiliates earn a 10% referral commission rate
Residual Commissions
CrypArena pays residual commissions via a binary compensation structure.
A binary compensation structure places an affiliate at the top of a binary team, split into two sides (left and right):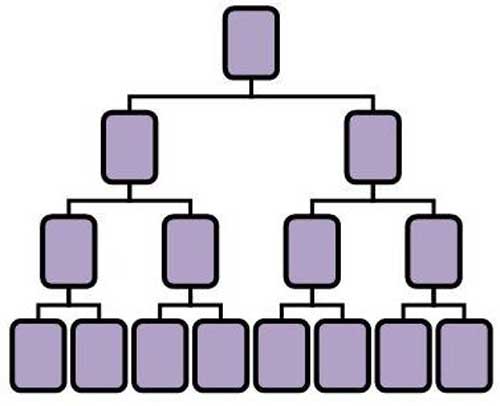 The first level of the binary team houses two positions. The second level of the binary team is generated by splitting these first two positions into another two positions each (4 positions).
Subsequent levels of the binary team are generated as required, with each new level housing twice as many positions as the previous level.
Positions in the binary team are filled via direct and indirect recruitment of affiliates. Note there is no limit to how deep a binary team can grow.
At the end of each day CrypArena tallies up new investment volume on both sides of the binary team.
Affiliates earn 10% of funds invested on their weaker binary team side.
Note that daily residual commission earnings are capped based on how much a CrypArena affiliate has invested:
Alt Alpha AI affiliates can earn up to $2000 daily in residual commissions
Alt Aqua AI affiliates can earn up to $4500 daily in residual commissions
Alt Amaze AI affiliates can earn up to $10,000 daily in residual commissions
Once funds have been paid out on, they are matched against the stronger binary team side and then flushed.
Any leftover volume on the stronger binary team side carries over.
Career Bonus
CrypArena rewards affiliates for generating downline revenue with the following rewards:
generate $30,000 in accumulated weaker binary team side volume = $400
generate $85,000 in accumulated weaker binary team side volume = $950
generate $215,000 in accumulated weaker binary team side volume = "trip 4 days 5 nights worth of $3500"
generate $450,000 in accumulated weaker binary team side volume = a "diamond necklace and diamond ring worth of $6500"
generate $750,000 in accumulated weaker binary team side volume = receive a bunch of Apple products and $7000
generate $1,300,000 in accumulated weaker binary team side volume = "luxury villa" and $25,000
Joining CrypArena
CrypArena affiliate membership is free.
Note that full participation in the attached income opportunity requires a minimum $25 investment in cryptocurrency.
CrypArena claim to solicit investment in "all cryptocurrencies".
CrypArena Conclusion
Outside of the use of non-European actors, CrypArena is otherwise your standard Boris CEO Ponzi scheme.
CrypArena uses the common Ponzi ruse of "trading".
Our AI powered technology helps everyone to make up to 200% monthly.
No evidence of CrypArena generating external revenue via trading is provided. Nor is there any evidence of CrypArena generating external revenue via any other means.
As it stands the only verifiable source of revenue entering CrypArena is new investment.
Using new investment to pay returns and commissions makes CrypArena a Ponzi scheme.
Despite this, CrypArena maintains it's fraudulent business model is legal.
Is your activity legal?

The legality of our company's activities can be judged by the presence of all registration documents and licenses allowing us to attract private investment.
Even if you take the above at face value, CrypArena provides no representation it has registered with financial regulators in any jurisdiction.
By their own words, CrypArena is thus operating illegally.
With respect to "registration documents", CrypArena provides basic incorporation documents for Keystone Arena LLC in the US state of Georgia,  Keystone Arena South Africa in South Africa, Keystone Arena Limited in the UK and Keystone Arena PVT LTD in Zimbabwe.
For the purpose of MLM due-diligence, basic incorporation anywhere is meaningless. And it is certainly not a substitute for registration with financial regulators.
As with all MLM Ponzi schemes, once affiliate recruitment dries up so too will new investment.
This will starve CrypArena of ROI revenue, eventually prompting a collapse.
The math behind Ponzi schemes guarantees that when they collapse, the majority of participants lose money.