Control CTCoin Review: Control Traders prolongs exit-scam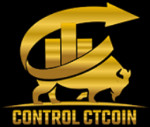 Last December BehindMLM noted Traders' shitcoin exit-scam.
Switching from weekly returns offered since it launched in September, Control Traders began paying out in CTCoin.
CTCoin is your typical Ponzi shitcoin. Control Traders created it out of thin air and it's worth nothing outside of the company's own business operations.
In our December 3rd Control Traders review update, we noted the company had disabled CTCoin withdrawals for about a month.
What we didn't note was the launch of Control CTCoin, a stand-alone opportunity run alongside what's left of Control Traders.
Today we explore Control CTCoin in a standalone review.
The Company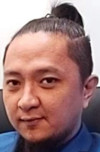 Whereas Control Traders failed to provide executive information on its website, the company now cites Christopher Taplac as its CEO.
Taplac (right) is based out of the Philippines and on Facebook goes by Christopher Dance C. Taplac.
Prior to launching Control Traders in mid 2020, Taplac was promoting House of Entrepreneurs (HOE):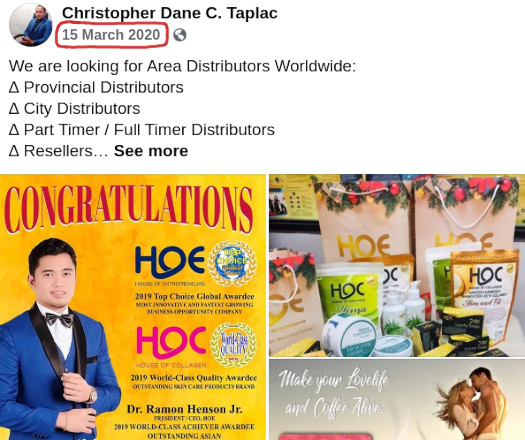 In March 2020 Philippine authorities arrested Raymon Henson Jr., President and CEO of HOE.
Henson Jr. and several other HOE executives were charged with running an "investment scam".
That same month Christopher Taplac began promoting Control Traders on Facebook: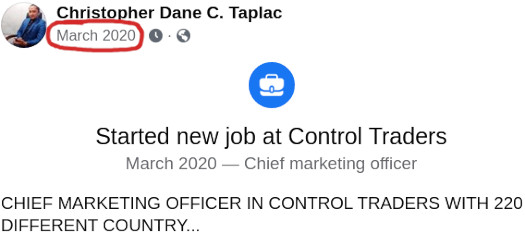 As above, rather than disclose ownership of the company, Taplac cited himself as Contol Trader's Chief Marketing Officer.
One thing I found odd on Control CTCoin's website was their "Headquartes Group" photo. I couldn't see anyone listed as an executive in the photo.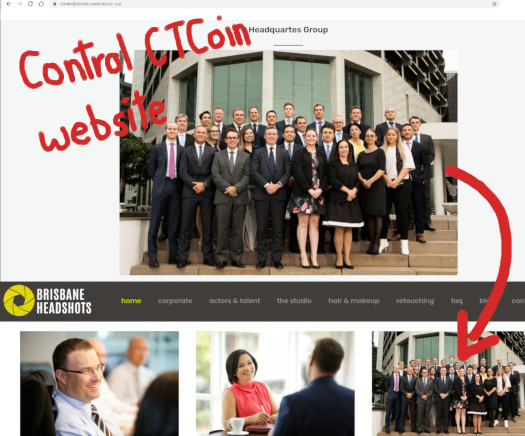 As above, with a bit of poking around I realized that was because Control CTCoin stole the image from a photography company.
Control CTCoin's Products
Control CTCoin has no retailable products or services, with affiliates only able to market Control CTCoin affiliate membership itself.
Control CTCoin's Compensation Plan
Control CTCoin affiliates invest $35 or more worth of bitcoin in CTCoins.
Commissions are paid when they recruit others who do the same.
Control CTCoin pays commissions via a unilevel compensation structure.
A unilevel compensation structure places an affiliate at the top of a unilevel team, with every personally recruited affiliate placed directly under them (level 1):

If any level 1 affiliates recruit new affiliates, they are placed on level 2 of the original affiliate's unilevel team.
If any level 2 affiliates recruit new affiliates, they are placed on level 3 and so on and so forth down a theoretical infinite number of levels.
Control CTCoin caps payable unilevel team levels at five.
Commissions are paid out a percentage of funds invested into CTCoin across these five levels as follows:
level 1 (personally recruited affiliates) – 7%
level 2 – 5%
level 3 – 3%
level 4 – 2%
level 5 – 1%
Although not explicitly clarified, like Control Trade I believe Control CTCoin pays commissions in CTCoin itself.
Joining Control CTCoin
Control CTCoin affiliate membership is tied to a minimum $35 purchase of CTCoin.
Note that Control CTCoin do not disclose the current internal CTCoin value. Thus how much CTCoin $35 gets you is unclear.
Also note that all payments into Control CTCoin are made in bitcoin.
Conclusion
Control CTCoin is essentially a stripped down version of the failed Control Trade Ponzi scheme.
From what I can tell the original investment scheme is still offered through Control Trade, whose website is still up.
Alexa traffic rankings however reveal Control Trade's website is receiving little to no traffic.
Control CTCoin flogging CTCoin as a separate MLM opportunity is kind of amusing, seeing as CTCoin was only created to stall Control Traders withdrawals.
The coin itself is not worth anything, and last we heard couldn't be converted into actual money through Control Trade (or Control CTCoin) for actual money.

Without the investment component Control CTCoin functions as a straight pyramid scheme.
One could make the case securities fraud is still being committed, as investment into CTCoin is only made on the implication the internal value of the coin will go up.
Either way the math behind Ponzi and pyramid schemes guarantees that when they collapse, the majority of participants lose money.
Update 1st April 2023 – This review originally contained a link to a YouTube video covering the arrest of Raymon Henson Jr.
As at the time of this update, that video has been marked private. As such I've disabled the previously accessible link.