Coinbase Service Review: Ponzi scheme not related to known exchange

The Coinbase Service website domain ("coinbaseservice.com") was privately registered on October 16th, 2017.
A UK incorporation certificate is provided on the Coinbase Service website, which corresponds to Coin Base UK Service Limited.
Coin Base UK Service Limited was incorporated on October 26th, 2017.
Richard Walsh is listed as the sole Director of the company, through an office address in London.
A UK incorporation is cheap and easy to provide bogus details on, making it a favorite among scammers attempting to fake legitimacy.
On their website, Coinbase claim "Tyrone Lynch" is their founder.
No information exists outside of the incorporation linking Tyrone Lynch or Richard Walsh to Coinbase Service, raising the question of whether they actually exist.
Supporting that they don't exist is the fact that the other three corporate photos provided on the Coinbase Service website are stock images used in the CroBiz WordPress theme: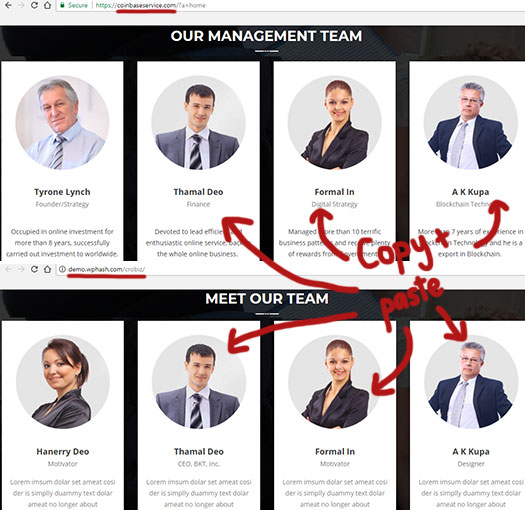 As always, if an MLM company is not openly upfront about who is running or owns it, think long and hard about joining and/or handing over any money.
Coinbase Service Products
Coinbase Service has no retailable products or services, with affiliates only able to market Coinbase Service affiliate membership itself.
The Coinbase Service Compensation Plan
Coinbase Service affiliates invest funds on the promise of a daily ROI.
Basic – invest $5 to $1,000,000 and receive a daily 12% ROI for 12 days (144%)
Extender – invest $500 to $1,000,000 and receive a daily 18% ROI for 10 days (180%)
VIP – invest $1000 to $1,000,000 and receive a daily 25% ROI for 8 days (200%)
Referral commissions are available on funds invested by recruited affiliates, paid down two levels of recruitment (unilevel):
level 1 (personally recruited affiliates) – 5%
level 2 – 2%
Joining Coinbase Service
Coinbase Service affiliate membership is free, however free affiliates can only earn referral commissions.
Full participation in the Coinbase Service income opportunity requires a minimum $5 investment.
Conclusion
Coinbase is a well-known cryptocurrency exchange founded in 2012.
Coinbase Service is a poor attempt to use the name of a reputable company to commit blatant Ponzi fraud.
Coinbase Service claim invested affiliate
funds are managed by a team of experts on investment issues that gives you an opportunity to receive stable profits from trading on Cryptocurrency markets.

A team of specialists is making investments in coin base uk service limited since 2015.
This is an obvious lie, as Coin Base UK Service LTD was incorporated only last month.
Furthermore the company provides no evidence of cryptocurrency trading taking place, much the less any trading revenue tied to affiliate ROI payments.
The only verifiable source of revenue entering Coinbase Service is new affiliate investment, the use of which to pay existing affiliates a ROI makes Coinbase Service a Ponzi scheme.
Pretty much everything Coinbase Service claim on their website is bogus. The website is a two-minute job that utilizes an existing WordPress template.
As with all Ponzi schemes, once affiliate recruitment drops off so too will newly invested funds.
This will starve Coinbase Service of ROI revenue, eventually prompting a collapse.
Needless to say anyone capable of generating a legitimate 25% daily ROI wouldn't be wasting their time launching Ponzi schemes.
Coinbase Service has been set up to lure investors and steal their money as quickly and effortlessly as possible.