Coinastrix Review: Bitcoin doubler Ponzi & binary recruitment
Coinastrix provide no information on their website about who owns or runs the business.
In the Coinastrix Terms of Service the company refers to itself as "CMVV Ventures, Mexico", with an address in Mexico City also provided.
The Coinastrix website domain ("coinastrix.com") was privately registered on July 9th, 2017.
As always, if an MLM company is not openly upfront about who is running or owns it, think long and hard about joining and/or handing over any money.
Coinastrix Products
Coinastrix has no retailable products or services, with affiliates only able to market Coinastrix affiliate membership itself.
The Coinastrix Compensation Plan
Coinastrix affiliates invest bitcoin on the promise of a fixed and residual ROIs.
Nano – invest 0.003 BTC and receive a 200% ROI in 60 days
Micro – invest 0.006 BTC and receive a 200% ROI in 60 days
Mini – invest 0.009 BTC and receive a 200% ROI in 60 days
Astrix1 – invest 0.02 BTC and receive a 200% ROI through binary commissions (no fixed ROI)
Astrix2 – invest 0.05 BTC and receive a 200% ROI in 90 days
Astrix3 – invest 0.15 BTC and receive a 200% ROI in 75 days
Astrix4 – invest 0.5 BTC and receive a 200% ROI in 75 days
Astrix5 – invest 1 BTC and receive a 200% ROI in 75 days
Astrix6 – invest 2 BTC and receive a 200% ROI in 60 days
Astrix7 – invest 4 BTC and receive a 200% ROI in 50 days
Astrix8 – invest 6 BTC and receive a 200% ROI in 60 days
Astrix9 – invest 10 BTC and receive a 200% ROI in 90 days
Coinastrix pay residual commissions via a binary compensation structure.
A binary compensation structure places an affiliate at the top of a binary team, split into two sides (left and right):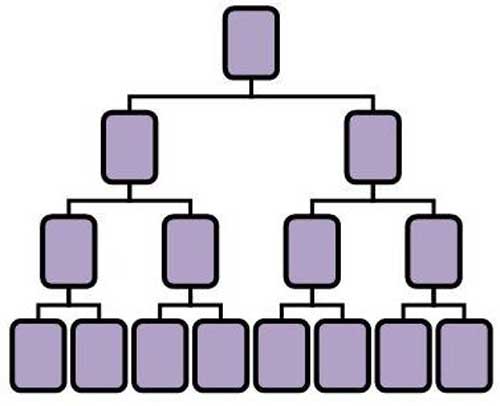 The first level of the binary team houses two positions. The second level of the binary team is generated by splitting these first two positions into another two positions each (4 positions).
Subsequent levels of the binary team are generated as required, with each new level housing twice as many positions as the previous level.
Positions in the binary team are filled via direct and indirect recruitment of affiliates. Note there is no limit to how deep a binary team can grow.
At the end of each day Coinastrix tally up new investment volume on both sides of the binary and pay affiliates a percentage of matched volume.
How much of a percentage is paid out is determined by how much a Coinastrix affiliate invests:
Astrix1 – 6%
Astrix2 – 7%
Astrix3 – 8%
Astrix4 – 11%
Astrix5 – 13%
Astrix6 – 15%
Astrix7 – 18%
Astrix8 – 21%
Astrix9 – 25%
Joining Coinastrix
Coinastrix affiliate membership is tied to a 0.003 to 10 BTC investment.
Conclusion
Coinastrix claims it generates ROI revenue through "mining operations" and "investment analysts … handling large portfolios".
We have State of Art mining pools in Asia and Europe. System mainly earns from mining operations.

In addition, our team of highly qualified Investment analysts comes with a very enviable experience of handling large portfolios for wealth and value generation.
Naturally there is no proof of either mining operations or "large portfolios" provided.
Thus the only verifiable source of revenue entering Coinastrix is new affiliate investment, the use of which to pay existing affiliates a 200% ROI with makes Coinastrix a Ponzi scheme.
In addition to this Coinastrix's residual commissions are tied to recruitment, adding an additional pyramid layer to the scheme.
As with all Ponzi schemes, once affiliate recruitment slows down so too will new investment revenue.
This will see Coinastrix unable to meet its ROI obligations, eventually prompting a collapse.
The math behind a Ponzi scheme guarantees that when they collapse, the majority of investors lose money.