CJS Trader Review: 250% ROI AI bot trading Ponzi

CJS Trader provides no information about who owns or runs the company on their website.
CJS Trader's website domain ("cjstrader.net") was privately registered on May 16th, 2020.

Further research reveals Brazilian media citing Ancleuton Holanda Dias (right) as founder of CJS Trader.
One possible reason this information isn't provided on CJS Trader's website is because Holanda has a checkered past.
Holanda was behind Sudbrook, a social media network pyramid scheme. Civil lawsuits against Sudbrook are pending.
Dias is believed to reside and operate CJS Trader from Brazil.
At the time of publication Alexa cites Brazil as the top source of traffic to CJS Trader's website (100%).
Read on for a full review of CJS Trader's MLM opportunity.
CJS Trader's Products
CJS Trader has no retailable products or services, with affiliates only able to market CJS Trader affiliate membership itself.
CJS Trader's Compensation Plan
CJS Trader affiliates invest funds on the promise of an advertised 3% daily ROI, capped at 250%.
Commissions are paid when they convince others to do the same.
Residual Commissions (unilevel)
A unilevel compensation structure places an affiliate at the top of a unilevel team, with every personally recruited affiliate placed directly under them (level 1):

If any level 1 affiliates recruit new affiliates, they are placed on level 2 of the original affiliate's unilevel team.
If any level 2 affiliates recruit new affiliates, they are placed on level 3 and so on and so forth down a theoretical infinite number of levels.
CJS trader caps residual unilevel commissions at five levels.
Residual unilevel commissions are paid as a percentage of funds invested across these five levels as follows:
10% on level 1 (personally recruited affiliates)
3% on level 2
2% on level 3
1% on levels 4 and 5
Residual Commissions (binary)
A binary compensation structure places an affiliate at the top of a binary team, split into two sides (left and right):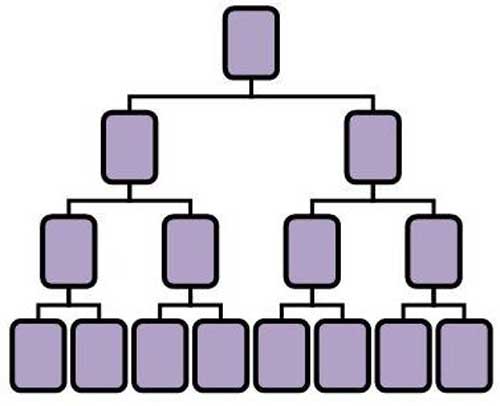 The first level of the binary team houses two positions. The second level of the binary team is generated by splitting these first two positions into another two positions each (4 positions).
Subsequent levels of the binary team are generated as required, with each new level housing twice as many positions as the previous level.
Positions in the binary team are filled via direct and indirect recruitment of affiliates. Note there is no limit to how deep a binary team can grow.
At the end of each day CJS Trader tallies up new investment volume on both sides of the binary team.
Affiliates are paid 10% of funds invested on their weaker binary team side.
Once paid out on, volume is matched against the stronger binary team side and flushed. Any leftover volume on the stronger side carries over.
ROI Match
CJS Trader pays a 0.5% match on funds invested by personally recruited affiliates.
Joining CJS Trader
CJS Trader affiliate membership is free.
Full participation in the attached income opportunity however requires investment. No minimum is specified on CJS Trader's website.
Conclusion
CJS Trader claims to generate external revenue through AI bot trading. The company also claims it is secured by a 120 million Brazilian real trading portfolio ($22.4 million USD).

No evidence of any of these claims is provided. Nor is there any evidence of CJS Trader using external revenue to pay withdrawal requests.
Furthermore, CJS Trader's business model fails the Ponzi logic test.
If CJS Trader, which only launched a few months ago, already has a $120 million real trading account and is generating 250% every 90 days, what do they need your money for?
Being a passive investment opportunity, CJS Trader's MLM opportunity constitutes a securities offering.
As confirmed by Livecoins, CJS Trader is not registered with Brazil's SEC. This means that at a minimum CJS Trader is committing securities fraud and operating illegally.
As it stands the only verifiable source of revenue entering CJS Trader is new invesmtent.
Using new investment to pay affiliates a 250% ROI makes CJS Trader a Ponzi scheme.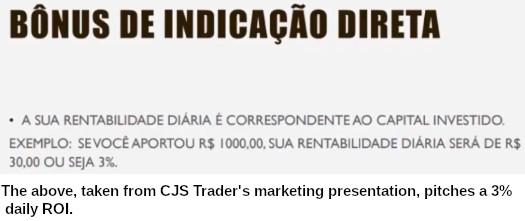 As with all MLM Ponzi schemes, once affiliate recruitment dies down so too will new investment.
This will starve CJS Trader of ROI revenue, eventually prompting a collapse.
The math behind Ponzi schemes guarantees that when they collapse, the majority of participants lose money.