CashTime 1 Review: $60 to $1000 hourly ROI shares

There is no information on the CashTime 1 website indicating who owns or runs the business.
The CashTime 1 website domain ("cashtime1.com") was registered on the 6th of September 2015, however the domain registration is set to private.
Further research suggests CashTime 1 is being operated out of Brazil.
For starters the first language offered on the CashTime1 website is Portuguese, represented by a Brazilian flag. YouTube videos on the CashTime 1 YouTube channel mention a "global meeting" in Rio de Janeiro a month ago, with most of the other videos uploaded being in Portuguese.
Additionally, Alexa currently estimate that 76.8% of all traffic to the CashTime 1 website originates out of Brazil.
Given this, it is extremely likely that the admin(s) of CashTime 1 are also based in Brazil.
As always, if an MLM company is not openly upfront about who is running or owns it, think long and hard about joining and/or handing over any money.
The CashTime 1 Product Line
CashTime1 has no retailable products or services, with affiliates only able to market CashTime1 affiliate membership itself.
Once signed up, CashTime 1 affiliates are given access to an eCommerce, penny auction, online gaming (casino) and travel booking platform.
The CashTime 1 Compensation Plan
The CashTime 1 compensation plan sees affiliates pay $15 to $1000 for affiliate membership, with commissions paid out when the recruit others who do the same.
All up there are seven CashTime 1 affiliate membership options:
Bronze – $15
Silver – $30
Gold – $60
Diamond – $160
Black – $300
Investor – $1000
Platinum – $3000
Recruitment Commissions
CashTime 1 affiliates are paid to recruit new affiliates, with commissions paid down two levels of recruitment:
level 1 (personally recruited affiliates) – 6%
level 2 – 4%
These percentages are paid out of funds invested by newly recruited CashTime 1 affiliates.
Passive ROIs
Described in the CashTime 1 compensation plan material as "earn 40% by profits per hour", each CashTime 1 affiliate package generates a passive hourly ROI.
These ROIs are paid out based on the amount of shares a CashTime 1 affiliate has, with shares allocated based on funds invested:
Bronze – 1 share
Silver – 2 shares
Gold – 4 shares (daily ROI capped at $150)
Diamond – 10 shares (daily ROI capped at $300)
Black – 20 shares (daily ROI capped at $800)
Investor – 60 shares (daily ROI capped at $2000)
Platinum – 100 shares (daily ROI capped at $5000)
Residual Commissions
Residual commissions in CashTime 1 are paid out via a binary compensation structure.
A binary compensation structure places an affiliate at the top of a binary team, split into two sides (left and right):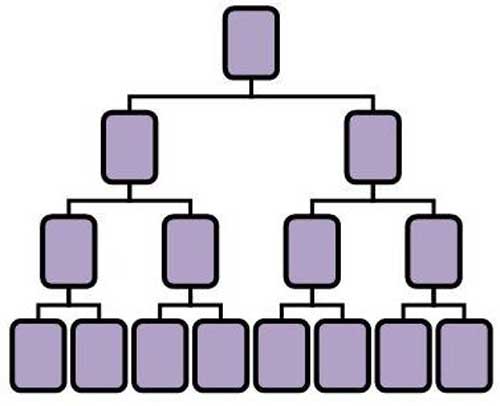 Affiliate package investment volume is tracked on both sides of the binary, with CashTime 1 affiliates paid the total sum of new investment made by their weaker binary side.
Note that while the total sum is available as a commission, the following restrictions apply based on total funds invested:
Gold – $150 a day
Diamond – $300 a day
Black – $800 a day
Investor – $2000 a day
Platinum – $5000 a day
Affiliate Rewards
Gold and higher CashTime 1 affiliate investment packages correspond with a point value:
Gold – 8 points
Diamond – 18 points
Black – 30 points
Investor – 120 pints
Platinum – 360 points
CashTime 1 affiliates generate points by recruiting new affiliates who invest in at the above package levels.
As points are accumulated, the following affiliate bonuses are then rewarded:
10,000 points – iPhone
30,000 points – MacBook Air
60,000 points – "trip for two in the smallest group" (??)
120,000 – Kawasaki Ninja motorcycle
500,000 – Honda HRV car
1,500,000 points – Mercedes Benz
5,000,000 points – "luxurious house"
Joining CashTime 1
CashTime 1 affiliate membership is $40 a month plus investment in one of the following packages:
Bronze – $15
Silver – $30
Gold – $60
Diamond – $160
Black – $300
Investor – $1000
Platinum – $3000
Note that Gold is the minimum required for residual MLM commissions, pegging the effective minimum cost of CashTime 1 affiliate membership at $100 and then $40 a month thereafter.
Conclusion
At its simplest, CashTime 1 offer investment in a Ponzi scheme. Funds are invested on the promise of hourly ROIs, which are sourced from subsequent affiliate investment.
The MLM side of CashTime 1 sees this combined with a pyramid layer, incentivizing the recruitment of new affiliate investors both directly and residually.
Access to the various platforms offered after an affiliate invests are neither here nor there – ultimately having nothing to do with the CashTime 1 MLM opportunity.
Participation in the platforms is entirely optional, with affiliate investment being the only required qualifier for passive ROIs and recruitment commissions.
Furthermore nothing is being marketed or sold to retail customers, through the offered platforms or otherwise.
The only thing CashTime 1 affiliates can market are affiliate investment packages.
As with all Ponzi schemes, once newly invested funds dries up so too will ROIs paid out.
Offering hourly ROIs, this will manifest itself by way of the daily ROI paid out reducing in size over time.
Given that the ROI "paid out" is just numbers on a screen until withdrawal requests go through, CashTime 1 affiliates are unlikely to realize the scheme has collapsed until they go to withdraw purported ROIs.
By which point of course it's too late.