BTICoin Gambling Review: CHANCE TO BECAME MILLIOMER!!!

BTICoin Gambling provides no information on its website about who owns or runs the company.
BTICoin Gambling's website domain ("bticoingambling.io") was privately registered on September 18th, 2019.
A corporate address in China is provided by BTICoin Gambling, however there doesn't appear to be any way to verify it has anything to do with the company.
Update 3rd January 2020 – A reader has informed me that BTICoin Gambling's support page on their website, has an email link pointing to YasaCoin:

YasaCoin was a fraudulent bitcoin investment scheme circa 2017. It seems the same admin is behind both companies. /end update
As always, if an MLM company is not openly upfront about who is running or owns it, think long and hard about joining and/or handing over any money.
BTICoin Gambling's Products
BTICoin Gambling has no retailable products or services, with affiliates only able to market BTICoin Gambling affiliate membership itself.
BTICoin Gambling's Compensation Plan
BTICoin Gambling affiliates invest 0.001 BTC or more on the promise of advertised returns.
BTICoin Gambling offers four bitcoin investment plans:
300% after 150 hours (6.25 days)
200% after 400 hours (16.66 days)
4% a day for 40 days (160%) and
225% after 25 days
Referral commissions on invested funds are paid out down three levels of recruitment (unilevel):
20% on level 1 (personally recruited affiliates)
10% on level 2
5% on level 3
Joining BTICoin Gambling
BTICoin Gambling affiliate membership is free.
Full participation in the attached income opportunity however requires a minimum 0.001 BTC investment.
Conclusion
BTICoin Gambling represents it generates external revenue through cryptocurrency trading.
We carefully developed and prepared automated platform as well as got the necessary experience.

We watched the emergence and rapid growth of cryptocurrency and took an active part in market trade and exchange to eventually offer the best investment terms to our customers.
This makes no sense. If BTICoin Gambling had a trading bot capable of generating 200% every 16.66 days, what do they need your bitcoin for?
The answer is tied to there being no evidence of BTICoin Gambling's purported trading activity. Ditto any other external source of revenue being used to pay affiliates.
To be honest I'm not even sure BTICoin Gambling isn't just a joke site set up by someone.
In addition to claiming to be the "world's fastest growing website", BTICoin Gambling claims it offers the "chance to became milliomer".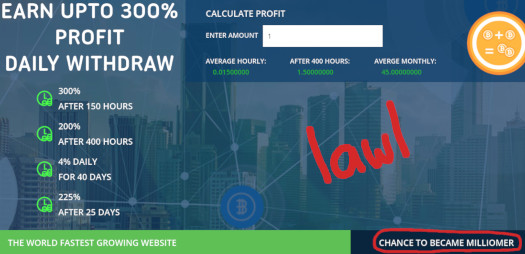 Then there's this gem from BTICoin Gambling's FAQ: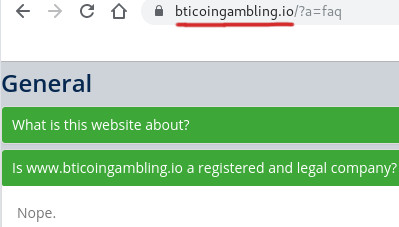 Note other than resizing, the above screenshot isn't altered in any way.
As with all MLM Ponzi schemes, once affiliate recruitment dies down so too will new investment.
This will starve BTICoin Gambling of ROI revenue, eventually prompting a collapse.
The math behind Ponzi schemes guarantees that when they collapse, the majority of participants lose money.