Bob Schafer's unnamed mail fraud pyramid scheme
Earlier this month a reader reached out with details of a business opportunity run by Bob Schafer.
Update 6th April 2022 – A reader in the comments has let me know Schafer also goes by "Bob Shaffer".
Bob and Jan Shaffer (his wife) run their scam out of their modest home in upstate New York.
/end update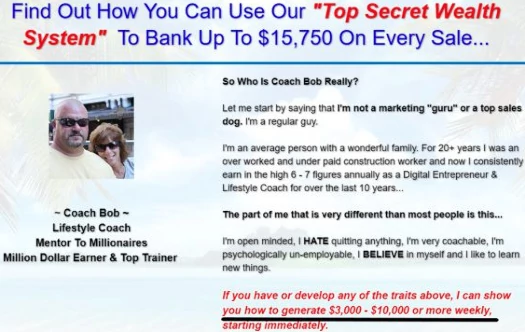 A pitch of the scheme, which doesn't have a name, was uploaded to YouTube on March 2019.
In my own research I discovered marketed for Schafer's scheme dating back to 2018.
In an effort to avoid regulators and fly under the radar, Schafer's scheme goes by many names.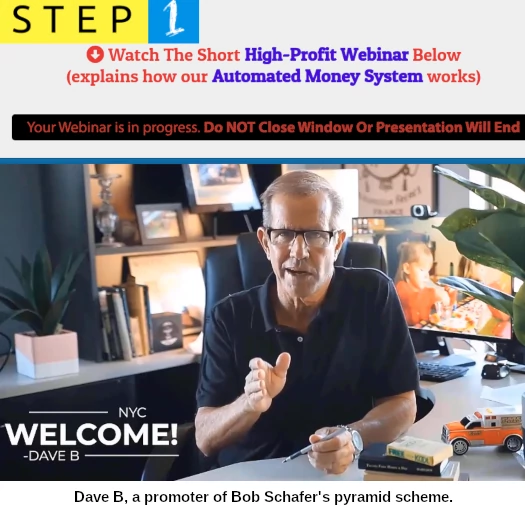 Here are some of the names I found used over the years:
Leveraged Breakthrough System
15K Money
10K Wealth Code
7K Money
Prosper With Bob
3D Wealth Machine
High-Profit Cashflow
Warrior to Wealth
The Big Income System
Proven Passive Business
New Year Abundance
Fast Start Side Hustle
There are no doubt others.
The reason for so many names is Schafer himself rotates them out periodically. Recruits also come up with names to market the scheme under.
Key people in Schafer's scheme are:
Bob Schafer, aka Coach Bob
Oscar Christian Kinney, aka Coach Christian
Marc Wilson, aka "The Army Dude"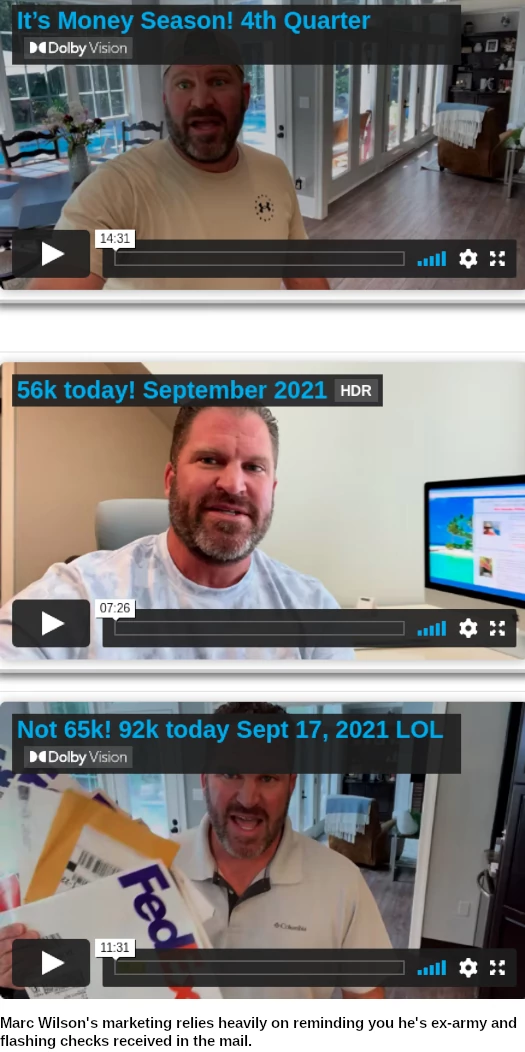 Participants in Bob Schafer's pyramid scheme buy in at one of four levels:
Gold – $3000 + $247 admin fee
Platinum – $7000 + $447 admin fee
Diamond – $14,000 + $647 admin fee
Ultra Royal – $21,000 + $847 admin fee
Bundled with each buy-in is access to a digital product library.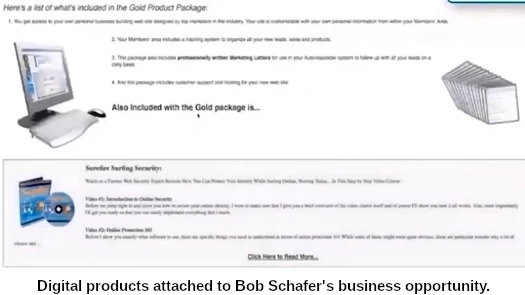 Commissions paid out on each buy-in tier are as follows:
recruit a Gold tier affiliate and get paid $1500
recruit a Platinum tier affiliate and get paid $3500
recruit a Diamond tier affiliate and get paid $7000
recruit an Ultra Royal tier affiliate and get paid $10,500
The catch is you can only earn up to the tier you yourself bought in at.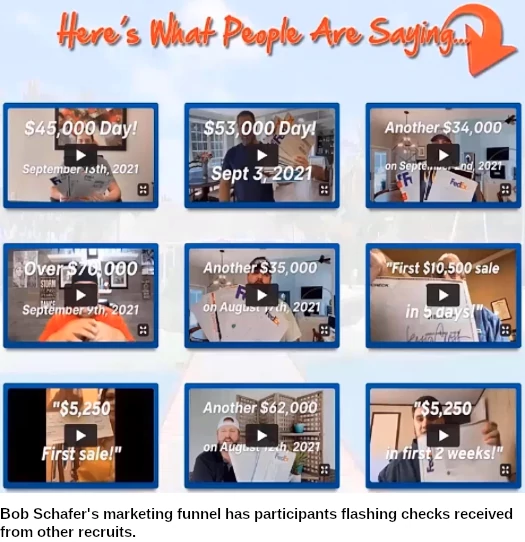 E.g. You buy in at Platinum and recruit an Ultra Royal affiliate.
Your maximum Platinum tier commission is $3500, which you get paid. The remaining $7000 is paid upline.
The system searches for either a Diamond or Ultra Royal tier affiliate to pay the remaining $7000 to.
If a Diamond is found first, they are paid $3500 ($7000 minus the $3500 paid to you), leaving $3500 to be paid to first upline Ultra Royal.
If an Ultra Royal is found, they are paid the full outstanding $7000.
Nothing is ever passed up when an Ultra Royal tier affiliate is paid.
This pass-up component of Bob Schafer's unnamed pyramid scheme is what makes it an MLM opportunity.
I have seen promotions where new recruits are "upgraded" one tier above what they buy in at.

I've also seen Ultra Royal tier new recruits offered a 25% higher commission than the 50% standard rate.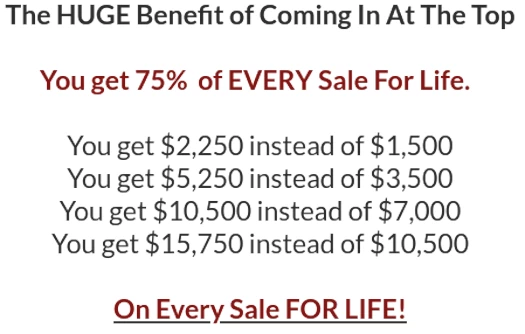 I.e. instead of earning $3500 on a Platinum tier recruit you'd earn $5250.
Based on marketing videos, participants in Schafer's scheme mail buy-in funds to each other.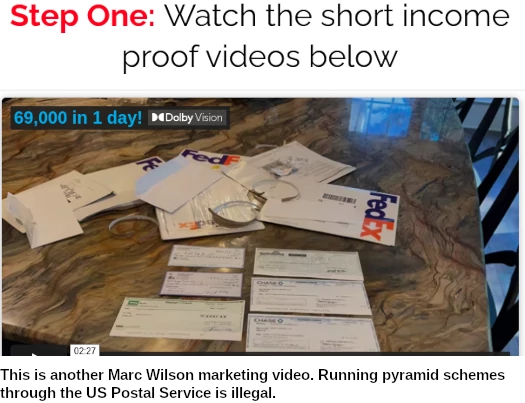 The bottom line is Bob Schafer's business opportunity is a pyramid scheme.
Nothing is sold or marketed to retail customers. You're paying a buy-in fee, which qualifies you to earn on direct and indirect recruitment.
As with all MLM pyramid schemes, once recruitment dries up so too will commissions – both direct and pass-ups.
Once enough people stop promoting, that'll be the end of it.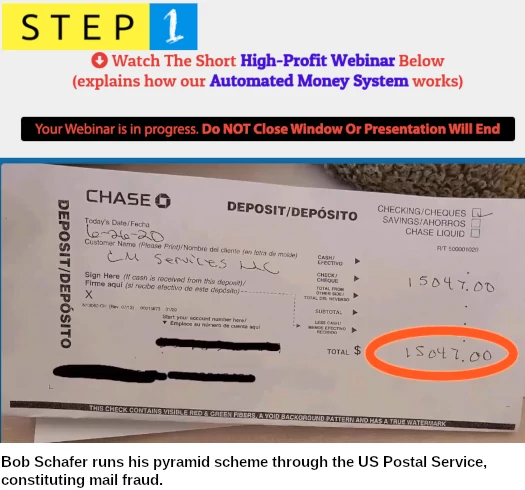 Math guarantees the majority of participants in pyramid schemes lose money.
The ones that make the money are Bob Schafer and those who got in early.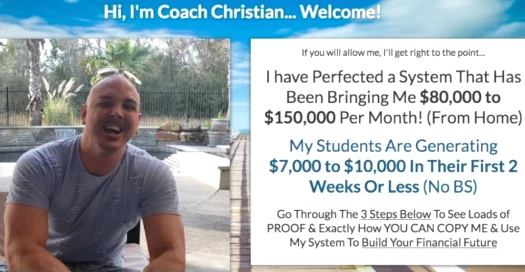 They collect admin fees, a minimum 25% cut of all buy-ins, plus pass-ups to their positions at the top of the pyramid.
This happens at the expense of everyone else who buys in.