Bitflow Asset Review: Hourly ROI bitcoin Ponzi scheme

Bitflow Asset provides no information on its website about who owns or runs the company.
Bitflow Asset's website domain ("bitflowasset.com") was privately registered on September 8th, 2020.
A marketing video on Bitflow Asset's website features some guy standing infront of a greenscreen.
The video gives off a strong Fiverr actor vibe, because that's exactly what it is: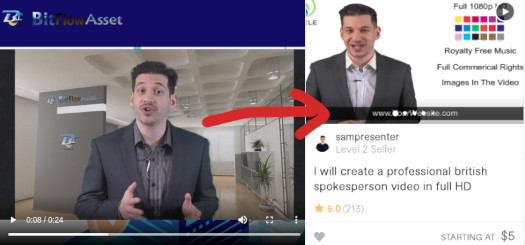 In an attempt to appear legitimate, Bitflow Asset provides a UK incorporation certificate on its website.
Bitflow Investments 427 Limited was incorporated back in 2015. Whether it has anything to do with Bitflow Assets is unclear.
In any event, UK incorporation is dirt cheap and effectively unregulated. It is a favored jurisdiction for scammers looking to incorporate dodgy companies.
For the purpose of performing MLM due-diligence, UK incorporation is meaningless.
As always, if an MLM company is not openly upfront about who is running or owns it, think long and hard about joining and/or handing over any money.
Bitflow Asset's Products
Bitflow Asset has no retailable products or services, with affiliates only able to market Bitflow Asset affiliate membership itself.
Bitflow Asset's Compensation Plan
Bitflow Asset affiliates invest bitcoin on the promise of advertised returns:
One Time – invest $50 to $500 and receive 105% after 24 hours
Digital – invest $500 to $1500 and receive 110% after 48 hours
Optimistic – invest $1500 to $3000 and receive 115% after 72 hours
Mighty – invest $3000 to $4000 and receive 120% after 96 hours
VIP A – invest $4000 to $5000 and receive 125% after 50 hours
VIP B – invest $5000 to $6000 and receive 110% after 5 hours
VIP C – invest $7000 to $12,000 and receive 112% after 5 hours
VIP D – invest $12,000 to $1,000,000 and receive 110% after 12 hours
Bitflow Asset pays referral commissions on invested funds down three levels of recruitment (unilevel):

level 1 (personally recruited affiliates) – 6%
level 2 – 3%
level 3 – 1%
Joining Bitflow Asset
Bitflow Asset affiliate membership is free.
Full participation in the attached income opportunity requires a minimum $50 investment.
Note that although USD is cited, all payments within Bitflow Asset appear to be made in BTC equivalents.
Conclusion
Bitflow Asset is your typical MLM crypto Ponzi scheme.
Affiliates sign up, invest and hope to withdraw subsequently invested funds.
Outside of being an obvious Ponzi scheme, Bitflow Asset's business model also fails the Ponzi logic test.
If Bitflow Asset's anonymous owner(s) were able to legitimately generate a consistent 10% daily ROI, what do they need your money for?
As it stands the only verifiable revenue entering Bitflow Asset is new investment.
Using new investment to pay advertised returns makes Bitflow Asset a Ponzi scheme.
As with all MLM Ponzi schemes, once affiliate recruitment dries up so too will new investment.
This will leave Bitflow Asset unable to pay ROI withdrawal requests, eventually prompting a collapse.
The math behind Ponzi schemes guarantees that when they collapse, the majority of participants lose money.