Bit2Fund Review: Ponzi gifting bitcoin-based hybrid

Bit2Fund launched in early December and name Binay Sinha as owner of the company.
Sinha claims to be 'an online entreprenuer [sic] living in India'.

Sinha (right) appears to own the "sana khan" Bit2Fund admin account, which new referrals are defaulted under if they try to sign up without a Bit2Fund affiliate link.
The Bit2Fund website domain ("bit2fund.org") was registered on the 9th of December, 2016. Bhaskar Sinha is listed as the owner, with an address in Assam, India also provided.
Sinha is also the sole admin of the official Bit2Fund Facebook group, where he also goes by Binay Sinha.
In addition to running Bit2Fund, Sinha is also an affiliate of My Paying Ads and My Paying Crypto Ads Ponzi schemes.
Read on for a full review of the Bit2Fund MLM opportunity.
The Bit2Fund Product Line
Bit2Fund has no retailable products or services, with affiliates only able to market Bit2Fund affiliate membership itself.
The Bit2Fund Compensation Plan
The Bit2Fund compensation plan is split into revenue sharing and cash gifting.
Revenue Sharing
Bit2Fund offer ROIs of up to 145% on investments of 0.01403 BTC or more as follows:
Bronze Plan – invest 0.01403 BTC and receive a 125% ROI
Silver Plan – invest 0.03509 BTC and receive a 135% ROI
Gold Plan – invest 0.07019 BTC and receive a 145% ROI
Bit2Fund ROI payouts are capped at 3% a day.
Cash Gifting
Cash gifting payments in Bit2Fund are tracked via a 3×4 matrix.
A 3×4 matrix places a Bit2Fund affiliate at the top of a matrix, with three positions directly under them (level 1):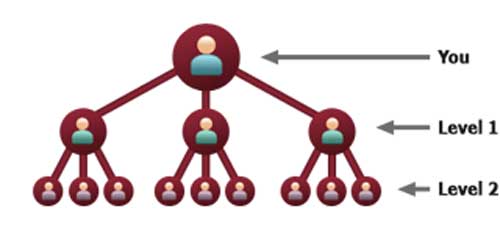 These three positions form the first level of the matrix. The second level of the matrix is generated by splitting each of the three positions into another three positions each (9 positions)
The third and fourth levels of the matrix are generated in the same manner, housing 27 and 81 positions respectively.
Each level of the Bit2Fund matrix operates as a separate gifting tier, with a gifting payment required to unlock the level as follows:
level 1 – gift 0.002 BTC to the affiliate who recruited you and receive 0.002 BTC from three subsequently recruited affiliates
level 2 – gift 0.005 BTC to your second upline and receive 0.005 BTC from nine affiliates
level 3 – gift 0.02 BTC to your third upline and receive 0.02 BTC from twenty-seven affiliates
level 4 – gift 0.52 BTC to your fourth upline and receive 0.52 BTC from eighty-one affiliates
Note that all gifting payments within Bit2Fund (both paid and received) are monthly recurring.
Second upline refers to the affiliate who recruited your immediate upline (the affiliate who recruited you).
Third upline is the affiliate who recruited your second upline and fourth upline is the affiliate who recruited your third upline.
Joining Bit2Fund
Bit2Fund affiliate membership is tied to a 0.002 BTC monthly gifting payment to the affiliate who recruited you.
Full participation in the Bit2Fund income opportunity is 0.547 BTC a month plus however much is invested in revenue sharing packs.
Conclusion
Bit2fund is a non profit platform, its a member to member donation matrix.
Bit2Fund presents itself as a Ponzi cash gifting hybrid. The matrix component of the business is cash gifting, the revenue sharing component is Ponzi fraud.
The gifting component sees Bit2Fund affiliates pay eachother, with payments from new affiliates directed to existing affiliates.
The Ponzi component sees affiliates invest funds on the promise of an advertised ROI, paid out of subsequently invested funds.
Both components require constant recruitment of new Bit2Fund affiliates (and their funds), without which the scheme will collapse.
Are there any refunds?

No refunds will be made.
The part about Bit2Fund being "non-profit" is also a lie, as Binay Sinha makes his money via preloaded positions in both the gifting and Ponzi components of the scheme.
Affiliates get whatever is left, with most guaranteed to take a loss when Bit2Fund inevitably collapses.