Bit-Trade Review: Cryptocurrency trading 250 day ROI Ponzi scheme

Bit-Trade operate in the MLM cryptocurrency niche and claim to be based out of Vancouver, Canada.
Supposedly heading up the company is Philippe Nicolas.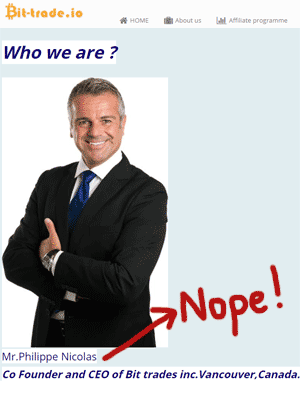 A stock image of a white guy in a suit in used to represent Nicolas. The same image appears on a number of other websites.
Given this it is assumed that Philippe Nicolas doesn't exist and Bit-Trade has no operations in Canada.
The Bit-Trade website domain ("bit-trade.io") meanwhile was privately registered on July 28th, 2017.
At the time of publication Alexa estimate that 100% of traffic to the Bit-Trade website originates out of India.
This strongly suggests that whoever is running Bit-Trade is likely also based out of India.
As always, if an MLM company is not openly upfront about who is running or owns it, think long and hard about joining and/or handing over any money.
Bit-Trade Products
Bit-Trade has no retailable products or services, with affiliates only able to market Bit-Trade affiliate membership itself.
The Bit-Trade Compensation Plan
Bit-Trade affiliates invest bitcoin on the promise of an advertised 250 day ROI.
Starter Pack – $100
Standard Pack – $200
Ultimate Pack – $500
Professional Pack – $1000
Investor Pack – $5000
Exact ROI rates are not provided on the Bit-Trade website.
Referral Commissions
Bit-Trade pay referral commissions via a unilevel compensation structure.
A unilevel compensation structure places an affiliate at the top of a unilevel team, with every personally recruited affiliate placed directly under them (level 1):

If any level 1 affiliates recruit new affiliates, they are placed on level 2 of the original affiliate's unilevel team.
If any level 2 affiliates recruit new affiliates, they are placed on level 3 and so on and so forth down a theoretical infinite number of levels.
Bit-Trade cap payable unilevel levels at five, with commissions paid out as a percentage of funds invested across these five levels:
level 1 (personally recruited affiliates) – 0.1%
levels 2 to 5 – 0.05%
Matching Bonus
Bit-Trade pay a Matching Bonus by what appears to be a binary compensation structure.
The Bit-Trade compensation plan does state that it matches investment volume on both sides of the binary team daily.
The specific matching percentage however is not provided.
Joining Bit Trade
Bit Trade affiliate membership is free, however free affiliates can only earn referral commissions.
Full participation in the Bit Trade MLM opportunity requires a minimum $100 investment.
Conclusion
Bit Trade's fraud begins with the porky pies they claim about the company.
Bogus management details with stock photos and the claim of "years of trading experience in the crypto-currency markets" perfectly compliment Bit Trade's fraudulent business model.
Said business model sees Bit Trade claim to generate external ROI revenue through "cryptocurrency exchange and trading".
Our professional team of traders is ready around the clock to provide you a steady income with your only effort to register and invest in our plans.
No evidence of Bit Trade engaging in cryptocurrency exchange or using any other external revenue source of pay affiliates is provided.
New affiliate investment is the only source of revenue entering Bit Trade.
Using newly invested funds to pay existing affiliates a daily ROI makes Bit Trade a Ponzi scheme.
As with all Ponzi schemes, once affiliate recruitment slows down so too will newly invested funds.
This will starve Bit Trade of ROI revenue, eventually prompting a collapse.
The math behind Ponzi schemes guarantees that when they collapse, the majority of investors lose money.