Ageo Product Line Review: Pay to play pyramid recruitment

Ageo Product Line, more commonly known as APL, was launched in 2011 in Kazakhstan.
Despite appearing to be a European MLM company (the company's Terms and Conditions reference "the law of Republic of Cyprus"), on their website APL provide a corporate address in the US state of Delaware.
Research reveals the Delaware address provided actually belongs to IncServ, who on their website provide a "corporate formation" service.
This suggests that APL exists in the US in name only.

APL is headed up by Founder and President, Sergey Sergeevich Kulikov (right).
On his VKontakte social media profile, Kulikov cites the corporate address for APL as Moscow, Russia.
Why a Russian MLM company decided to incorporate itself as a shell company in the US is unclear.
As per Kulikov's APL corporate bio, APL was founded due to a disagreement with management of an MLM company Kulikov was an affiliate of.
At the age of 17 Sergey learnt about MLM business.

He built such a structure in a month that even experienced multi level marketers do not always manage to build in a year.

His earnings were rapidly growing until one day senior staff members of that company deprived the ambitious student of the major part of the structure.

Sergey couldn't tolerate that kind of injustice.

He quitted [sic] the company and decided to build his own MLM company where no partner would face injustice and unfairness from a leadership.
The MLM company Kulikov references isn't mentioned by name. And possibly due to language-barriers, I was unable to research it myself.
Read on for a full review of the Ageo Product Line MLM opportunity.
Ageo Product Line Products
APL market a range of health and nutritional supplements, as well as a line of personal care products.

APL's supplement line is based on what they call "Accumullit SA Technology".
Acumullit SA (Strength Accumulation Technology) — is an innovative technology that allows you to take your vitamins anywhere anytime.

No pills, capsules, diluted juices, ineffective sprays and creams – only delicious and effective drops made out of fruits and plant extracts.
Acumullit SA drops featured on the APL website include:
ALT – "help(s) you quickly cope with allergy symptoms without causing harm to your body", retails at €63.75 EUR a packet
GRW – "helps strengthen the immune system and permanently preserve youth and energy", retails at €42.50 EUR a packet
GTS – "a natural complex of B vitamins, which in combination with coenzyme Q10 improves metabolic processes in the body and accelerates decomposition of carbohydrates to release energy", retails at €42.50 EUR a packet
MLS – "help(s) to restore and maintain health and get rid of parasites", retails at €63.75 EUR a packet
NRM – "blocks the development of diabetes, and reduces the risk of the disease tenfold", retails at €42.50 EUR a packet
PWR Man and Woman – "a unique duo product "for her" and "for him" that helps improve the condition of the genitourinary and reproductive systems as well as preserve activity and spontaneity of intimate life", retails at €42.50 EUR a packet
RLX – "will not only calm you down, give you confidence and help you to rally your thoughts, but will also saturate your body with essential vitamins and minerals", retails at €42.50 a packet
SLD – "can be essential for people who suffer from pain and low mobility (and) slow(s) down the process of joint destruction", retails at €42.50 EUR a packet
STP – "quickly and effectively helps get rid of headaches, toothaches, muscle and bone pain, without any harmful side effects", retails at €42.50 EUR a packet
HRT – "helps keep the heart healthy for many years", retails at €63.75 EUR a packet
ICE – "carefully developed ingredients are the most effective in treating such delicate problems as heartburn, poisoning, nausea and bloating", retails at €63.75 EUR a packet
HPR – "to keep your liver healthy", retails at €63.75 EUR a packet
FIT (day/night) – " FIT day and FIT night are drops that will make your fight against unwanted kilos pleasant and effective", retails at €42.50 EUR a packet
APL don't specify how many Acumullit SA drops come in a packet. By estimate it appears to be 12-15.
Other products marketed by APL include
dental care
black, red and green tea
jelly drinks
muesli bars
coffee
oatmeal
a cleansing facial toner
face oil
body cream-gel
biphasic cleansing toner
milk makeup remover
body cleansing oil
moisturizing eye serum
rejuvenating face serum
lifting effect eye serum
rejuvenating face cream
APL also markets an "Extravaganza" range of twenty fragrances for €42.50 EUR each.
Full pricing and product descriptions are available from the company's APL GO shop website.
The Ageo Products Line Compensation Plan
The APL compensation plan requires affiliates to place a product order and continue to order APL products each month.
Commissions are paid when APL affiliates recruit others who do the same.
APL Affiliate Ranks
There are ten affiliate ranks within the APL compensation plan.
Along with their respective qualification criteria, they are as follows:
Affiliate – purchase at least 100 PV of APL products
Diamond – purchase 3000 PV of APL products in a single-order
National Director – qualification criteria not provided
International Director – qualification criteria not provided
Premier Director – qualification criteria not provided
Ambassador – generate 500,000 GV a month
Golden Ambassador – generate 1,000,000 GV a month
Platinum Ambassador – generate 1,500,000 GV a month
Diamond Ambassador – generate 2,000,000 GV a month
Crown Ambassador – have and maintain nine personally recruited affiliates each generating at least 500,000 GV a month
MLM Commission Qualification
To qualify for MLM commissions, an APL affiliate must purchase at least 40 PV worth of product each month.
Recruitment Commissions
APL affiliates receive a 10% recruitment commission when they recruit new affiliates.
recruit a new affiliate who places a 100 PV order and receive 10%
recruit a new affiliate who places a 200 PV order and receive 10%
recruit a new affiliate who places a 400 PV order and receive 15%
recruit a new affiliate who places a 600 PV order and receive 17.5%
recruit a new affiliate who places a 1800 PV or 3000 PV order and receive 20%
Note that recruitment commissions are paid on PV generated by the first order, not the retail value.
Additional orders by personally recruited affiliates generate a 5% commission.
Residual Recruitment Commissions (binary)
A binary compensation structure places an affiliate at the top of a binary team, split into two sides (left and right):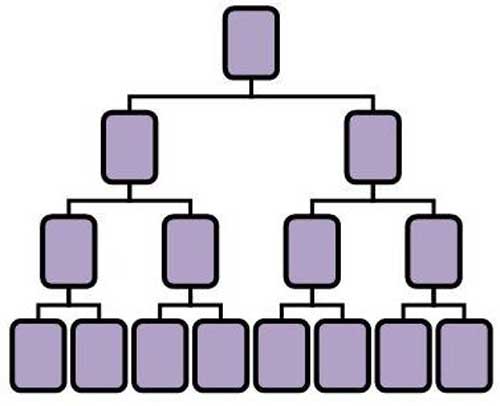 The first level of the binary team houses two positions. The second level of the binary team is generated by splitting these first two positions into another two positions each (4 positions).
Subsequent levels of the binary team are generated as required, with each new level housing twice as many positions as the previous level.
Positions in the binary team are filled via direct and indirect recruitment of affiliates. Note there is no limit to how deep a binary team can grow.
At the end of each week APL tallies up GV generated on both sides of the binary team.
APL affiliates are paid a 15-30% residual commission on GV generated on the weaker binary side (the side with less GV).
an affiliate who signed up with a 200 PV order receives a 15% residual commission
an affiliate who signed up with a 400 PV order receives a 20% residual commission
an affiliate who signed up with a 600 PV order receives a 25% residual commission
affiliates who signed up with a 1800 or 3000 PV order receive a 30% residual commission
A 20% match is also paid out on residual commissions earned by personally recruited affiliates.
Residual Recruitment Commissions (unilevel)
A unilevel compensation structure places an affiliate at the top of a unilevel team, with every personally recruited affiliate placed directly under them (level 1):

If any level 1 affiliates recruit new affiliates, they are placed on level 2 of the original affiliate's unilevel team.
If any level 2 affiliates recruit new affiliates, they are placed on level 3 and so on and so forth down a theoretical infinite number of levels.
Up to the sixth level of the unilevel team, commissions are paid out as a percentage of GV generated on each level:
5% on level 1 (personally recruited affiliates)
6% on level 2
7% on level 3
8% on level 4
9% on level 5
10% on level 6
The exception to this is affiliates who signed up with a 3000 PV order.
3000 PV affiliates receive 10% across their first six unilevel team levels.
From the seventh level onward, an Infinity Bonus is paid on generated GV based on rank:
National Directors receive 1%
International Directors receive 1.5%
Premier Directors receive 2.5%
Retirement Bonus
The Retirement Bonus is an additional 5% on unilevel team GV, capped at 6000 GV a month (300 GV counted).
To qualify for the Retirement Bonus an APL affiliate and at least two personally recruited affiliate must remain MLM commission qualified for twelve consecutive months.
The Retirement Bonus qualification is annually recurring.
Entertainment Expense Bonus
The Entertainment Expense Bonus is a €1000 to  €3000 EUR bonus paid to National Director and higher ranked affiliates each month.
Rank Achievement Bonus
APL's compensation plan presentation does mention Rank Achievement Bonuses but doesn't go into specific details.
Joining Ageo Products Line
APL affiliate membership is tied to a minimum 100 PV APL product order.
Quoted PV amounts in the APL compensation plan presentation include:
100 PV (no MLM commissions)
200 PV
400 PV
600 PV
1800 PV
3000 PV
In addition to receiving more products, the more an affiliate spends the higher their income potential via the APL compensation plan.
Conclusion
If APL is Sergey Kulikov's attempt at a legitimate MLM after losing his downline in a previous company, I imagine it had something to do with recruitment.
In no uncertain terms, retail is impossible in APL what with anyone who purchases products being classified as an affiliate.
100 PV is the minimum order for APL affiliates, with anyone else classified an inactive affiliate.
From there you're looking at a minimum 40 PV order each month to stay active.
Active APL affiliates in turn earn commissions on product orders made by their recruited downlines.
In regulatory circles this is better known as a product-based pyramid scheme.
With respect to ALP's drop products, initially I found the three-letter naming structure confusing.
Each drop product name does correspond to a longer English word, however off the bat they're not likely to make much sense.
That said once I'd read what the names stood for (HRT = heart, GRW = grow etc.), they made sense enough and weren't hard to remember.
A compliance problem across the range however are medical claims made with various drop varieties.
For example, APL claim their NRM drops
blocks the development of diabetes, and reduces the risk of the disease tenfold.
This claim is seemingly based on nothing more than the inclusion of specific "folk medicine" ingredients;
A number of medicinal plants useful against diabetes are known to folk medicine.

Pitahaya, Youngman (mountain peach), garcinia cambodian, lychee, siberian ginseng, rowan, ginseng, blueberry – all these wonderful plants and berries are used in NRM.
There's nothing on the APL website to suggest the company's medical claims are backed by research studies, or that the company has sought approval from the FDA to make such claims.
Instead, all you get is this:
Technology Accumullit SA has successfully went through process of upgrading after series of tests and laboratory examination.

We renewed formulas of all the types of the drops in order to improve their efficiency.

Acumullit SA is know-how of our APL Company's President, Mr. Sergei Kulikov who owns the patent, so neither partners nor clients should ever doubt its effectiveness and high quality.

Drops help thousands of people with such nuisances as painful joints or restoring mental balance quickly, conveniently and with good taste.
Patent or no patent, I didn't see anything about Kulikov's medical background so color me skeptical.
Note that I've cited the FDA because APL represents that it's a US corporation.
I suspect the reason APL, a Russian MLM company, has shell incorporated itself in the US is to play off the lack of regulatory cooperation between the two countries.
In addition to pyramid recruitment, APL also engage in blatant "pay to play".
As the official APL compensation plan marketing material states;
The more you invest the more you get.

Therefore the start with the 3000 status will provide you with a set of privileges and allow achieving great success.
Signing up with the maximum 3000 PV initial order directly impacts an affiliate's residual commissions (both binary and unilevel).
Ergo the more an APL affiliate pays, the higher their income potential.
In MLM earning potential should always be a result of increased sales to retail customers. Not how much an affiliate themselves spends.
As with any pyramid scheme, APL's growth is tied to affiliate recruitment.
This isn't a sustainable business model for obvious reasons, with the whole company collapsing if recruitment slows down.
The unsustainable math behind a pyramid scheme guarantees that the majority of participants will ultimately lose money.
Update 5th October 2020 – Coinciding with a US launch and rebranding as APLGO, BehindMLM published an updated review of APLGO in October 2020.