Ads Reward Daily Review: $150 – $1100 ad credit Ponzi scheme

Ads Reward Daily claims to have 'more than 45 employees around the world', however no information about company ownership or management structure is provided on their website.
The Ads Reward Daily website domain ("adsrewarddaily.com") is registered the generic sounding "Mike Drew", with what appears to be a fake address in the US state of California.
A Certificate of Incorporation is provided on the company's website, purportedly showing that Ads Reward Daily was registered in Belize, a known tax-haven, on August 28th.
YouTube videos feature on the Ads Reward Daily website, which have been uploaded to the account "Ads Reward Daily":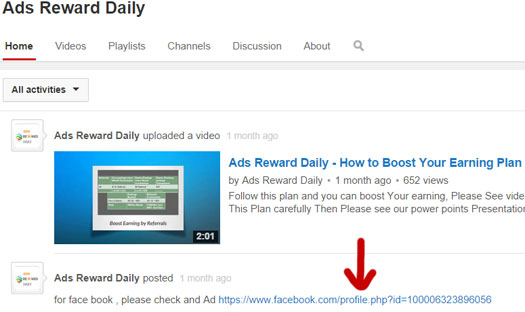 If one clicks the Facebook account linked by the official Ads Reward Daily YouTube channel, you are directed to the profile of Nicolás Lodeiro.
Lodeiro was advertising Ads Reward Daily on his Facebook profile from the start of August, well before the purported registration date in Belize. Lodeiro also claims on his Facebook profile that he has "worked at Ad Reward Daily":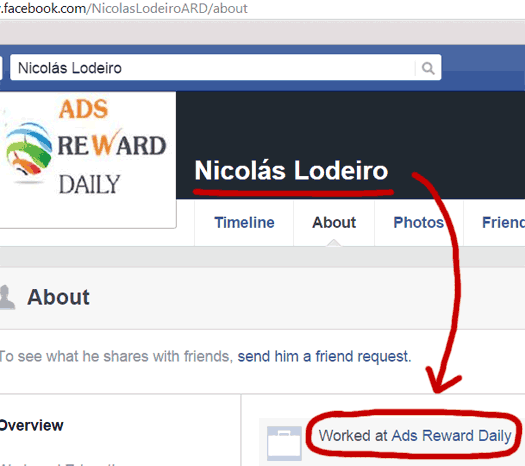 Given that his profile is linked from the official company YouTube channel, there's a strong indication that he owns the company.
Additionally, Lodeiro lists himself as his Facebook location as Los Angeles, California. This matches the US state and city used in the Ads Reward Daily domain registration.
Why Lodeiro does not openly disclose his ownership of Ad Reward Daily on the company website is a mystery.
Read on for a full review of the Ads Reward Daily MLM business opportunity.
The Ads Reward Daily Product Line
Ads Reward Daily has no retailable products or services, with affiliates only able to market affiliate membership to the company itself.
The Ads Reward Daily Compensation Plan
The Ads Reward Daily compensation plan revolves around affiliates signing up and then investing in packages:
Free (must watch daily ads for 30 days for commission eligibility) – $10 a month
Starter – $150 and then $10 a month
Basic – $320 and then $10 a month
Business – $635 and then $15 a month
Professional – $1100 and then $20 a month
Each package comes with an advertised monthly ROI:
Free – $35
Starter – $40
Basic – $60
Business – $135
Professional – $235
Referral commissions are paid on package investments made by recruited affiliates, with how much of a commission is paid out depending on how much is invested:
Free – $1.50
Starter – $10
Basic – $15
Business – $35
Professional – $50
A $2 ($1.50 for free affiliates) commission is also paid out each month upon payment of monthly fees by personally recruited affiliates.
Joining Ads Reward Daily
Initial affiliate membership costs for Ads Reward Daily are pegged to the purchase of a package:
Starter – $150 and then $10 a month
Basic – $320 and then $10 a month
Business – $635 and then $15 a month
Professional – $1100 and then $20 a month
Ads Reward Daily affiliates are able to purchase multiple package, which can add to the cost of affiliate membership over time.
Free affiliate membership is available, which requires affiliates to watch a supplied ad daily for a month. They are then charged $10 a month to participate.
Conclusion
All purchases are NONREFUNDABLE. We share the revenue from your purchase with all members, so we cannot afford to offer refunds.
With no external revenue sources, Ads Reward Daily resurrects the familiar advertising credit Ponzi scheme business model.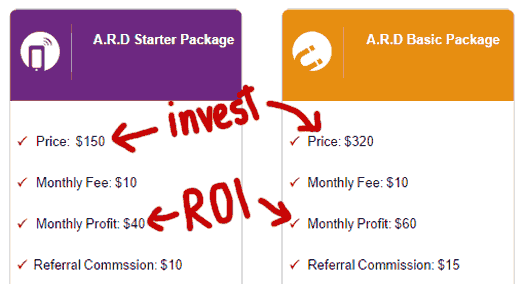 Affiliates sign up and invest in packages, with advertised ROIs paid out monthly.
ROIs are paid out of newly invested affiliate funds, with referral commissions paid out if an affiliate recruits new investors.
Once newly invested funds slow down to the point where existing ROI liabilities cannot be met, Ads Reward Daily implodes.