7K Metals Review: Coin of the month autoship recruitment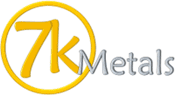 7K Metals launched earlier this year and are based out of Idaho in the US.
Zach Davis, Josh Anderson and Richard Hansen are cited as co-founders, with Sam Cook serving as 7K Metals' CEO.
Richard Hansen's and Sam Cook's 7K Metals corporate bios identify respective precious metals collecting and mining management backgrounds.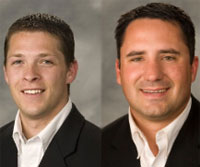 The MLM side of the business appears to be driven by Zach Davis and Josh Anderson (left and right respectively).
Zach Davis first learned the power of referral marketing as a college student.

From his first experience in the industry to his most recent he has helped thousands of people realize their ability to make a more significant contribution to the world.

Josh Anderson got his first taste of network marketing at the age of 21. He was able to build a large team that focused on other people's success. That team reached over 18,000 people in its first year.

In 2008 Josh, influenced a new MLM company that in 120 days grow to 9,000 people, at which time Josh become the CEO of the company and lead the company to over 26,000 distributors.
Davis and Anderson together run Black Ink International, an MLM training company they founded in 2011.
On his LinkedIn profile, Anderson cites himself as the CEO of JD Premium from 2009 to 2011.
JD Premium marketed a range of nutrition and personal care products. The company was shut down by owner Roger Ball in 2015.
Zach Davis served as JD Premium's Chief Marketing Officer from 2009 to 2011.
In addition to running Black Ink International with Anderson, in 2012 Davis was also a Paycation affiliate.
BehindMLM reviewed Paycation in 2014 and found it to be a travel niche recruitment opportunity.
Read on for a full review of the 7K Metals MLM opportunity.
The 7K Metals Product Line
7K Metals has no retailable products or services, with affiliates only able to market 7K Metals affiliate membership itself.
The company does have a coin shop on their website, however only 7K Metals affiliates are actually able to purchase anything.
Products listed on the 7K Metals online store range from a 1 oz Silver Various Generic Round costing $16.63 to a Silver Maple Box for $8915.
The 7K Metals Compensation Plan
The 7K Metals compensation plan sees affiliates sign up and get paid to recruit new affiliates. A residual commission is also paid out when recruited affiliates purchase coins from the company.
Both recruitment and residual commissions are paid out via a binary compensation structure.
A binary compensation structure places an affiliate at the top of a binary team, split into two sides (left and right):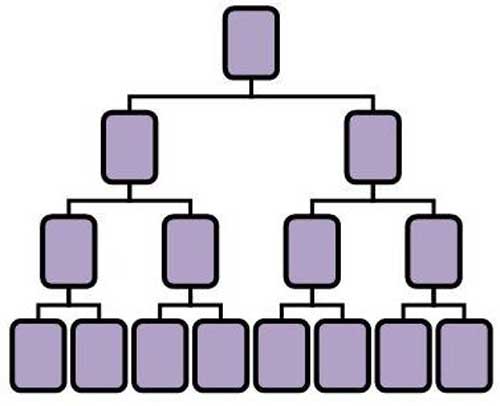 The second level of the binary is generated as required, by splitting each of the first level positions into another two positions each.
Positions in the binary team fill left to right via direct and indirect recruitment of new 7K Metals affiliates.
Subsequent levels of the binary team are generated as required, with each new level housing twice as many positions as the previous level.
Residual binary commissions are tied to sales volume tracked via points.
Sales volume is generated when
a new affiliate signs up for $250 or pays their $250 annual fee (100 points)
an existing affiliate pays for coins via monthly autoship (25 points per coin ordered) or
a personally recruited affiliate purchases a coin from 7K Metals (points generated depends on how much is spent)
At the end of each week sales volume is tallied up on both sides of the binary team.
A 7K Metals affiliate earns $1000 per 500 points matched on both sides of the binary team (capped at $1000 a week).
Matched volume is flushed from both sides of the binary team, with leftover volume on the stronger side carried over.
Note that in order to qualify for residual binary commissions, a 7K Metals affiliate must:
generate at least 25 points every 30 days and
recruit at least two affiliates (one on either side of the binary team) who each have generated at least 25 points over the last 30 days
Matching Bonus
A 5% matching bonus is available on binary commissions earned by personally recruited affiliates.
Joining 7K Metals
7K Metals affiliate membership is available via two options:
Pay $250 for annual membership or
pay a one-time $75 fee and then $10 a month
As per the 7K Metals website, the first membership option provides 'unlimited access to bullion'.
Conclusion
The key problem with 7K Metals compensation plan is a lack of retail sales activity.
All purchases are made by affiliates, which includes a recruitment commission when an affiliate signs up for $250.
Once an initial commission has been paid up, monthly residuals are generated via 7K Metals' "Coin of the month program" (autoship).
The standard offering of the Coin of the Month a PCGS or NGC silver coin at the MS70 grade or PR70 grade.
The minimum autoship amount is $98, which pays for one coin a month and generates 25 points.
Perhaps not co-incidentally, 25 points a month is the requirement to qualify for MLM commissions.
This lends itself to autoship recruitment. Under this model the primary method of commission generation is the recruitment of new 7K Metals affiliates on autoship.
Alone this is not a problem but coupled with the absence of significant retail activity, defines 7K Metals as a product-based pyramid scheme.
As with all pyramid schemes, once affiliate recruitment dies down it's unlikely that those at the bottom of the company-wide binary team will continue to pay $98 a month.
This sees affiliates above them stop getting paid, with they too eventually ceasing to pay $25 a month.
This effect trickles up the company-wide binary team, eventually resulting in an irreversible collapse.
7K Metals affiliates can sell the autoship coins to recoup some of their losses, however this is unlikely to mitigate the total loss of each affiliate. Nor does it excuse or justify the operation of a pyramid scheme.
Update 8th November 2018 – Following a claim by Robert Olson that the information above was outdated (#53), BehindMLM published an updated 7K Metals review on November 8th, 2018.