Your Web Book Matrix Review: $2.50 pyramid scheme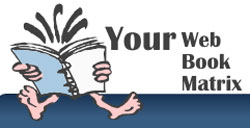 There is no information on the Your Web Book Matrix indicating who runs or owns the business.
The company domain ('yourwbm.com') was registered on the 10th November 2011 and lists 'The Edwards Family Trust' as the registrant, operating out of the state of New South Wales in Australia.
Your Web Book Matrix claim to be a 'reputable Australian business' but an Australian Business Number search didn't turn up anything.
The Your Web Book Matrix Terms and Conditions mentions a "The Digital Web Book Matrix SA BN05394521", however nothing came up for that company either.
I did try an ABN search of the Edwards Family Trust but it returned over 2000 results, so I didn't look into it any further. It is worth noting however that the domain WHOIS provides a PO box address in "North Sydney", however the Your Web Book Matrix Terms and Conditions make reference to South Australia:
These Terms are governed by the laws of the State of South Australia, Australia and each party submits to the jurisdiction of the courts of South Australia, Australia.
This strongly indicates that the owners of Your Web Book Matrix are operating out of South Australia.
As always, if a MLM company is not openly upfront about who is running or owns it, think long and hard about joining and/or handing over any money.
The Your Web Book Matrix Product Line
Despite having an ebook store (which the company refers to as "web books" for some reason), there is nothing that Your Web Book Matrix members can sell other than company membership.
Bundled with each membership are monthly "ebook credits", which can be redeemed in the Your Web Book Matrix ebook store.
There are no retailable products or services made available for members to market.
The Your Web Book Matrix Compensation Plan
Your Web Book Matrix clearly state that 'anyone can turn $3 p/week into $2,000+ p/week by' paying out '90% of all membership fees' back to members.
The company does this by using a 3×8 matrix, with each member in the matrix paying out a weekly commission to the recruiting affiliate once membership fees have been paid. Your Web Book Matrix claim that 'a full 3×8 level matrix will earn you more than $2,000 p/week'.
A 3×8 matrix places an affiliate at the top and then branches out into three legs (level 1). In turn, these three legs branch out into three legs (level 2) and so on and so forth.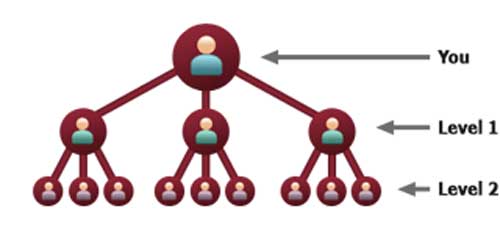 Members can be placed into an affiliate's matrix either via direct recruitment, or the recruiting efforts of their up and downlines.
For each member personally recruited into the matrix, Your Web Book Matrix pays out 20% of the weekly membership fee paid by that member each week.
If a personally recruited member recruits members, the initial recruiting affiliate earns 10% of their weekly membership fee (this is paid out down 8 levels of recruitment).
Note that in order to qualify to earn commissions, Your Web Book Matrix members must personally recruit 3 new members.
Joining Your Web Book Matrix
Your Web Book Matrix costs $10 to signup to with a weekly membership fee that can be paid annually, half-yearly or quarterly:
Annual membership = $130 + $14 tax ($154)
Half-year membership = $65 + $7.50 tax + $5.5o admin fee ($88)
Quarterly membership = $32.50 + $4.25 tax + $5.50 admin fee ($52.25)
Conclusion
In describing how their members get paid, Your Web Book Matrix state
After you have become a paid member, it is then time to grow your Matrix business.

Start by simply sending your referral link to the people you know, and ask them to join. Anyone who clicks this link and joins will become your member.
As an affiliate recruits new members, they then earn
an amazing 90% of the $2.50 weekly subscription to its members calculated monthly.

In dollar terms that works out to be $1.08 commission for every member in your downline as well as $1.08 on personal referrals paid monthly.
With 100% of the commissions being paid out to affiliates coming from membership fees, no retail products being sold by members and members receiving direct compensation for the recruitment of new members, quite clearly Your Web Book Matrix fits the definition of a pyramid scheme.
Note that rather than your typical pyramid scheme collapse when members at the bottom can't recruit anyone new, membership to Your Web Book Matrix is paid in advance, meaning those who join at the bottom have more to lose upfront if they cannot recruit new members into the scheme (which, as with all pyramid schemes, is inevitable).