YouDazzle Review: Cloud conferences & file-hosting

YouDazzle don't have a proper company information page, instead only mentioning in an offhand blogpost and press release that the company's CEO is Cary Cole (photo right).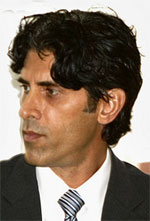 In order to find out where YouDazzle are operating out of, one must visit their Facebook page where the company provides a street address in the state of California in the US.
I couldn't find anything MLM related on Cole so I'm not sure what his experience is in network marketing or running a MLM company is, however he has served as CEO over at Broncus Technologies since 2001.
Broncus Technologies credit themselves as being 'founded with the goal of developing and commercializing minimally-invasive medical devices for lung diseases'.
Read on for a full review of the YouDazzle MLM business opportunity.
The YouDazzle Product Line
YouDazzle offer cloud services meaning that no additional software is needed to access the services offered, they are all hosted in a virtual "cloud".
YouDazzle offers two cloud-based services to members and customers:
an "online meeting" service (web conferencing, "250+" users screen sharing or "up to 5000" users sharing files)
a "file-sharing" service (you upload files and others can download them).
Customers are able to sign up to these services via two core plans, 'Starter' and 'Premier'.
The YouDazzle Starter Plan is $19 a month (or $199 annually, save $29) and includes
up to 100 people in a "live meeting"
20 data rooms (for file sharing)
The YouDazzle Premier Plan costs $39 a month (or $399 annually, save $69) and includes
up to 5000 people in a "live meeting"
unlimited data rooms
screen sharing
audio conferencing
video conferencing
webinar recording
There is also a 'free plan' option available, which I believe is just for restricted file sharing, offering just 1 data room and a gigabyte of storage.
The YouDazzle Compensation Plan
The YouDazzle compensation plan pays out on retail sales on the front-end and uses a unilevel compensation structure to handle residual commissions.
Independent Affiliates (IAs)
A YouDazzle Independent Affiliate cannot recruit Independent Consultants (IC) or customers. Instead they drive traffic to the website of an IA and if someone signs up (as either a customer or IC), they earn 20% on any monthly service fees paid for the first 12 months and 10% thereafter.
The maximum amount a IC can earn on monthly service fees is 35% so the IA commission equates to 57% of the total commission available to the IC whom the customer signs up under.
IAs must generate at least 10 BV a month to remain active and qualify to earn commissions on leads they've generated that have converted to sales. Inactive status for six months or more is grounds for affiliate termination.
IAs are also able to "upgrade" and become ICs at a later date, but they only retain the original 15% they are paid out on service subscription fees. Any new sales they make after upgrading however will be paid at the IC commission rate.
Retail Commissions
An Independent Consultant is able to earn up to 35% on any service subscription (paid monthly or annually) a retail customer (someone not signing up as an IC themselves) signs up for.
A new IC earns 20% on any service subscription fees paid, which raises to 35% once they have sold three subscriptions (to either retail customers, IAs or ICs).
Note that these are rolling commissions, so if you sign up someone on a service subscription fee and are only earning 20%, if you make three sales at a later date all your current subscription commissions will rise to 35%.
Also note that there is a 100 Personal Sales Business Volume which must be met each month too. Failure to do so drops payable commissions to 25% (irrespective of whether an IC has three paid customers or not).
Note that Business Volume appears to be roughly 60-64% of the retail cost of a service subscription.
YouDazzle do not differentiate between ICs, IAs and retail customers are far as classifying retail sales go. Anyone in your immediate downline who subscribes to a service generates you a 35% commission on their monthly or annual service subscription fee.
Fast Start "Retroactive" Commission
For ICs who failed to qualify to receive the full 35% on their first months service subscription fees, YouDazzle offer a retroactive 15% bonus commission to make up the difference if the IC qualifies for the full 35% commission in their second month of business.
Note that this is shared evenly between any IA who generates a lead that converts into a service subscription sale under you.
Residual Commissions
Residual commissions in YouDazzle are paid out via a unilevel commissions structure. This means that any ICs you recruit are placed directly under you as your level 1. Any ICs your level 1 recruit form your level 2 and so on and so forth.
How much of a commission you are paid out on your unilevel organisation is dependent on your YouDazzle membership rank –
Managing Consultant (100 PBV a month and have recruited at least 1 IC who generates a minimum 20 PBV a month) – 6% on  level 1 and 5% on level 2
Senior Consultant – (100 PBV a month, at least 400 PBV  generated cumulatively, have recruited 3 ICs generating at least 100 PBV a month and a unilevel team generating 1000 GBV on levels 1 to 3 a month) – 6% on level 1, 5% on levels 2 and 3 and 4% on level 4
Executive Consultant – (200 PBV a month, at least 1000 PBV generated cumulatively, have recruited at least 3 ICs generating 100 PBV a month and a unilevel team generating at least 3000 GBV on levels 1 to 3 a month) – 6% on level 1, 5% on levels 2 and 3 and 4% on levels 4 and 5
Note that YouDazzle unilevel residual commission are paid out on BV rather than the retail dollar value of the service subscription fees paid each month (roughly 60-64% on the retail dollar, depending on which service is subscribed to).
Director Rank Group Bonus
When an Executive Consultant achieves 8,000 group volume a month they are awarded the 'Director' membership level.
YouDazzle Director members qualify for a Director Group Bonus that pays out an additional 4% on each unilevel leg, until another 'Director' member is found in that leg.
If no Director exists in a particular unilevel leg, the Director Group Bonus extends down as long till the last IC in that leg, regardless of depth. When finding Directors, each unilevel leg operates individually and has no bearing on the others.
Director Leadership Bonuses
Extending again on the YouDazzle Director membership level, the Director Leadership Bonus has three additional levels of membership available.
Commissions under the Director Leadership Bonus are paid out on the earnings of other Directors in your downline. Note that the members you qualify to earn on in your unilevel downline are defined by Director generations.
For example, starting with you at the top, if a Director exists in a particular unilevel leg all the members between that Director and you at the top form 'group 1'. If another Director exists, the members between the second Director and the first form 'group 2'.
If no second Director exists, then the next group extends to the end of the unilevel leg.
Managing Director (have at least one personally recruited Directors in your downline) – 4% on Groups 1 and 2
Senior Director (have at least three personally recruited Directors in your downline) – 4% on Groups 1 to 3
Executive Director (have at least five personally recruited Directors in your downline) – 4% on levels 1 to 4
Joining YouDazzle
Membership to YouDazzle as an 'Independent Consultant" (IC) is an upfront fee of $49, which I believe is annually recurring.
Conclusion
With a strong product focused offering in their cloud services, the YouDazzle compensation plan reflects this in that it too is strongly product sale focused.
There is a bit of recruitment required in the upper end of the compensation plan, but ultimately if you break down the qualifiers they are firmly rooted in sales and the generation of sales by your downline.
The inclusion of the Independent Affiliate into the core compensation plan rather than as a separate system is also interesting in that YouDazzle affiliates and consultants aren't in direct competition with eachother but instead are encouraged to work together, with the affiliates ideally generating additional sales the IC would have not generated.
Service wise this is going to be one of those opportunities where I think members are going to have to purchase access to the service every month, if for nothing else that to show prospective customers how everything works and what the YouDazzle backend is capable of.
YouDazzle ICs do make a commission on these (not mandatory but compulsory if you want to get anywhere marketing wise) sales, however at the given price points I think trying to build a business on effective autoship isn't really going to work.
The way YouDazzle have worked the compensation plan it's much more effective to attract genuine customers who have a need for the system and focus your marketing efforts there.
Pricewise I'm not too familiar with this niche so I'd strongly advise prospective ICs to sign up for the free trail and evaluate YouDazzle's services (14 day trial). Not too sure how you'd stress test the system unless you knew hundreds of people willing to help you, but if possible and you plan to market to larger corporate clients, definitely try it.
Last thing you want to is to pitch to someone who does conduct cloud conferences to hundreds of members only to have the system crash out or suffer audio and/or bandwidth problems when they use it live for the first time.
That said due to the nature of the system I'd be pretty confident in assuming YouDazzle have stress tested their systems thoroughly and made sure they are up to the task.
All in all if you can carve out a decent sized customer base then YouDazzle could be an interested MLM niche to get into given that it goes hand in hand with online marketing, which is used by most MLM affiliates today.
That said cloud conferencing and file storage isn't exactly new so expect the competition to be quite fierce from other service providers who don't have to factor in a MLM style compensation plan into their bottom line.
Good luck!