WorldVentures' bankruptcy scalps two execs (maybe not?)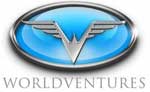 WorldVentures' Chapter 11 bankruptcy has seen two executives quit the company.
Last week WorldVentures COO Michael Poates announced the departure of CSO Eddie Head, and SVP of Global Sales Justin Call.
According to Poates, Head and Call 'made personal decisions to leave WorldVentures'.
Head had been with WorldVentures for fourteen years. Call for four years. The timing obviously suggests WorldVentures' bankruptcy was a contributing factor.
Justin Call I'm not familiar with but Eddie Head seemed optimistic about WorldVentures throughout November and December.
In the first video announcing Seacret Direct's acquisition of WorldVentures, made available on November 12th, Eddie Head stated;
We saw an opportunity for us to create a stable, resilient and reliable business solution for you.

We saw an opportunity to preserve who we were and that we would do altogether.

With a completely open mind … we came up with a solution that we believe is going to excite all of you guys.

Over the course of the next few weeks we're gonna be sharing with you guys a lot of the details of how this is going to work.

I want you to know a handful of things … the brands of our product are going to stay intact; DreamTrips.

Our events platform and Marc are going to be there to host us at every one of our major events just like before.

And all of your leaders from your PAC team, your IAC leaders, your IMDs, Wayne, Justin, myself, the team that's been supporting you. All in tow to help you find your best successful path.
Three days before Christmas, on December 23rd, WorldVentures filed for bankruptcy. Eddie Head would quit two weeks later.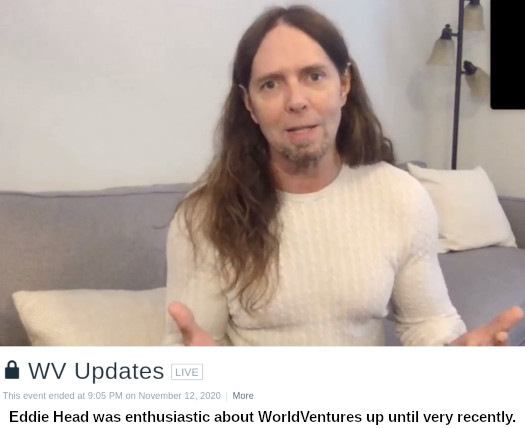 On Facebook Head still cites himself as President of WorldVentures. Six days ago however, Head celebrated a Seacret Direct distributor rank qualifying: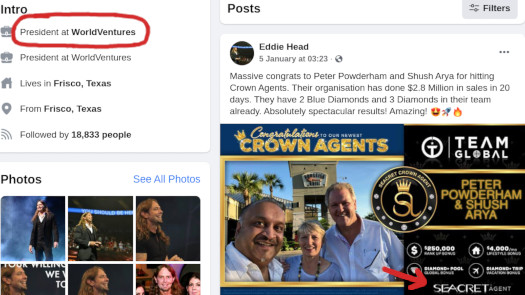 If Head has taken on an executive role within Seacret Direct, neither himself or the company have as of yet disclosed it.
With respect to the "are they or aren't they" status of the Seacret Direct acquisition, a paywalled December 30th article from the Wall Street Journal (paywalled) states;
Seacret Direct is considering making a bid for WorldVentures Marketing LLC, a travel business that filed for bankruptcy recently.
This was revealed in a court appearance on December 23rd, and is a far cry from sureties offered to WorldVentures affiliates throughout November and December.
BehindMLM did cover WorldVentures' Chapter 11 bankruptcy but didn't see anything about Seacret Direct in the filings.
Since late November neither WorldVentures or Seacret Direct have issued a public statement regarding the status of the acquisition.