Is WorldVentures operating illegally in Brazil?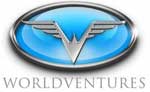 WorldVentures response to Rwanda declaring the company was an illegal pyramid scheme was certainly strange.
Rather than prove it wasn't a pyramid scheme, WorldVentures brushed off the ban by claiming it didn't do business in Rwanda.
This caught the attention of several Brazilian WorldVentures affiliates. Because despite Brazil not appearing on WorldVentures list of authorized countries, business in Brazil is booming.
According to WorldVentures own Policies and Procedures (section 4.18);
Because of critical legal and tax considerations, WorldVentures must limit the sale of WorldVentures products and services, and the presentation of the WorldVentures business to prospective customers and Representatives located within the United States or one of the countries where World Ventures is currently operating until further notice.

Accordingly, Representatives are authorized to sell WorldVentures products and services, and enroll customers and Representatives only in the countries in which WorldVentures is authorized to conduct business, as announced in official Company literature.

You may find a list of markets in which WorldVentures currently conducts business, along with any restrictions for each market, in the back office.
The list of markets WorldVentures currently conducts business in, as provided to affiliates, is as follows;
The US, Austria, Botswana, Canada, Cyprus, Germany, the UK, Greece, Hong Kong, Hungary, Israel, Kenya, Malta, the Netherlands, Russia, Sweden, Singapore, South Africa, Slovenia, Zimbabwe, Puerto Rico, Australia, New Zealand, Iceland, Ireland, Malaysia, Poland, Serbia, Taiwan, Romania, Jamaica, Uganda, Guam, Colombia, Latvia and the Czech Republic.
For any country not on the list (deemed an "unauthorized country"), WorldVentures' Policies and Procedures states;
No Representative may, in any unauthorized country and in any manner unauthorized in the then-current open markets list in the back office:

(a) conduct sales, enrollment or training meetings;

(b) enroll or attempt to enroll potential customers or Representatives; or

(c) conduct any other activity for the purpose of selling WorldVentures products, establishing a Marketing Organization, or promoting the WorldVentures opportunity.
With Brazil not appearing on WorldVentures list, we can safely assume two things;
WorldVentures is not authorized to conduct business in Brazil and;
any WorldVentures affiliates caught conducting business in Brazil (selling and/or recruiting) will be punished as per the company's Policies and Procedures
As with Rwanda, WorldVentures appears to be turning a blind eye to clear evidence of business operations taking place in Brazil.
Troy Brown has been a top earner in WorldVentures for some time. In marketing material published on WorldVentures' official corporate Facebook page two months ago, Brown is cited as a "quadruple IMD":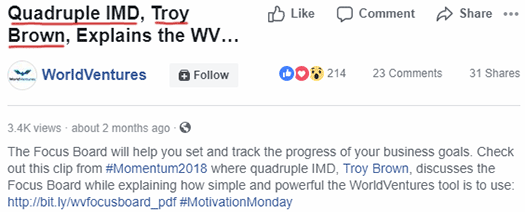 IMD stands for "International Marketing Director" and is the top affiliate rank within the company.
In January this year Brown took a trip down to Sao Paulo, Brazil.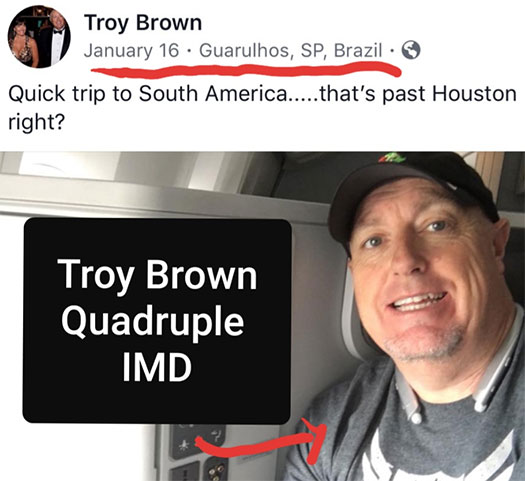 The above looks innocent enough, however other social media posts clearly show Brown was in Brazil holding WorldVentures training events.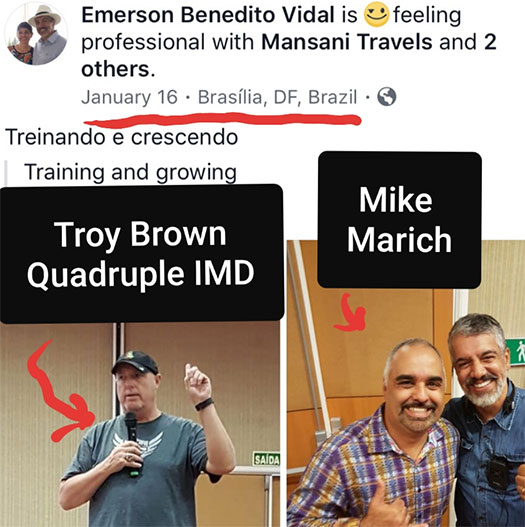 Training events for who though? Surely WorldVentures isn't operating illegally in Brazil as per its own Policies and Procedures?
Mike Marich is a US-based Regional Marketing Director in WorldVentures.
Marich is also an official WorldVentures trainer and regularly hosts training events for the company:

In March of this year Mike Marich took a trip down to Brasilia, the capital of Brazil.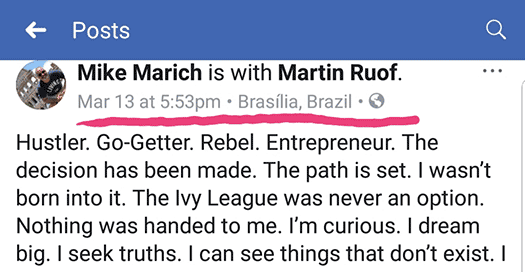 The day after that post, footage of Marich holding a WorldVentures training event in Brazil surfaced.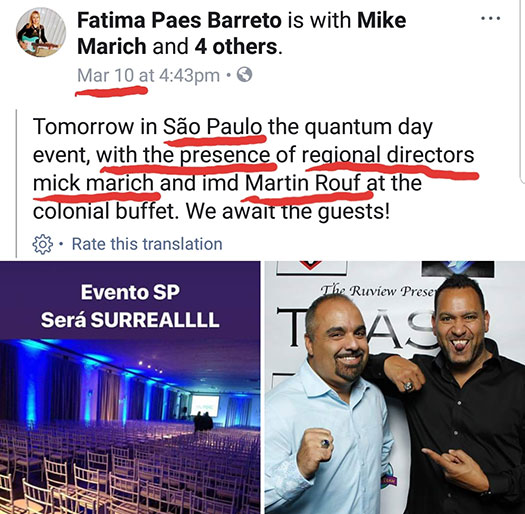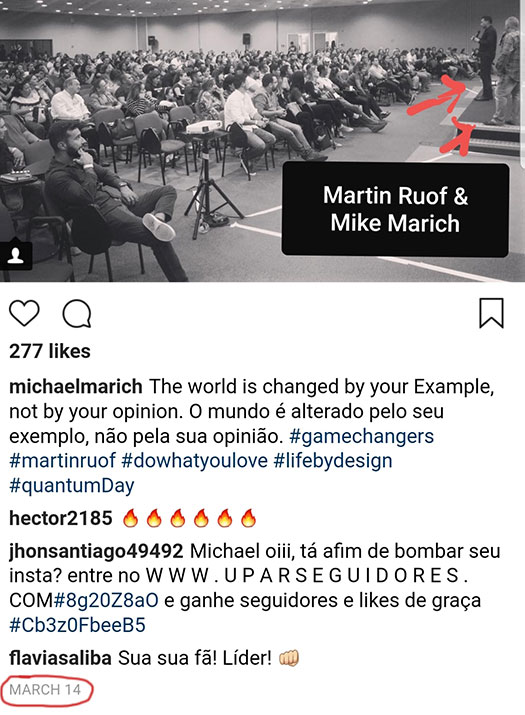 In May Marich returned to Brasilia with Eric Gryzbowski (a double IMD), to hold another WorldVentures training event;
And hell, at this point WorldVentures "unauthorized" Brazilian affiliates aren't even trying to hide it.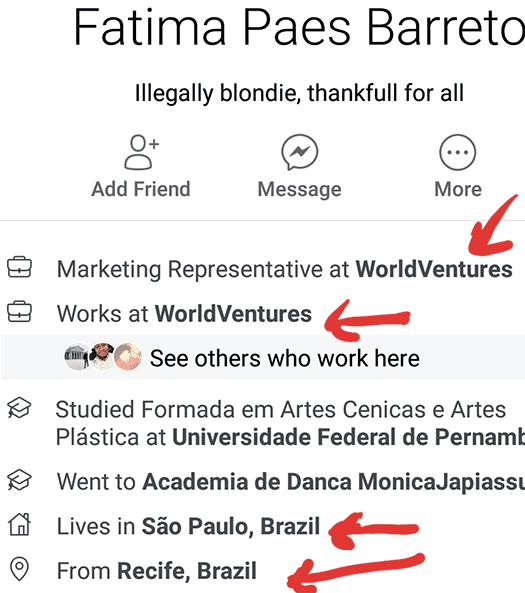 Team One – WV is a group of WorldVentures affiliates in Brazil who seemingly operate with full support of the company and its top earners.
After outing the above Facebook page I don't expect it to be live for long, so please let me know if it's scrubbed and/or deleted.
And if you're wondering if WorldVentures recruitment activity in Brazil might have cooled since March, nope.
In May this year Ted Nuyten's BusinessForHome celebrated Sashin Govender "double IMD" achievement.
Sashin is the youngest Double IMD in the Travel & Technology company, WorldVentures, which is achieving the Top Position in the compensation plan twice.

Sashin is mentored by Matt Morris, Wayne Nugent, Johnny Wimbrey and Jefferson Santos in WorldVentures.
As part of his "unstoppable tour", in July Govender held WorldVentures training events across Brazil.
Govender clearly gave no fucks about WorldVentures' Policies and Procedures, even going so far as to film his time in Brazil.
At around 35 seconds into the event, Govender gushes about going on stage in front of around five hundred attendees at an event in Brasilia.
According to the description in the video, Govender held events in four Brazilian cities in seven days.
And how long has this been going on for? As far as I can tell, recruitment in Brazil appears to have been going on for at least a year – although it only really picked up late last year.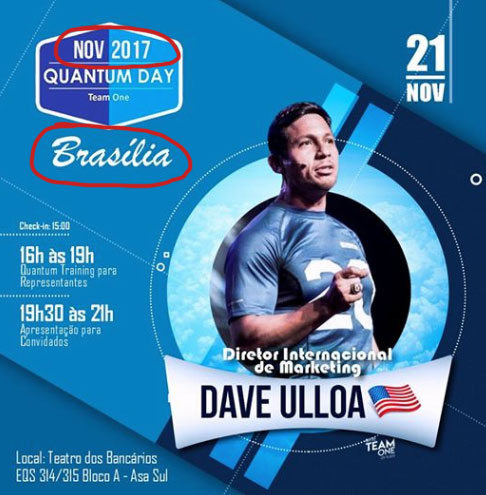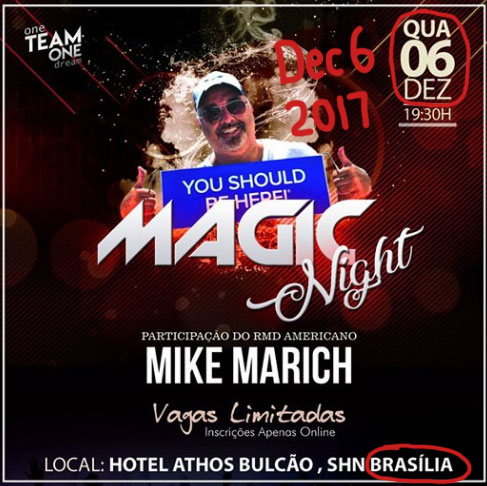 Despite copious amounts of evidence that WorldVentures' top affiliates are actively marketing and recruiting Brazil, in violation of the company's Policies and Procedures, nobody in corporate has batted an eyelid.
Instead, they're too busy celebrating the achievements of WorldVentures' "unauthorized" Brazilian affiliates onstage: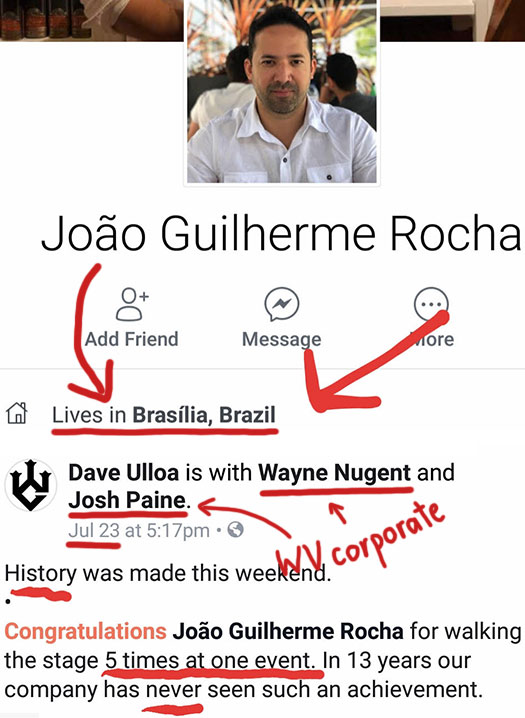 To be sure, if Brazilian authorities crack down on WorldVentures for being a pyramid scheme, corporate will surely put out another "we do not do business in Brazil" response.
Bit hard to trot that out again this time though when seemingly every WorldVentures top earner is scrambling to get a piece of the "unauthorized" Brazilian market.
We've reached out to WorldVentures corporate for a response to their unauthorized business operations in Brazil. We'll keep you posted if we hear anything back.