Wealth Engine Review: Matrix scam running on empty

Wealth Engine provide no information on the company website about who is running the opportunity or who owns it.
The domain 'wealth-engine.com' was registered on the 27th November 2011 and the registration information is set to private.
With a bit of poking around however, it is revealed that there are several banners for something called 'Social Cycler' present in the images area of the Wealth Engine website: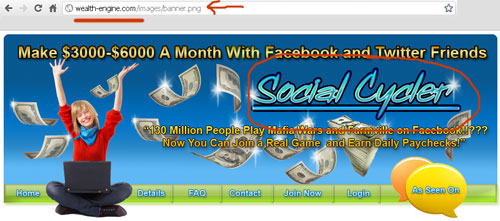 Social Cycler was a recruitment scam launched in 2010 and appears to have been owned by a one Mr. Jack Louis.

With no less than seven Social Cycler banners appearing in the backend of the Wealth Engine website, this is a strong indication that Jack Louis is behind the Wealth Engine opportunity.
The Wealth Engine Product Line
Wealth Engine have no retailable products and instead members market the income opportunity itself.
Upon joining the company, members are able to purchase entry into two matrices. Bundled with this entry price are advertising credits which can be used to advertise on an in-house advertising network that features on the Wealth Engine website.
The Wealth Engine Compensation Plan
The Wealth Engine Compensation Plan revolves around a series of matrices that are need to be filled with new members in order to earn commissions.
One entry into the Wealth Engine Compensation Plan is $25 and buys a position on two matrices, the C1 and P1.
The C1 is a company matrix whereas P1 is the first in a series of four matrices that a Wealth Engine member progresses through, earning a commission each time they cycle out of one of them.
C1 Matrix
Wealth Engine's C1 matrix is a company wide matrix that operates on a 2×8 structure (510 positions) for each member to fill.
A 2×8 structure starts off with you at the top and then branches out into two legs below you. These two legs in turn branch out into two separate legs and so and so forth down 8 levels.
The first few levels of a 2×8 matrix look something like this:
For each member in your C1 matrix, Wealth Engine will pay you $1 for a total of $510.
P1, P2, P3 and P4 Matrices
The P1-P4 Matrices are 2×3 matrices that operate in the same manner as the C1, except that they only go down 3 levels for a total of fourteen positions to fill.
Once these positions are filled with members, a commission is paid out to the cycling member as well as their upline.
P1 Matrix – $25 commission ($10 upline)
P2 Matrix – $45 commission ($10 upline)
P3 Matrix – $100 commission ($10 upline)
P4 Matrix – $800 commission ($50 upline)
Entry into a higher matrix is only possible by filling up a lower matrix with members and cycling out. Additionally when a member cycles out of a matrix, they are granted re-entry into a higher level matrix, the same level matrix they just cycled out of and any lower level matrices (if applicable).
Cycling out of P1 and P2 matrices also provides one new entry into the C1 matrix, P3 provides 3 new entires and P4 5 entries.
Referral commissions
For each matrix purchased by members they personally recruit, Wealth Engine members will earn a $2 commission.
Joining Wealth Engine
Membership to Wealth Engine is free, however if members wish to earn commissions they must purchase pay $25 for matrix entry.
Effectively membership to Wealth Engine is $25.
Conclusion
With no retail products and members purchasing matrix entries, commissions generated via the direct recruitment of others and 100% of the commissions coming from money members are putting into the company, Wealth Engine amounts to little more than yet another advertising based recruitment scam.
Sustainability also seems to be an issue as the amount of re-entry's available off a one time $25 payment seems hugely unsustainable in the longterm.
The short of it is you can't keep generating money out of a one time $25 entry cost so best of luck continuing to pay out members as they enter and try to fill more and more matrices.