BBB Los Angeles lists WCM777 under "Ponzi schemes"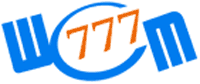 The mystery behind WCM777's abrupt cancellation of their US business operations deepens, with news today that the BBB have listed the company under the "Ponzi schemes" section of their website.
Listed simply as "WCM777", the BBB Los Angeles website reveals that a BBB file on WCM777 was "opened" on the 20th of August 2013.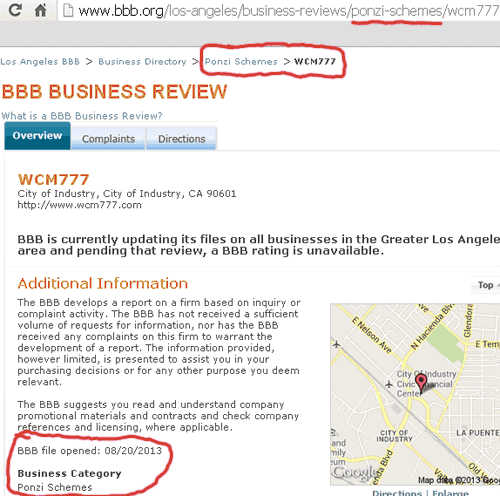 No basis for the BBB's Ponzi scheme classification however is provided, with the BBB only stating that
BBB is currently updating its files on all businesses in the Greater Los Angeles area and pending that review, a BBB rating is unavailable.
With WCM777 recently pulling out of the US, whether or not the BBB will be able to conduct a review of the company is unclear. I've sent off an email to the BBB Los Angeles chapter requesting more information and will update if I hear anything back.
At the time of WCM777's US withdrawal rumours surfaced of a possible FBI investigation into WCM777 taking place, however as of yet no concrete evidence has emerged revealing any such investigation (by the FBI or any other US regulator or law enforcement agency).
Meanwhile the revelation of the BBB's WCM777 Ponzi scheme classification comes hot on the heels of Colombian President Juan Manuel Santos'  call for a police investigation yesterday, in which he labelled WCM777 a "pyramid scheme".
Santos' request was promptly accepted by Police General Rodolfo Palomino, who went on to publicly announce a police investigation had begun.
Palomino released a follow-up statement today, reminding Colombians that those that  participate in schemes like WCM777 can be charged with 'the crime of embezzlement, illegal resource acquisition, conspiring to scam as a crime and money laundering'.
Update 31st October 2013 – I received the following reply from the BBB via email:
Good morning Oz,

Our staff do their best to make an assessment of the company's nature of business based on information we have in our files. This may include complaints from consumers or research our staff has done.

Our classifications are regularly reviewed and changed as needed by our staff. If you have information about this company's business practices, feel free to send to us and we will review it.

Sincerely,

(redacted)

Council of Better Business Bureaus
3033 Wilson Boulevard, Suite 600
Arlington, VA 22201
Sounds like they've already conducted an investigation into WCM777 themselves.