Vemma EU and AU collapse, in liquidation

Things appear to be on the rocks for Vemma's business operations in Europe and Australia, with news breaking yesterday that both entities are in liquidation.
Liquidation is the process whereby the assets of a corporation are realised in an orderly manner and the proceeds distributed among creditors of the company in satisfaction of their claims against the company.

Any surplus funds are returned to members. On finalisation of the liquidation process, the company is deregistered and consequently ceases to exist.
As of yet there hasn't been an official announcement from Vemma's headquarters in the US, so we're working with what little we've been able to glean our of Europe and Australia.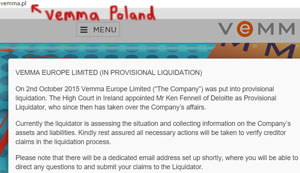 As first spotted by Patrick Pretty, Vemma's European websites are currently displaying the following message:
VEMMA EUROPE LIMITED (IN PROVISIONAL LIQUIDATION)

On 2nd October 2015 Vemma Europe Limited ("The Company") was put into provisional liquidation.

The High Court in Ireland appointed Mr Ken Fennell of Deloitte as Provisional Liquidator, who since then has taken over the Company's affairs.

Currently the liquidator is assessing the situation and collecting information on the Company's assets and liabilities. Kindly rest assured all necessary actions will be taken to verify creditor claims in the liquidation process.

Please note that there will be a dedicated email address set up shortly, where you will be able to direct any questions to and submit your claims to the Liquidator.
Creditor claims are likely to be affiliates and retail customers who paid for product following the FTC lawsuit against Vemma, and are yet to receive it.
Meanwhile the Vemma Australia website is still the default under construction message, however an ASIC filing reveals Vemma Australia PTY LTD went into liquidation on September 24th.
According to the ASIC filing, Farnsworth Shepard have been appointed liquidator of Vemma Australia. The status of the liquidation however is unclear.
Meanwhile the Vemma website remains "under construction", and there has been no announcements of th EU and AU liquidations on either the Vemma Facebook page or that of BK Boreyko.
Whether Vemma is undergoing liquidation in other markets it operates in remains to be seen.