"Do not consume Valentus SlimROAST", warns NZ govt

The New Zealand Medicines and Medical Devices Safety Authority (Medsafe), has warned against consumption of Valentus' SlimRoast coffee.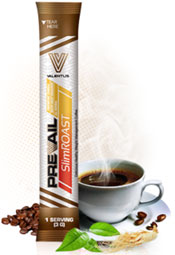 Medsafe's warning follows independent lab confirmation that Valentus SlimRoast contains Phenethylamine (PEA), and 1,3-dimethylamylamine (DMAA).
That lab result promoted a warning from the Customs and Ministry of Health, which has now been escalated by Medsafe.
Independent testing by Medsafe has confirmed the presence of methylhexanamine (DMAA) and phenethylamine in Valentus' SlimRoast.
Valentus SlimROAST Optimum Dark Roast Coffee has been sold for weight loss / management and is claimed to improve mood and focus, regulate blood sugar and boost circulation.

The sachet was found to contain approximately 140mg methylhexanamine (DMAA) and 70mg phenethylamine per 3.5g serve.

The tub was found to contain approximately 105 – 140mg methylhexanamine (DMAA) and 17.5 – 21mg phenethylamine per 3.5g scoop.
DMAA is regulated as a prescription only drug in New Zealand.
In light of their findings, Medsafe states it has seized any SlimRoast stock it was able to locate.
Additionally, the regulator has issued a safety warning advising the public against consuming SlimRoast.
Do not consume Valentus SlimROAST Optimum Dark Roast Coffee.

If you have consumed this product and feel unwell, seek medical advice.

Tell your healthcare professional that you have consumed a product containing methylhexanamine and phenethylamine.

If you have purchased this product, return it to the point of sale or safely dispose of it.
Despite DMAA having "amphetamine-like characteristics" and consumers at risk of "adverse reactions such as: agitation and psychological effects; cardiovascular effects such as increased heart rate and blood pressure, and neurological effects", Valentus' do not disclose the presence of DMAA in SlimRoast.
Medfast's warning in New Zealand follows a similar warning issued in Denmark two months ago.
Valentus is an American company, run by Dave Jordan and based out of North Dakota.
DMAA is illegal in the US but it is unclear whether or not Valentus sells the same DMAA laced SlimRoast to US consumers.
Update 24th October 2019 – The FDA has issued Valentus' SlimRoast manufacturer with a DMHA warning.