UnlimitedIncomeOrg Review: $10 a month recruitment

There is no information on the UnlimitedIncomeOrg website indicating who owns or runs the business.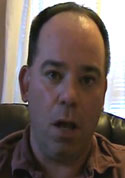 The company's website domain (unlimitedincomeorg.com) was registered on the 22nd of March 2010 and lists a "MTE Enterprises" as the domain registrant, operating out of West Virginia in the US.
Further research reveals that MTE Enterprises is the abbreviated name for "My Traffic Empire Enterprises", with My Traffic Empire (my-trafficempire.com) being a traffic exchange scheme run by Thomas Walls (CEO, photo right).
Further linking My Traffic Empire with UnlimitedIncomeOrg are a series of dubious MLM opportunities hosted on the company's private web hosting server.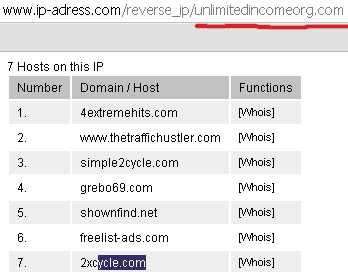 Freelist-Ads, ShowNFind, 4 Extreme Hits and Traffic Huster are traffic exchange schemes, whilst 2xCycle and Simple2Cycle (launched in late 2011, now defunct) recruitment based pyramid schemes.
"Grebo69" is the personal blog of My Traffic Empire's "marketing executive", Paul Brown.
All website domains are registered to MTE Enterprises, which is a strong indication that Thomas Walls is behind UnlimitedIncomeOrg. Given their numerous past business partnerships through MTE Enterprises, Paul Brown is also most likely involved.
Why this is not openly disclosed on the UnlimitedIncomeOrg website however is a mystery. Read on for a full review of the UnlimitedIncomeOrg MLM business opportunity.
The UnlimitedIncomeOrg Product Line
UnlimitedIncomeOrg has no retailable products or services. Instead, UnlimitedIncomeOrg members are only able to market membership to the company itself.
Membership comes in two varieties, free and "pro" (paid) membership.
Free membership comes bundled with an email list builder and some marketing material and Pro membership comes with website hosting, advertising credits and marketing training.
As I understand it, Free members are able to purchase serviced bundled with Pro membership at an additional cost. Company membership is still required however so this is not true retail (free members can participate in the compensation plan and earn commissions meaning they are not retail customers).
The UnlimitedIncomeOrg Compensation Plan
UnlimitedIncomeOrg pay out members commissions on the recruitment of new paid members and internal consumption of UnlimitedIncomeOrg's service offers to members.
Internal Consumption Commissions
Whether free or pro membership, when a personally recruited purchases a service through UnlimitedIncomeOrg's backoffice, the recruiting affiliate earns a 10% commission on the price paid for the service.
Recruitment Commissions
Both free and pro members earn $1 per month per new paid pro member they sign up.
Residual Recruitment Commissions (pro members only)
UnlimitedIncomeOrg pays out residual recruitment commissions using a unilevel commission structure. A unilevel commissions structure places an affiliate the top of the team with every personally recruited affiliate placed directly under them (level 1).
In turn, if any level 1 affiliates recruit new affiliates of their own they are placed on level 2 of the original affiliates team. If any level 2 affiliates recruit new members they are placed on level 3 and so on and so forth.
There are no limits to the width of a unilevel team (personally recruited affiliates), with UnlimitedIncomeOrg paying out down 8 levels of recruitment.
For every Pro member that falls in the first 8 levels of an UnlimitedIncomeOrg affiliate's unilevel team, the company will pay out an additional $1 a month recruitment commission.
Joining UnlimitedIncomeOrg
Membership to UnlimitedIncomeOrg comes in two varieties, "free" and "pro".
Free membership is free and pro membership is $10 a month.
Conclusion
With no retail sales occurring and a heavy emphasis on paying out monthly commissions from the membership fees paid by pro affiliates, UnlimitedIncomeOrg easily fits the definition of a pyramid scheme.
The 10% commission offered on the affiliate purchases of services offered through the company might be viable on its own (without an attached MLM income opportunity), however the recruitment commissions and paid incentive offered to free members to recruit paid members negates the rest of the compensation plan and drags it down into pyramid scheme territory.
Looking at Thomas Wall's past MLM ventures (shallow matrix based recruitment schemes), I can't say I'm all that surprised with UnlimitedIncomeOrg's business model. Like his previous ventures, I'd suggest that UnlimitedIncomeOrg most likely will only have a lifespan of a few months.
Once members at the bottom of the pyramid find themselves unable to recruit new members they'll stop paying their membership fees. When this happens those above them stop earning their monthly commissions so they too will stop paying their membership fees and before you know it, the UnlimitedIncomeOrg pyramid will have imploded.