UK jails Give and Take pyramid schemers
Launched in May 2008, Give and Take saw UK-based investors invest £3000 GBP ($4873 USD) on the implied guarantee of a £21,000 GBP ($34,115 USD) ROI.
Like many schemes before it, Give and Take used a 2×3 matrix, with new investors funneled into the bottom.

Once all eight positions along the bottom were filled, the investor at the top was paid out. Every position below them then moved up a level, leaving two matrices with eight new blank positions to fill up again with new investors.
Give and Take ran for about a year, before authorities shut it down in April 2009.
Targeting local women,  Laura Fox and Carol Chalmers convinced 10,000 investors to pump £21 mllion GBP ($34.1 million USD) into the scheme.
Following a complaint to trading standards, investigators raided her house and discovered a cache of documents linking her to the scam.
What's really amazing is the pair (who are in their late 60s) managed to pull the scam off without the aid of the internet. These ladies ran their scheme oldschool.
The scam was simple. All that investors who signed up to Fox and Chalmers's Give & Take scheme had to do was hand over £3,000, sign up eight new members and then wait a few days before receiving £23,000 back in cash. (One victim signed up to six schemes, only to lose £18,000.)

The money was given to recipients in cash at champagne-soaked celebrations at a country hotel then owned by Chalmers or at Fox's £600,000 home.

Some investors, including, of course, the two pensioners themselves, earned huge sums. But most lost everything when the pyramid inevitably collapsed.
Despite the "local" nature of the scheme though, the operation of the Give and Take scheme mirrors that we usually see in the online world:
Undoubtedly, the seeming trustworthiness of Fox and Chalmers played a major part in duping investors. But the scheme also caught on because Fox ran her side of the fraud with a housewife's efficiency.

She established a committee to control G&T, and enlisted a number of friends into key positions. Fox was G&T's chairman and Chalmers its venue organiser.

Another chum, Jennifer Smith-Hayes, 68, a widow, was treasurer. This was a criminal gang run as if by a Women's Institute.

Fox organised promotional parties at the Battleborough Grange Hotel in Burnham-on-Sea, owned by 68-year-old Carol Chalmers, where up to 300 women paid £2 entry for drinks and games with cash prizes.

Mobile phone footage recorded at one of the parties showed Laura Fox shouting: "We are gambling in our own homes and that's what makes it legal."
Lavish galas, friends given top positions, bullshit compliance excuses – these are all-too-familiar hallmarks of the online Ponzi/pyramid scheme industry.
And if you're wondering why you've never heard of Give and Take, here's why:
The scheme relied on word of mouth to recruit new members and banned them from communicating with each other in writing so as to keep it secret from the authorities.

Victims were seduced with glitzy promotional material showing women reclining in cash-filled bath tubs or lying on beds surrounded by notes.

But as members became increasingly desperate to recruit others and push themselves up the pyramid, they started emailing friends and relatives, and it was reported to Trading Standards by an employer who discovered it was being promoted in his workplace.
For their part in the running a $34.1 million dollar pyramid scheme,
Fox, Chalmers and a third organiser, Jennifer Smith-Hayes, 69, were each given nine-month prison sentences after being convicted of unfair trading at an earlier trial.

Three other women, Rita Lomas, 49, Jane Smith, 50, and Sally Phillips, 34, were given suspended jail sentences of up to four and a half months at another hearing, and yesterday Hazel Cameron, 54, Susan Crane, 68, and Mary Nash, 65, pleaded guilty to similar charges.

They will be sentenced next month.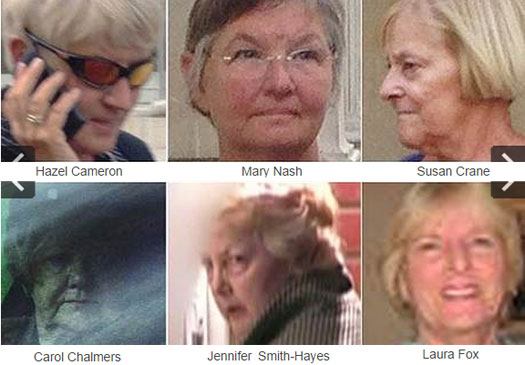 Typically we're used to seeing assets frozen before scammers are sent to jail. Over in the UK however, regulators appear to handle these cases in reverse:
Fox, Chalmers and Smith-Hayes were all convicted and sentenced to nine months in jail as long ago as 2012 after the first of those trials for operating and promoting the scheme – a charge they denied. Details can only now be reported after a series of prosecutions in which a total of nine women were convicted.
These sentences go back as far as 2012 and have already been served. The reason it wasn't reported, as above, is that three of the leaders were still being prosecuted.
Remarkably, Fox and Chalmers (and all the other net-winners) have retained their ill-gotten payouts – despite having already been through the criminal justice system.
Fox, Chalmers and Smith-Hayes have all since been released from jail, having served about half their sentence. They remain hundreds of thousands of pounds richer, although the authorities will begin new proceedings in an attempt to claw some of that money back.
I don't know how often the UK sees Ponzi schemes like this, but they might want to look towards seizing assets first.
Here's why:
Last week, Fox, a mother-of-two and a grandmother of at least two more children, declined to speak to journalists at her £600,000 home south of Bristol. A BMW and a new Mercedes sat in the drive.

Her husband, Malcolm, told The Sunday Telegraph: "Oh p— off" before slamming down the telephone.
On the flip side of the coin though,
Chalmers, who spoke with a clipped English accent, was less reticent.

Asked how she was feeling, she said: "Shell-shocked, I suppose, is a good phrase. I would love to talk to you at some stage, but at this precise moment I can't. I served nine months. You have to make of prison what you can. That's the essence of everything."

Asked why she had embarked on such a scam at an age when most people are thinking of retirement, rather than becoming criminal masterminds, she replied: "I just can't make any comment."

Yesterday, she added: "I disagree with the characterisation and demonisation. Appropriate legal advice was sought at the time [the scheme was launched]."
Going back to Fox crapping on about gambling in one's home making the scheme legal, one can only wonder about the credentials of the attorney Chalmer claims she sought legal advice from.
And here's hoping British regulators initiate those clawbacks sooner rather than later.
Living in a £600,000 GBP house and driving around a BMW and new Mercedes after bilking thousands out of $34.1 million USD? That's not right at all.
Might want to seize hubby's local business interests to return funds to pay out his wife's victims too. That at the very least might instigate some evidently much-needed remorse.