Scoville's new business to use bitcoin and be "outside the USA"

Charles Scoville is currently at the center of regulatory action against the Traffic Monsoon Ponzi scheme.
After the granting of a preliminary injunction against Traffic Monsoon, based on the likelihood of the SEC winning at trial, Scoville filed an appeal.
The appeal is still playing out in court, with a decision expected to be many months off yet.
In the meantime, a month or so ago Scoville announced he was gearing up to launch a new business opportunity.
The current preliminary injunction in place prohibits Scoville from engaging in securities fraud and raising funds from anything that remotely resembles another ad credit Ponzi scheme.
In the last twenty-four hours Scoville has shared some details about his new business opportunity, which he expects to launch within the next two months.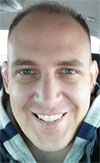 Scoville claims his new business opportunity will be
within a business industry that has millions of customers around the globe, and what will be offered will be the same and actually better than what is currently on the market.

Pricing within this market is so high, so this business will be offering much lower prices, which not only provide a competitive edge but also make it easier on affiliates who choose to sell these services to the market which is currently utilizing these same services elsewhere and are paying much higher prices.
With interest in the opportunity primarily coming from Traffic Monsoon affiliates, naturally questions are being asked about the nature of the business.
For his part, Scoville maintains his new business is "not the same as TM".
It's a business, so by that definition there will be an offered service which will cost money. Pricing is extremely competitive in the market we aim to be part of.

There is no purchase requirement to earn from selling the offered service.

There will be a task which you can earn from (no purchase necessary). There will also be a way to earn from referred members who don't make a purchase.
There does appear to be potential for overlap with Traffic Monsoon, with Scoville stating 'in the event TM wins, this business and TM can be combined together.'
Other than that, all we know is bitcoin is being touted for payments and that Scoville, wary of regulation, intends to run the business from outside the US.
One of the ideas is to build bitcoin in as a method of payment and option for getting paid.. so that's one of the things within this business never done before…

Definitely will be outside the USA to avoid gov trying to take hold of something they shouldn't have gotten involved with.
If Scoville intended to run a legitimate business, there'd be no reason to operate it from outside the US.
With the permanent injunction in place freezing Scoville's assets and the millions he made from Traffic Monsoon, questions were also raised about how he's funding his new venture.
Scoville didn't go into specifics, but stated
the good thing about having fantastic relationships developed over the years are friends who are willing to help out. I have a vision, and supporters.
What with there being a good chance Scoville's "supporters" are Traffic Monsoon affiliates, stolen Ponzi funds being used to fund the new venture is a very real possibility.
And one of course has to wonder what those funding Scoville's new business are getting or going to get in return.
Without specifics it's hard to make a call either way, however if it's possible to dump money into the new venture and withdraw more than was dumped – I can't see the SEC or Traffic Monsoon Receiver sitting idle.
Update 6th November 2017 – Charles Scoville has advised he won't be launching a new business opportunity unless the Traffic Monsoon appeal is denied.
In a Facebook post published a few hours ago, Scoville stated:
I plan to wait to release something new until it's determined TM is not coming back through the appeal but will continue fighting for TM to come back but will begin placing focus on working to earn an income through selling a service I believe people can truly benefit from at a price I believe is a bargain.
If Traffic Monsoon wins its appeal, Scoville stated he plans to incorporate his new business into Traffic Monsoon's existing model.