The Vacation Network Review: Join, recruit, earn.

It's rare for a travel niche MLM company to have a compensation plan that isn't just based around paying commissions on membership sales.
Rarer still is it for a company to summarise their opportunity like this:
We are licensed and bonded in all 50 states and offer this same product to you for a one time investment of $150.00 and $12.00 per month to qualify you to earn commissions.
A travel niche MLM company that you invest into? That sounds odd…
Read on for a full review of the Vacation Network MLM opportunity.
The Company
There is no information on the Vacation Network website about who owns or runs the company.
The domain 'thevacationnetwork.biz' however was registered on December 4th, 2011 and lists a Richard Vincenti of VinCamp Services, operating out of Las Vegas in Nevada (US) as the registrant.
Vincenti lists himself as the owner of VinCamp services on LinkedIn:

so it's a safe bet he's also the owner of Vacation Network.
Vincenti was formerly involved in the travel niche MLM company 'Traverus', serving as an 'International Executive'. Traverus appear to be a recruitment based MLM travel company and credit Vincenti with founding their marketing system:
Richard has proudly founded and is President of eTraVerus Marketing System, built for TraVerus agents.

Richard was formerly the Western Regions National Sales Director for Combined Insurance of Chicago. Within nine months, he quickly became the West Coasts proud recipient of W. Clement Stone's highest award, "The Diamond Award".

Richard has and extensive background in sales and marketing and has built several successful businesses from the ground up.

His past achievements speak for themselves and his future with TraVerus will prove that that the power of success can be achieved from any avenue.
I'm not sure if Vincenti is still with Traverus but late last year he launched his own company 'Skin La La'.
Skin La La hasn't been reviewed on BehindMLM however MLM HelpDesk's Troy Dooly took a look at it last November and wrote:
Richard has built online systems (Internet Sales Funnels) for years for some great companies, and some which sadly are not around today.

He finally realized, instead of allowing others to control his financial future it was time to create a company and system where he had a little more control.

What this company lacks in fancy million dollar websites, they sure seem to make up for in a rocking online system and a very focused product line.
Meanwhile I can't help but notice that six months after launch Skin La La's FAQ page on their website simply states:
Coming Soon!
Skin La La seems to be operational however the lack of a FAQ seems to indicate it hasn't been as succesful as Vincenti had hoped. I'd guess the shortcomings of the Skin La La launch have been the inspiration for Vincenti going back to his travel niche roots and launching Vacation Network.
The Vacation Network Product Line
Most travel niche MLM companies don't sell their own travel bookings and therefore can't offer a direct commission on them, instead simply opting to sell memberships.
Vacation Network appears to be no different in that they reveal nothing on their website about the travel side of the business other than the usual 'it's a gazillion dollar business and everyone loves to travel!' marketing spiel.
That said, the website source-code for Vacation Network reveals a few interesting lines of code:
img src="http://oasfcutravel.xstreamtravel.com/images/rg-vegas.png"

img src="http://oasfcutravel.xstreamtravel.com/images/rg-mexico.png"

img src="http://oasfcutravel.xstreamtravel.com/images/rg-india.png"
The above code is used to pull the three images that appear on the 'Resort Getaways' section of the Vacation Network website from the domain 'xstreamtravel.com'.
XStreamTravel.com doesn't appear to be a publicly viewable frontend with the domain instead serving as a backend for the travel side of Vacation Network. The domain is owned by 'Data Paradigm' who claim to be a 'business process software and market consulting firm, delivering customized solutions and back-office software'.
Interesting when you consider that a David Manning lists himself as the CEO of Xstream Travel.

The same David Manning is also the CEO of Traverus.
Compare the Traverus 'Resort Getaways' page: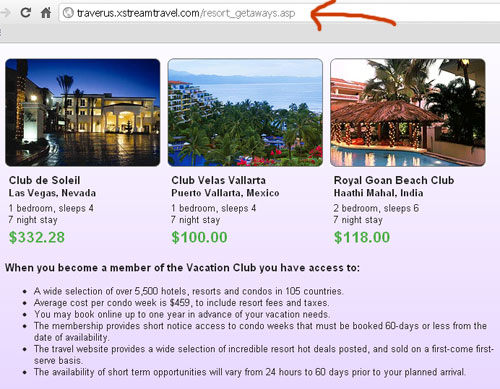 with Vacation Network's Resort Getaways page: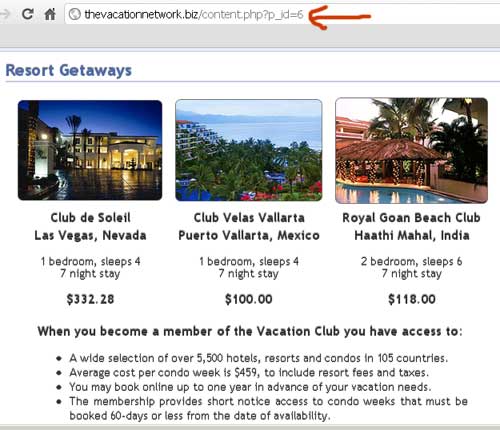 As you can see the two are identical revealing that Vacation Network is merely using the Traverus backend as an affiliate.
The compensation plans between Traverus (3×10 matrix) and Vacation Network (2×10 matrix) differ slightly, so it appears as if Vincenti has launched his own company on the same membership commissions model and backend of Traverus, but under his own name so as to earn a bigger cut of the commissions.
The Vacation Network Compensation Plan
Simple in nature, the Vacation Network compensation plan uses a 2×10 matrix to pay out commissions.
A 2×10 matrix starts with you at the top and branches out into two new legs. These two legs in turn branch out into two new legs each and so and so forth down 10 levels.
To give you a visual, the first few levels of a 2×10 matrix look something like this: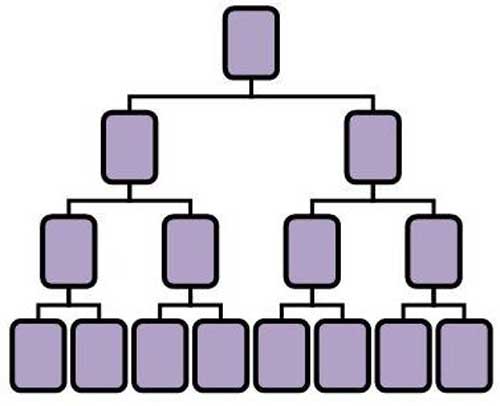 Vacation Network members earn a monthly commission each time they fill one of their matrix positions with a new member.
Provided a Vacation Network member pays a membership fee of $12 a month, they are entitled to earn $50 per new membership sold.
In addition, the company also pays out a $1 monthly commission for each person in a Vacation Network member's matrix.
There are no commissions offered for use of the third-party travel services offered via membership to The Vacation Network.
Joining The Vacation Network
Membership to the Vacation Network is $150 and participation in the compensation plan is a further $12 a month.
You do not have to pay the $12 a month however you cannot earn commissions without paying it.
At first glance this does appear to look like a retail option however all members are able to recruit new members and have their own matrix. Whether or not they earn recruitment commissions solely depends on whether they pay $12 a month to the company or not.
Conclusion
I'm not sure how badly Skin La La is failing/has failed but it seems bad enough that Richard Vincenti has decided to go back to recruitment based travel niche MLMs.
Even so far as to starting his own company, presumably in the hope that he'll replicate his prior recruitment commission success with Traverus.
As far as Vacation Network goes, 100% of the commissions paid out are via membership fees and members are rewarded monthly commissions purely on how many members have been recruited into the company by themselves, their upline or their downline.
Furthermore, the focus of recruitment in Vacation Network can clearly be seen in the company FAQ:
Can I do the Network Marketing and not be a member of the travel club?

Yes you can. However, you will not be able to take advantage of these tremendous offers!
If I'm reading that correctly it appears that you can presumably join Vacation Network for free, pay the monthly fee and just use the opportunity as a pyramid scheme (earning $150 for each membership you sell).
Revealing the complete irrelevancy of the so-called "products" on offer in regards to the commissions paid out by Vacation Network, I think that pretty much defines what the Vacation Network opportunity actually is.