Qnanza Review: Coupons + member driven advertising

Over the last few years the online coupon marketplace has grown significantly. Starting off with sites that just published the same coupons you'd find on the back of your receipts or in those booklets dropped in your mailbox, the niche has grown so much that it's now a fully fledged industry of its own.
With Groupon worth billions of dollars and the likes of Facebook and Google entering the market with their various coupon offerings, it's long overdue that someone came up with the idea to pair it with a MLM offering.
Today we're going to look at one business opportunity that does just that, Qnanza.
The Qnanza business model
Whilst Groupon, Facebook Deals and Google Offers provide users with a no cost option to take advantage of local coupons in their area, Qnanza has taken a different approach.
After joining Qnanza, members are then invited to 'buy' the offers sent to them, but only if they wish to take advantage of the deal.
Let's say for example I login to Qnanza and click on today's deal. If I like what I see I have to purchase the deal at which point a copy is made available and I have the option of  sending the deal to myself via email and/or SMS.
Each deal has a unique verifier number and once used, the deal is void and cannot be used again.
Qnanza claim that by limiting the number of uses this has less of an impact on businesses offering the deals, but I believe the restriction is more likely due to Qnanza just having started out and their relatively small membership base.
That and it could be due to the relationship between Qnanza and the business promoting themselves on it. With Qnanza taking payment from consumers it's unclear what the exact nature of this relationship is.
Note that should a member not be able to redeem a deal from a business however, Qnanza themselves are offering a refund indicating some liability on their part.
The Qnanza product line
Qnanza's product is advertising. Whereas the established coupon players have their own sales and marketing teams to go out there and procure businesses to offer coupon through their networks, Qnanza are going to rely on their members to bring local businesses on board.
As a Qnanza sales representative or Campaign Director, you are able to market the coupon side of Qnanza directly to businesses. In doing so you're not only rewarded with an upfront sales commission, but also with a residual ongoing commission so long as that business runs a Qnanza advertising campaign.
Business Volume
The Qnanza compensation plan features what is known as Business Volume. These are fixed point amounts that Qnanza members are rewarded for various business activities, such as signing up new businesses wishing to advertise and bringing new members to Qnanza.
The business volume (BV) values for Qnanza membership and membership renewal are;
Campaign Director Package – 200 BV
New advertiser client enrolment – 120BV
Monthly advertiser client campaign renewal – 120 BV
Coupon Purchases – 0.12 x coupon voucher amount (this is obviously a variable figure depending on the voucher amount being purchased.
The Qnanza membership ranks
Qnanza offers it's members five different membership ranks depending on the amount of money they bring into the company during a rolling 12 week period (with the exception of Campaign Director, which has no time requirement).
Because of the rolling nature of the twelve week period, members are able to be downgraded in rank as well as upgraded. Money coming into Qnanza needs to be maintained if members which to maintain their respective rank.
The BV requirements for Qnanza's membership ranks are as follows;
Associate Campaign Director – No minimum BV requirement.
Campaign Director – $1800 in sales generated by your directly enrolled team.
Area Director – $6000 in sales generated by your directly enrolled team or $3000 in personal sales.
Regional Director – $30,000 in sales generated by your directly enrolled team or $15,000 in personal sales.
Senior Director – $60,000 in sales generated by your directly enrolled team or $30,000 in personal sales.
National Director – $120,000 in sales generated by your directly enrolled team.
International Marketing Director – $240,000 in sales generated by your directly enrolled team.
Note: Area Director does not appear in the compensation plan, nor does it seem to be associated or tied into any commissions available to Qnanza members. At this stage I'm not entirely sure why, other than Qnanza members being able to call themselves an 'Area Director', it's on the rank list.
The Qnanza compensation plan
There are five commissions offered via the Qnanza compensation plan to its members, they are as follows;
1. Personal Sales Bonus
As a Qnanza Campaign Director, you will receive a once off payment of $100 everytime you sign up a new business to advertise a coupon deal on the Qnanza network.
2. Renewal Sales Bonus
For each month a business you bring onboard to advertise on the Qnanza network, you will personally be paid a monthly commission of $50.
3. Binary Team Commissions
Qnanza utilised a binary compensation plan which means that underneath you, your organisation branches off into two arms. From these two arms, two arms follow on from underneath them and so on and so forth.
After some time, a growing binary organisation will start to look something like this;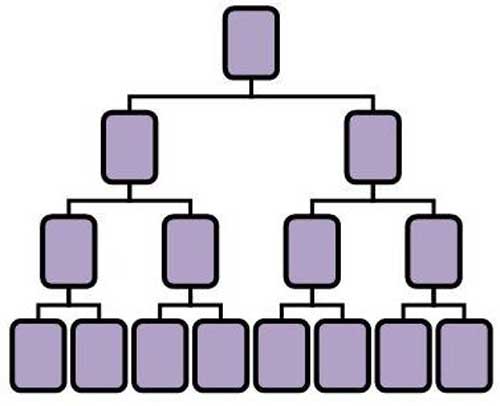 Qnanza will pay you $25* for every 200BV pair you accumulate on either side of your binary organisation. Each pair is referred to as a cycle and BV is earned as outline above in the 'Business Volume' section of this article.
These cycles are tallied up weekly and the binary commission is then paid out accordingly.
Additionally Qnanza also offer what is called a Binary Team Override. This means that for each person you've directly sponsored, you gain matching residual 120 BV each month, as long as that business chooses to use the Qnanza advertising network. This binary team override BV counts towards your matching pairs.
The binary commission payout is capped at $35,000 for any given week per Qnanza Campaign Director.
*Qnanza state that they aim to pay out roughly $25 per cycle but they don't guarantee it. Each week a proportion of the company wide membership and signup fees are put aside to fund the binary commissions. Thus, depending on the amount of cycles being claimed by members in any given week the $25 per cycle payout might slightly vary.
4. Matching Bonus
The fourth component of the Qnanza compensation plan is a matching bonus that pays out a percentage of the binary commissions earnt by Qnanza members you personally enrol, and those they personally enrol.
The payout levels are dependent on your Qnanza membership rank and pay out as follows;
Regional Director – Regional Director pays out 20% on your first generation's (those you directly enrol) binary commission payouts.
Senior Director – Senior Director pays out 20% on your first generation and 10% on your second (those people who are enrolled by those you directly enrol).
National Director – National Director pays out 20% on your first generation and 10% on your second and third generation.
International Marketing Director – International Marketing Director pays out 20% on your first generation, 10% on your second and third generations and 5% on your fourth and fifth generations.
5. Enrollment Team Account Bonuses
In order to reward members that bring in advertisers, Qnanza have set up various cash and incentive bonuses. These are as follows;
5,000 advertiser accounts = $25,000 cash bonus
10,000 advertiser accounts = $100,000 cash bonus + a car lease
20,000 advertiser accounts = $250,000 cash bonus + an exotic car lease
40,000 advertiser accounts = $1,000,000 cash bonus + 25 hours flying time in a private jet
Given the advertiser numbers involved I'd be inclined to say that the advertiser numbers are counted across your team rather than personal advertiser signups, but the material I've looked at is unclear.
Naturally though we can assume that the numbers only include currently active accounts.
Joining Qnanza
Those wishing to join Qnanza have two options;
Campaign Director – Joining Qnanza as a Campaign Director costs $171.95 ($150 joining fee + 1 month $21.95 subscription) and entitles members to all components of the compensation plan.
Sales Representative – Joining Qnanza as a Sales Representative costs only $21.95 a month but limits you to only earning commissions from enrolling businesses to advertise on the Qnanza network (compensation plan commissions 1 and 2 as per above).
Conclusion
The concept of having your members outsource businesses is something I haven't personally heard of and will definitely be need to be tested in the marketplace to gauge its effectiveness.
As someone looking to participate in the Qnanza business opportunity, know that primarily you're not going to hvae success without being able to convince businesses to participate in the Qnanza program.
The residual compensation plan is tied into BV and the only source of ongoing BV is from advertising client's renewing every month.
If you are aren't comfortable or know that you're no good at selling than the Qnanza buisiness opportunity isn't for you.
You could try game the system by just relying on the BV generated by signing people up as Campaign Directors and hoping a few of them are succesfull inturn at signing up businesses themselves, but this is a gamble and initially you're setting yourself up for a lot of work as you'll have no regular source of monthly income.
From an advertiser standpoint, I also see some drawbacks using the Qnanza system.
As an advertiser, especially a local smaller business, whilst the initial flood of customers coming through the door might be useful, I can't help but question the motive of wanting to continually provide month to month discounts to Qnanza members.
A supermarket has weekly specials because they have tens of thousands of products, as a local business this is going to be unlikely and I'm not really seeing the value of committing financially month to month to Qnanza to offer a regular discount to its members.
I'd have thought the last thing you'd want to do as a local business is set a precedent and expectation of offering your products at a perpetual discounted price.
Worst still, being local you also run the risk of word of mouth getting around and people rocking up demanding the discounted price, whether they bought it through Qnanza or not.
Of course as a business advertising on Qnanza you do have control over the amount of coupons being offered by Qnanza to its members and therefore you're total spend. This seems to be like a coupon version of AdWords where businesses will be able to set a maximum campaign spend and let Qnanza do the rest.
At the end of the day however, as opposed to Adwords where only the advertising spend is lost per sale, with coupons the business is also looking at absorbing the discount offered via the coupon.
This might work for a short term duration and to get your name out there, but as I mentioned earlier I don't really see the value of a long term campaign via Qnanza. At least not in a business sense.
As a Qnanza Campaign Director or Sales Representative you need to take this into consideration. Not only does the health of the advertiser inventory directly have an impact on your commissions through renewal BV, but it also dictates the success of the coupon side of Qnanza as well.
No deals and Qnanza membership will tank, taking along with it the major selling point you've got in your attempts to bring new advertisers on board.
Due to the nature of coupons, apart from the big multinationals (who Qnanza don't seem to be targeting), you're looking at a multitude of local offerings. This in turn severly limits the potential value each member obtains from being a member of Qnanza.
Still, all coupon type sites have to start somewhere and if the Qnanza model proves to be succesful I imagine initial success in areas of a large concentration will eventually trickle out to more regional areas.
As I mentioned earlier, relying on your members to bring on advertisers rather than a team of professional marketers is definitely something different in the coupon niche. This is one business where quality in your field of members is definitely going to make or break the company.
I guess we'll have to wait and see if it pays off for Qnanza and its members.