Strong Future International Review: Transparency?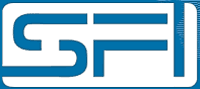 When I first visited the Strong Future International Marketing Group (SFI) website, instead of an informative website where I could learn about the company, its MLM business opportunity and view their compensation plan, instead I was told that because I wasn't recruited by someone, I wouldn't be able to proceed any further: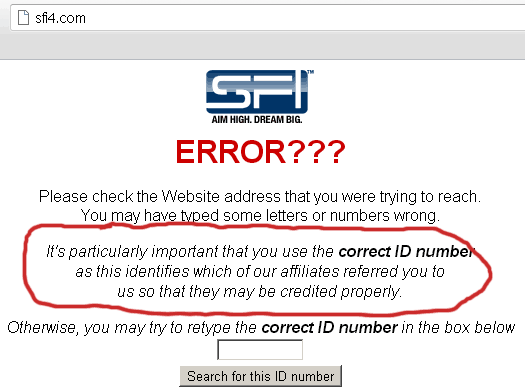 Immediately setting off a red flag alert, I hunted around for an affiliate link and after findin one, found out I wasn't in much of a better position than I had been without an affiliate referral link.
With a bajillion menu options it wasn't until I'd wasted ten minutes or so of stuffind around (even with an affiliate link, most of the SFI website still doesn't work unless you sign up as a member and "log in"), that I finally found some information about the company (tucked away under a "getting started" menu).
This page revealed that
SFI Marketing Group was launched in 1998. Starting with just one product, sold only in the United States, SFI has now grown to more than 56000 products and services (and growing daily) sold in more than 190 countries around the world.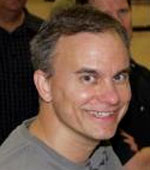 Additionally the company claims to be based in the US state of Nebraska and is headed up by company founder "Gery Carson".
Carson (photo right) is also the President (and presumably owner) of Carson Services, who are in turn the parent company of SFI.
Why I can't access this informationn as a prospective member without going through a referral link first, I have no idea. In any case, read on for a full review of the SFI MLM business opportunity.
The SFI Product Line

SFI themselves don't have products other than company membership (which appears to be free). Rather, commissions are paid out on the purchases of products via the online e-commerce site "Triple Clicks".
Triple Clicks (another division of Carson Services) was founded in January 2009 and offers Daily Deals, a shopping portal and penny auctions under the "Price Benders" brand.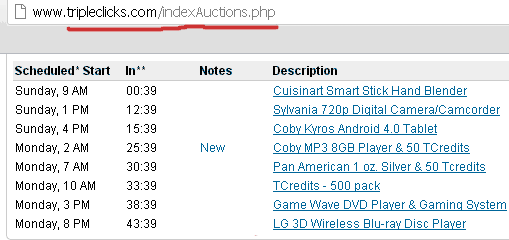 The Daily Deals and shopping portal are pretty standard, however the Price Benders penny auctions only seem to have launched mid 2012 and currently only offer a handful of scheduled auctions each day (mostly "occasionally refurbished" electronics).
Bids for Penny Benders are sold in packs and range in price from $1.99 for one bid to 29 cents a bid if bought in a pack of 200.
The SFI Compensation Plan
For reasons known only to themselves, SFI do not present a complete compensation plan to the general public. Significantly important components of it are hidden behind company membership (primarily membership rank qualification criteria within the compensation plan and their effect on affiliate commissions).
Making use of what information is made available to the general public though, the following is a brief rundown of the SFI compensation plan.
Retail Commissions
Retail commissions within the SFI compensation plan include any purchases made via the Triple Clicks shopping portal, made by either recruited affiliates or customers.
Each item available for sale through Triple Clicks has a "commissionable volume" (CV) value attached to it, with SFI paying out "45% of the CV" value of any purchased products.
For purchases made by Triple Clicks customers (non-affiliates), SFI affiliates also earn "Versa Points" (VP), which are used to calculate an affiliate's share of the "Triple Clicks Executive Bonus Pool" (see below).
Triple Clicks Executive Bonus Pool
The Triple Clicks Executive Bonus Pool is made up of '40% of the CV of EVERY purchase companywide', with qualifying affiliates able to earn in it based on how many Versa Points they've generated.
Versa Points can be generated via non-affiliate retail purchases through Triple Clicks. The company does state that Versa Points can also be generated via other "pointable actions", however the company does not share this information with the general public.
Matching VP bonuses are also available to SFI affiliates who achieve the membership rank of "Bronze Team Leader" and above.
Unfortunately SFI do not share membership rank requirements and qualifications with the general public so I can't state what they are.
Co-Sponsoring of Affiliates
Co-sponsoring of affiliates within SFI appears to be the allocated re-recruitment of affiliates already in the system for the sole purpose of qualifying for additional commission payouts.
Every affiliate within SFI is able to be co-sponsored by other affiliates, with co-sponsorship allocated
directly by SFI themselves ("a minimum of TWO (2) CSAs are allotted to you each month you attain the rank of EA")
winning something called the "Daily Grand Contest" (information on this contest is not available to the general public)
won via Triple Click's Pricebender penny auctions (yes, SFI  actually auctions off co-sponsorship of fellow affiliates for money)
winning something called the "Entrepreneur365 Finalist Drawing" (information on this contest is not available to the general public)
For every co-sponsored affiliate an SFI affiliate has, they are able to earn 15% of the CV generated by any products purchased via Triple Clicks these affiliates buy.
ECA Referral Program
The specific details of the ECA Referral Program are hidden from the general public, however from what I can piece together it appears to be a rewards program for referral of merchants to the Triple Clicks shopping portal.
If an SFI affiliate refers a merchant (referred to as an "ECA"), the affiliate is able to earn 10% of the CV on every order made through Triple Clicks from that merchant.
Recruitment Commissions
Referred to by SFI as "pay per action", the company pays out affiliates $11 per new SFI member recruited and $5 per new Triple Clicks customer signed up.
Joining SFI
Membership to SFI as an affiliate appears to be free, however there appears to be an incentive for affiliates to reach the "Executive Affiliate" rank.
In order to reach the Executive Affiliate rank as soon as possible, SFI suggest
the best way to accumulate VersaPoints and attain Executive Affiliate rank is to generate 1,500 SVP instantly via a purchase at the TripleClicks store.
Apparently affiliates can also reach and maintain Executive Affiliate rank via sales through Triple Clicks (note that this appears to be an ongoing monthly requirement to maintain the Executive Affiliate rank).
Unfortunately with SFI not making the specifics of membership ranks within their compensation plan public, it is unknown the impact of being an Executive Affiliate has on an SFI affiliate's commissions.
Given the emphasis of reaching the Executive Affiliate rank however, one can only assume it is significant.
In any case, it appears affiliates are potentially looking at an initial purchase of products through Triple Clicks in order to qualify themselves as Executive Affiliates.
Conclusion
I'm a big fan of transparency in MLM and sadly the SFI opportunity is severely lacking in this regard. For starters, the requirement for a prospective affiliate to browse the SFI website via an affiliate referral link is a definite no-no and raises an instant red flag.
Additionally simple basics are left out of the compensation plan (such as membership rank requirements and their impact on qualifications), which wholly render a prospective affiliate unable to make an informed decision about the opportunity.
From what information is made available, I believe a big question hangs on alternative methods of generating Versa Points. With Versa Points being tied into a profit-sharing pool, if any of these methods (which SFI again do not share with the general public) are tied into affiliates spending money without a product being purchased, this could raise some serious legitimacy issues.
Affiliate purchases via Triple Clicks do not generate Versa Points so full credit to SFI for that.
On the other hand, it was a bit disturbing to read the company suggest that
The KEY to creating a major income in SFI is by learning to lead and grow a TEAM of active SFI affiliates.
Coupled with the need to view the SFI website through an affiliate referral link, this might indicate a disproportionate amount of affiliate spending within the opportunity vs. actual retail Triple Clicks customers.
The recruitment commissions paid out upon the acquisition of new SFI affiliates ($11 per new member) also certainly seems to reflect this.
One way for a potential affiliate to establish whether or not there's a focus on affiliate recruitment over retail Triple Clicks customers would be to enquire with their upline as to the number of Triple Clicks customers they have vs. the amount of recruited SFI affiliates they have.
And as for the whole re-selling of downline genealogy via co-sponsorship thing, that doesn't at all seem legitimate to me. Especially if affiliates are able to bid on downline acquisition (or re-acquisition as is the case with co-sponsorship) via a penny auction format.
I see a big red flag there as there's no way known bidding on downline genealogy could constitute a legitimate penny auction product (not to mention the fact that retail Triple Clicks customers would have no interest in bidding on the auction, further potentially highlighting a tailoring of Triple Click's offerings to SFI affiliates over genuine retail customers.
This is further evidenced by the following message appearing on the Triple Clicks penny auction website:
Log in to set Alerts or to see SFI Auctions (SFI Affiliates only).
If only affiliates are able to see the auctions, that means no retail customers are able to participate.
All in all I feel that there's probably a reason so much information is kept from prospective members browsing for information on the SFI MLM income opportunity and, given the fact that it is made available to members (it's not that the company hasn't written the information), I don't see there being any excuse for the overall lack of transparency.
Today's MLM affiliate need as much information as they can get their hands on before committing to a company and if that company deliberately chooses not to share even the most basic of compensation plan information with potential members, ultimately they just wind up working against themselves.