Solavei collapses, discontinues MLM opportunity

Mid 2014 saw Solavei drowning in $63 million dollars of debt, which in turn lead to the company filing for bankruptcy.
Initial vendor costs and affiliate commissions were cited as primary reasons for the filing.
What sounded like the end of the company later transitioned into maintaining Solavei's business operations, albeit on a tight budget.
Just shy of a year and a half later it appears that, even on a tight budget, Solavei's business model still isn't feasible.
In a video announcement made within the twenty-four hours, CEO Ryan Wuerch has announced the end of Solavei as we know it.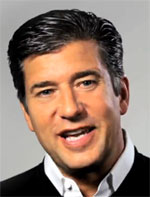 Citing the competitive and costly nature of being a mobile service provider in the US, Wuerch (right) cites a failure to negotiate a contract with T-Mobile as the reason for the collapse.
[2:24] Due to the competitive landscape of the mobile service industry and the many changes we've had to make to keep our service competitive, it has put an incredible strain on our company.

[2:41] Unfortunately, we've not been able to reach terms with our current mobile service provider to continue to providing a quality and cost-effective service to our members.

[2:57] As of December 4th, Solavei mobile service will be discontinued.
Existing Solavei customers are to be given the option of continuing their service through T-Mobile, with Wuerch going on to T-Mobile's "attractive service plans".
T-Mobile also apparently have access to Solavei's customer-base, with the company to send out T-Mobile SIM card packs to all existing Solavei customers.
Wuerch claims this is "great news" and a "great offer" for "tens of thousands" Solavei customers.
Not disclosed is whether or not Solavei receive a commission per existing Solavei customer that signs up as a T-Mobile customer.
[4:47] The last couple of days has been the hardest, the most difficult of my business career.

Cause what it means is we are now forced to stop all payments, commissions and all future service under the Solavei brand.

I never would have thought it.
Ryan Wuerch's full Solavei announcement can be viewed below in its entirety (courtesy of MLM Helpdesk):
Update 3rd August 2021 – As at the time of this update the video referenced in this article has been marked private.
As such I've removed the previously accessible YouTube link.