Ricochet Riches: HYIP with 50% forced reinvestment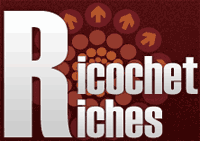 Ricochet Riches go out of their way to claim that they aren't a high yield investment program (HYIP),
Q: Is RicochetRiches.com an HYIP?

A: Absolutely NOT. Ricochet Riches is a Marketing Network that includes multiple programs that provide several advertising venues to help people promote their primary business.

We also offer commissions for those that promote RR and bring in new members, as well as sharing part of our profits (dependent on retail advertising sales throughout the RR Network) with our members that purchase Advertising.

We are not now, never have been and never will be any kind of investment program.
Unfortunately for them it appears they don't seem to quite get their own business model, or they think their members (and anyone who goes over their business model and doesn't swallow the kool-aid) are complete morons.
After analysing Ricochet Riches' business model, concluding that they are anything but an investment program is both delusional and intentionally deceptive.
Read on for a full review of the Ricochet Riches MLM opportunity.
The Company
There is no information on the Ricochet Riches website about who is running the opportunity or who owns it.
The domain ricochetriches.com was registered on the 3rd August 2011 and the registration information is set to private.
As always, be extremely cautious of joining any MLM opportunity that is not upfront about who is running and/or owns the company.
The Ricochet Riches Product Line
Ricochet Riches allow members to purchase advertising which is then displayed on an inhouse advertising network.
The company also offers members email credits which can be used to send out bulk email (unsolicited or otherwise).
There is no retail product offering from Ricochet Riches with membership being compulsory before any product purchase can be made.
The Ricochet Riches Compensation Plan
Update 19th February 2012 – Ricochet Riches made some changes to their compensation plan on February 14th 2012. In order to keep a record of the original compensation plan I've left the original plan details intact below. /end update
There are two basic components of the Ricochet Riches compensation plan:
investment returns and
referral commissions
Investment Returns
Upon joining Ricochet Riches and purchasing an advertising pack ($10), Ricochet Riches guarantee members a 150% ROI ($15).
Ricochet Riches do not guarantee the timeframe in which the ROI will be paid out to members, but when 150% of the original investment is made, Ricochet Riches pay out $7.50 and force members to re-invest $7.50 back into the investment program.
Note that the minimum investment amount is $10 so members will have to top up this $7.50 reinvestment with another $2.50 if they wish to re-invest for another 150% return.
Ricochet Riches members are able to invest up to $1000 per hour, capped at $5000 a day.
Referral Commissions
If a Ricochet Riches member recruits someone to the company via an affiliate link, they are entitled to a 10% commission on the money their recruits spend on advertising invest into the program.
5% is also earnt on the investment amounts by your second level recruited members (members who are recruited by members you yourself have recruited).
Any money earnt via referral commissions is paid out in the same 50/50 rule as the investment commissions (paid out in $15 $7.50/$7.50 blocks).
Once a $10 balance is reached in the 50% share the company keeps for free members, this money is automatically invested into the company as per the investment component of the compensation plan outlined above.
Effectively this means that Ricochet Riches eventually get free members to invest in the investment program too.
Joining Ricochet Riches
Membership to Ricochet Riches is free. Free membership entitles you to earn referral commissions as outlined in the compensation plan above.
For those wishing to participate immediately in the investment component of the Ricochet Riches compensation plan upon joining the company, membership effectively costs $10 (at a minimum).
Conclusion
The advertising credits Ricochet Riches members "purchase" are effectively useless.
Why?
Advertising works on the principle of exposure. Ricochet Riches ads are only shown on the Ricochet Riches website, and currently there is no reason to visit the company website unless you are already a company member, or looking to sign up.
Quite obviously the advertising credits are just a front for the investment scheme.
Want more proof?
When was the last time a company guaranteed you a 150% return on the retail purchase of a product?
The advertising network runs off a script which costs Ricochet Riches nothing, meaning there's no investment into the network by the company. Once they install the inhouse advertising script and flick a switch, all they have to cover are the miniscule bandwidth costs associated with running the network and they're done.
In fact if you got rid of the advertising altogether, it would have absolutely no impact on the investment at all. You could still give $10 to Ricochet Riches and they'd still be able to guarantee you a 150% return.
Not withstanding that you can't purchase advertising without joining the company (true retail), Ricochet Riches' "product" has nothing to do with the compensation plan.
Instead, it's just a straight up investment opportunity with a unilevel MLM backend that pays out on two levels.
The money Ricochet Riches pays out comes from the investment of new and existing members. Ricochet Riches claim these are retail sales:
When you purchase a Ricochet Riches Advertising Unit, you receive back a portion of the profits of the RR Network based on the net retail sales of the website.
But it's not possible to purchase anything from the company at a retail level, meaning this is false.
Instead, 100% of the returns Ricochet Riches pays out are generated from the money new and existing members invest into the system.
If we break down the mechanics of the investment program, for every $10 you invest into Ricochet Riches, you get $7.50 back and the company keeps $7.50 (to pay out other investors with).
For an additional $2.50 you can re-invest the $7.50 balance the company keeps, but upon receiving your new investment you're again only credited $5 back ($7.50 – $2.50).
Breaking it down, for each $10 you invest into Ricochet Riches you get $7.50 back, and for each $2.50 you invest into the balance Ricochet Riches keep for you (which is effectively virtual currency as it has no value outside of the program), Ricochet Riches pay you a return of $5.
The sustainability of the Ricochet Riches is tied into the forced 50% reinvestment rule, but even then it's not guaranteed.
By capping the investment blocks as above Ricochet Riches ensure that the money being cashed out is never going to cripple the company. Instead, by promising a 150% return but not the time in which it takes to pay out said return, Ricochet Riches can alter the daily return to compensate on the overall real cash invested into the scheme by its members on any given day.
Over time, unless members continue to invest more and more money (which the 50% reinvestment effectively forces them to do) and new members stop joining and investing into the company, the daily return drops and in turn this means the 150% takes longer and longer to reach.
Eventually a point is reached where the daily return is so low that it's comparable to a term deposit or other less riskier investments and that's when things fall apart.
Unfortunately with Ricochet Riches forcing members to reinvest 50% of their returns… there's going to be a strong mental attachment to the company and its sustainability so in this sense Ricochet Riches put off this eventual collapse for as long as possible.
You can turn a profit by just re-investing $10 into the scheme each time (2x$10 investments = an investment of $20 and a ROI of $22.50 ($7.50 x 3)) but mathematically, with money only coming in from members investments and the company itself having to make a profit this is not sustainable.
At the end of the day, like any other dodgy investment scheme Ricochet Riches is just paying out existing members with the money they themselves and the money new members who join pump into it.
Throw in an advertising network that costs nothing to run and you've still got a Ponzi scheme. Legally you might be able to claim members are purchasing products, but effectively if you follow the money there's nothing that differentiates Ricochet Riches from how a Ponzi scheme operates.
Mathematically if the only source of revenue is the investment money being pumped in, it's always going to be impossible to deliver a 150% return on the money invested.
Yet that's exactly what Ricochet Riches promise their members…