"Paparazzi a pyramid scheme", leaks case counterclaim alleges

Three Defendants in the "employee leaks" case have filed a countersuit against Paparazzi's co-founders.
Defendants and now Counterclaim Plaintiffs Geraldine Souza, Jennifer Carrol and Jaime Robinson allege, among other things, that Paparazzi is a pyramid scheme.
Counterclaim Plaintiff's Complaint was filed alongside an answer to Paparazzi's lawsuit, mostly denying allegations against them.
Paparazzi filed suit against the Defendants back in April, in an attempt to stop them leaking "confidential and protected information".
Named defendants in the filed August 15th Counterclaim are Paparazzi co-founders Misty Kirby, Trent Kirby, Chantel Reeve and Ryan Reeve.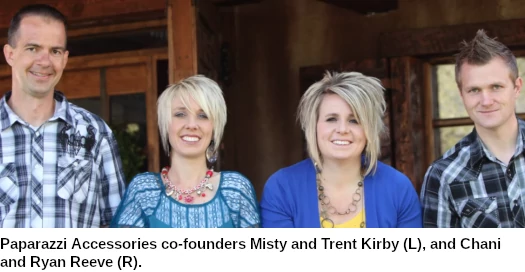 As alleged in the Counterclaim;
Paparazzi's business model is heavily, if not entirely, dependent on recruiting and retaining individuals to operate as Consultants for Paparazzi.

For this reason, Paparazzi compensates and incentivizes its Consultants to recruit additional Consultants who in turn, recruit additional Consultants.

Under Paparazzi's compensation structure, Consultants must recruit other individuals into Paparazzi before they are eligible to receive the vast majority of bonuses, commissions, or other compensation.
BehindMLM reviewed Paparazzi Accessories in October 2021. Raised concerns were encouragement of Consultants to buy "large amounts of stock", inventory loading and mandatory purchases – all hallmarks of an MLM pyramid scheme.
The Counterclaim continues;
Paparazzi's 2021 income disclosure confirms that a Consultant's right to receive compensation is derived primarily upon that Consultant recruiting other individuals into the pyramid as opposed to selling Paparazzi's jewelry.

The average "monthly bonus" for a level-1 Consultant and level-2 Consultant is only $12.49 and $23.67 respectively. The "bonus" for these levels can be as low as $0.10.

However, after recruiting at least three additional Consultants, the potential compensation increases dramatically.

At level 3, the monthly bonus is more than eight times the level-2 bonus and more than fifteen times the level-1 bonus.

At level 14, the average monthly bonus is more than 6,536 times the level-2 bonus and 12,402 times than the level-1 bonus.

Thus, Consultants cannot advance unless they are recruiting other individuals into the pyramid. And the advancement of a Consultant does not require that Consultant to sell Paparazzi's jewelry and accessories.
Paparazzi's "lead and nickel free" scandal is also brought up.
Across eleven claims of relief, the Counterclaim seeks to hold Paparazzi accountable for alleged
violations of Utah's Pyramid Scheme Act;
violations of the Lanham Act;
violations of California's Consumer Legal Remedies Act;
violations of Texas' Deceptive Trade Practices Act;
violations of Idaho's Consumer Protection Act;
violations of Utah's Consumer Sales Practices Act;
breach of express warranty;
breach of implied warranty;
violations of California's False Advertising Law;
fraudulent misrepresentation; and
negligent misrepresentation
Paparazzi's co-founders have yet to respond to the Counterclaim.
Looking forward, a Case Management Conference has been scheduled for September 27th.
Update 11th April 2023 – The Paparazzi "leaks" case has been stayed pending the outcome of compelled arbitration proceedings.