OneCoin debut €118,000 EUR investment package

If you thought a €25,000 EUR OneCoin investment package was excessive, I've got some bad news for you…
Following up on an email sent out yesterday, Ruja Ignatova has announced via a video a new €118,000 EUR package.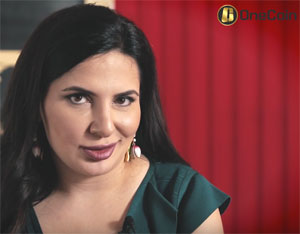 In a OneLife video published on July 25th, Ignatova explains
Second package we're launching, most probably most interesting for the Asian markets, and we have been asked for it, is a big package called the "Ultimate Package".

This package is €118,000 EUR and it has 1,311,111 tokens.
OneCoin insists it is not a Ponzi scheme because it bundles "cryptocurrency education" PDF files with affiliate investments.
Ignatova does not mention what cryptocurrency education, if any, OneCoin affiliates who invest €118,000 EUR will receive.
OneCoin and their affiliates vehemently deny they sell tokens (Ponzi points) and OneCoins.
[2:03] So, what is special about this package, except (it) being so big?

Of course it's amazing that it has a lot of tokens and a lot of coins will come out, but it is actually the same features as the Infinity Plus Package.

So you can use it in the super combo as an Infinity Plus Package (and) the coins will get interest in the CoinSafe.

But what we will do for this package, and only for this package, we will give all the seven splits when the new blockchain is switched on.

So it means you will get all the seven splits immediately and this package will generate over 2 million OneCoins.
At the current internal value of OneCoin, this equates to a €118,000 EUR investment delivering a $13.76 million ROI. To put that into perspective, that's
OneCoin's new €118,000 EUR investment package is available until the 1st of October, after which the company is changing it's point generation script.
The new script, which OneCoin disingenuously refer to as a "blockchain", will spit out OneCoin points at a much faster rate than the previous script.
OneCoin has also promised to instantly double each affiliate's points. OneCoin has yet to disclose where it will get the funds it needs to honor withdrawal requests on the magically created new coins.
At the time of publication, the only source of revenue entering OneCoin is newly invested affiliate funds. With affiliates who invest €118,000 between now and October receiving a 11,661% ROI and everybody else doubling their OneCoin point values, this is a troubling scenario.
One possible explanation for OneCoin's latest money-grab is the recent decline in traffic to their website:

Russia, one of the biggest players in the MLM underbelly, is currently the largest source of traffic to the OneCoin domain.
Traffic to OneCoin's newly launched OneLife domain has plateaued out. Russia is also the largest source of traffic to the OneLife domain.
A decline in website traffic is significant for OneCoin, as it almost certainly coincides with a reduction in newly invested funds.
To counter this OneCoin have bought themselves time until October, with the "new blockchain" announcement. Diehard investors are unlikely to withdraw funds given the promise of a point doubling on October 1st.
The €118,000 EUR investment package meanwhile appears to be an attempt to lock down a source of new funds between now and then. Affiliates who invest €118,000 EUR will have their funds tied up in CoinSafe for at least 12 months.
Despite the abundance of OneCoin points and the company's ability to double this amount at whim, there's still no practical purpose for OneCoins outside of the income opportunity.
Update 27th July 2016 – YouTube terminated OneCoin's official OneLife YouTube channel less than 24 hours after the video referenced in this article went live.