OneCoin claims business is an "investment opportunity"

In light of OneCoin not being registered with a securities regulator anywhere in the world, the company has started insisting it's not an investment opportunity.
In a compliance email sent out on July 13th, OneCoin advised affiliates anyone caught promoting OneCoin as an investment opportunity 'will have their account frozen'.
In OneCoin's affiliate backoffice, the company provides affiliates a document titled "How To Develop Your Business".
On the following pages we provide you with a start-up plan. Follow the steps.

Be patient and do not give up. Only hard work brings reward.
The five-page document starts by advising OneCoin affiliates on how to "start your business".
Three recommendations on starting a OneCoin business are provided;
1. Develop a strategy

There is a clearly defined concept at the core of every business.

Develop a plan for your business before you start – make sure you consider all details in advance.

2. Prepare in advance

Preparation is crucial for success.

Make a list of names with your contacts that you wish to invite to this investment opportunity.

Think about how to approach each of them and let them know about the different ways they can benefit from this opportunity.

3. Negotiate a partnership

Negotiation is half-science and half-art.

Be sure to double-check all information materials and present it to your future partners in a composed, structured and convincing manner.
As per OneCoin's July 13th compliance email;
OneCoin is not an investment or "get rich scheme". OneCoin is a global cryptocurrency committed to servicing the voids in our current global economy.

Any affiliate, no matter what country they're in, caught advertising OneCoin or One Life as an investment, or a get rich scheme will have their accounts frozen.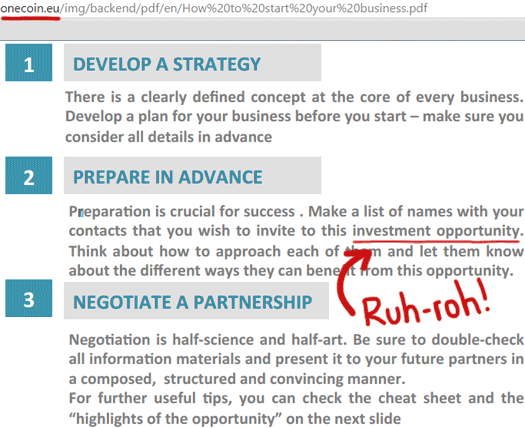 While OneCoin affiliates are threatened with accounts being frozen if they mention the word investment, it seems the same rule doesn't apply to OneCoin itself.