One Penny More Review: Internal or external sales?

One Penny More is a penny auction MLM business opportunity that was launched in July 2012 and operates out of the US state of Nevada.
One Penny More is separated into two divisions, a penny auction site (onepennymore.com, registered in May 2012) and attached MLM business opportunity (onepennymore.biz, registered in July 2012). Both domains have their domain registration information set to private.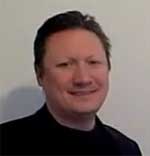 Whilst the One Penny More penny auction website merely credits who's behind One Penny More as 'the Staff of OnePennyMore.com', the MLM business opportunity website credits 'Joseph Zyskowski' (also known as 'Joe Zyskowski', photo right) as being the founder of One Penny More, claiming that Zyskowski has been involved in the 'network marketing industry since 1989'.
On his Facebook page, Zyskowski writes:
I graduated from WMU in 1989 with a Bachelors of Science degree in Education, certified to teach K-8.

Unable to find a teaching position immediately out of college I was recruited into one fo the greatest network marketing organizations of all time … A.L. Williams.

After A.L. Williams I taught third grade for 2 years, then started a comic book publishing company with my brother, Steve, after which I became a real estate agent in Las Vegas.

When the real estate market changed I had to change with it and remembered back to my first experience with network marketing. I believed in the network marketing model but wanted a younger company that offered more opportunity due to timing.

After three years of getting my teeth kicked in working for network marketing companies that changed their compensation plans, changed their products, or went out of business owing me commission I had it, and decided to start my own network marketing company.
Zyskowski goes on to reveal that network marketing company was "5 Dollar Money Bomb", a recruitment driven scheme which paid out 100% of its commissions from membership fees. 5 Dollar Money Bomb "bombed" shortly after launch and is no longer operating.
Curiously, the domain '5dollarmoneybomb.com' is currently redirected at something called 'Get Paid to Learn 101', which appears to be some sort of $15 a year training scheme that also pays out commissions solely from membership fees.
Despite making no mention on his Facebook profile of launching any companies prior to 5 Dollar Money Bomb, in 2011 Zyskowski launched two schemes, Silver1up and Silver2up.

Both schemes revolved around members signing up and paying monthly membership fees with no products or services sold other than company membership.
Both schemes required members as part of their qualification to gift 100% of their membership fee commission (one sale with Silver1up and two with Silver2up) to their upline before they could earn money (by signing new members up).
Also launched in 2011 by Zyskowski was a "gold/silver penny auction site" called "One Penny Gold".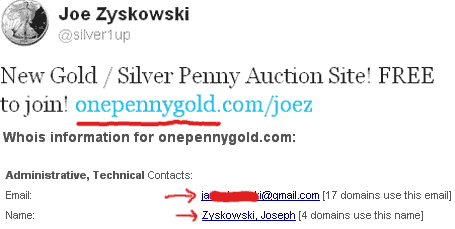 Today, all three businesses are no longer operational.
Read on for a full review of the One Penny More MLM business opportunity.
The One Penny More Product Line
One Penny More market penny auction bids for the One Penny More auction website with bids costing 49 cents each.
Note however that One Penny More auction bids are only purchasable in bid packs, ranging from 100 to 1000 bids:
100 bids = $49
200 bids = $99
500 bids = $249
1000 bids = $499
A 20% bonus on first bid purchases is offered when bids are purchased through a One Penny More affiliate's replicated sales website.
Note that One Penny More's penny auctions are not open to participation from international (non US-based) bidders. International members are able to join as an affiliate but they themselves are not able to buy bids or participate in One Penny More's penny auctions.
No explanation is provided by One Penny More as to the reason behind this.
The One Penny More Compensation Plan
The One Penny More compensation plan revolves around the sale of bids by either preferred customers or company affiliates through replicated sales pages.
There are three affiliate levels within the compensation plan, with each offering different commissions structures and commission percentages.
1 Star Affiliates
All new affiliates join as a '1 Star Affiliate', earning them a 20% commission on the sale of any bid pack to personally referred customers or affiliates. This is done using a unilevel compensation structure, placing all referred customers and affiliates directly underneath the affiliate who recruited them (level 1).
From an affiliate's level 1, the first 2nd, 4th, 6th, 8th and 10th affiliate recruited are "coded" to the affiliate. This means that they generate a 100% commission match on the first 10 sales they make.
Eg. If you recruit affiliate A and they are your 2nd, 4th, 6th, 8th or 10th personally recruited affiliate, you'll earn a 100% commission match on their first 10 bid sales to either customers or affiliates of theirs.
Additionally the first five odd-numbered affiliates recruited by any of your level 1 coded affiliates are coded to you as if you'd personally recruited them, meaning you earn a 20% matching bonus on the first ten bid sales they make.
Once again, the first five odd-numbered affiliates any of these level 2 coded affiliates make are again coded to you, generating a new level of 100% matching commissions.
This process repeats itself down infinite levels of the unilevel commission structure.
2 Star Affiliate
After an affiliate has personally recruited ten One Penny More affiliates, they are promoted to the rank '2 Star Affiliate'. 2 Star Affiliates retain all personally recruited affiliates as coded to them, meaning they earn a 100% matching commission on all personally recruited affiliates from their eleventh recruited affiliate onwards.
2 Star Affiliates also earn an increased 40% commission on bid pack sales to their preferred customers.
3 Star Affiliates
3 Star Affiliates must have 10 personally recruited affiliates, 10 personally recruited preferred customers and have two 2 Star Affiliates coded to them.
In addition to the changes in commissions paid to 2 Star Affiliates, 3 Star affiliates earn a full 40% commission on coded affiliate bid sales (up from 20% paid to 1 and 2 Star Affiliates).
This extra 20% comes from the 20% that is usually otherwise paid to your upline, meaning they no longer receive a 20% commission on your coded affiliate's first ten sales.
Joining One Penny More
Membership to One Penny More as an affiliate costs $60 for 6 months or $99 for 12 months.
Affiliates must also purchase a bid pack when they sign up as an affiliate.
Conclusion
When I first looked at the One Penny More compensation plan and saw mention of "coded affiliates" and passing commissions up, I instinctively thought we were looking at a rehash of Zyskowski's earlier Silver1up and Silver2up companies, married to a penny auction.
The commissions from bid purchases in One Penny More however are broken down into 40% paid to affiliates via the comp plan and 60% being retained by the company (some of this is paid out via matching bonuses, with the company keeping the rest).
With the coding of even and odd-numbered affiliate recruits, this does still resemble a passing up type commissions structure but instead of membership being passed up, sales of bids are.
That said, there's still a few red flags that I believe need to be addressed.
The first is the requirement for all new affiliates to purchase a bid pack when joining. This purchase is required so that commissions can be paid out on the purchase, but effectively you're looking at earning a guaranteed commission upon the acquisition of new affiliates (coded or not).
The fact that the commission is paid out on the bid purchase rather than the membership fees paid themselves I feel is irrelevant, given that you cannot join One Penny More without a bid pack purchase.
This then ties into the question of whether or not the bulk of money coming into One Penny More is going to be from affiliates, or preferred customers. A viable retail option exists with preferred customers purchasing bids and not participating in the compensation plan, however there's not really much incentive to focus on this.
Looking at the compensation plan, it's quite heavily stacked towards the recruitment of new affiliates over preferred customers, with nothing separating the two other than a $60-$99 membership fee.
Infact it isn't until affiliates reach the rank of 3 Star that they even have to worry about finding preferred customers, with commissions prior to this being able to be solely derived from recruited affiliates (and even encouraged, seeing as preferred customers cannot be coded).
Residual income wise you've got two options:
market One Penny More to genuine retail customers and earn a 20% commission on each bid pack they purchase or
recruit One Penny More affiliates and focus on generating residual coded affiliate commissions based on the idea that those affiliate you recruit will go out and recruit more affiliates
The former could be profitable if customers are willing to purchase bids on a repeat basis however it pales in comparison when compared to the income possibilities provided by the second option.
From what we've seen thus far, affiliates in penny auction MLM companies have a much easier time recruiting new affiliates then they do genuine retail customers (excluding the purchase of "email address customers" from third-party customer vendors). One Penny More wholly encourages this with their affiliate coded compensation plan and I suspect this is going to drag them dangerously close into pyramid scheme territory.
Each coded member in turn generates an additional five new coded affiliates for the initial recruiting affiliate and with at least one bid pack commission mandatory upon sign up and this counting as one of the initial ten sales commissions are paid out on all coded affiliates (being paid to uplines), mechanics wise I can't help but note the probability of One Penny More degenerating into a simple 'recruit as many affiliates with a $49 bid pack purchase as you can' income opportunity.
That said, with a legitimate preferred customer option how One Penny More functions is entirely dependent on whether or not the company's affiliates concentrate on recruiting new affiliates or customers.
One easy test for anyone looking at signing up as a One Penny More affiliate is to ask their upline how many preferred customers they have vs. personally recruited affiliates.
If the numbers are skewed heavily (or even marginally) towards recruited affiliates, then you've probably got your answer as to how One Penny More is functioning "under the hood". More importantly though, the answer will also reveal what you'll find yourself having to focus on should you join the company as an affiliate.
In that, you're either going to be joining a company that is based on a genuine retail business vs. just being one big giant recruitment game.