NuChoice International: Variable retail prices?

Founded in 2002, NuChoice is the continuation of John and Catherine Edwards work in the cosmetics, health and nutrition industry.
Going back to 1982, the Edwards (photo below) launched their own cosmetics company. Reportedly, in five years this business was making $50 million a year in sales.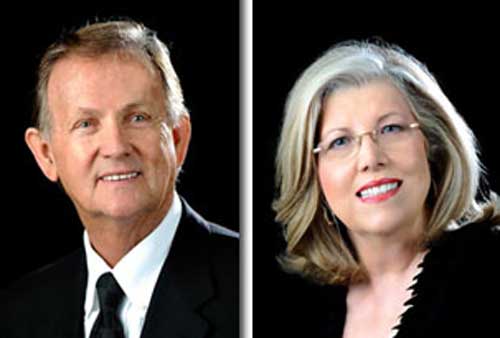 Then, and I'm not entirely sure why, in 1992 the Edwards abandoned this company and joined a direct sales 'nutritional and skin care company'.
In 2002, they launched their own MLM company, NuChoice. NuChoice combined the last thirty years of direct sales experience the two had between them and brought together products the couple were familiar with.
Today we're going to take a look and review the NuChoice business opportunity.
The NuChoice Product Line
The NuChoice Product Line can essentially be broken up into three categories; nutrition, skin-care and weight management.
The Edwards commissioned Lee Cowden, M.D. to assist them in the development of nutritional products that would consist of only the most bio-available, hypo-allergenic, and purest nutrients available. Dr. Cowden is board certified in internal medicine, cardiovascular disease and clinical nutrition.

Dr. Cowden has authored numerous books, abstracts and articles on cancer prevention including: 'Longevity' and 'An Alternative Medicine Definitive Guide to Cancer'.
I'm not too sure on Dr. Cowden's credentials, but my red flags do inevitably go up everytime I hear someone claiming to be able to cure cancer via alternative medicine.
If that's the mindset guiding the formulation of NuChoice's products, I'd be investigating thoroughly any NuChoice product I was interested in taking (and please don't think this stuff is going to cure your cancer or treat it!)
Nutrition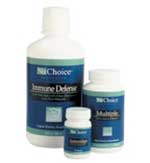 NuChoice's nutrition products seem to mostly target the heart and cardiovascular regions in particular. Other areas of nutrition covered include multi-vitamins, the immune system, antioxidant supplements, concentrated green tea, liver detox, a progesterone (steroid hormone) cream and Indian Silver (muscle and joint pain oil).
Skin Care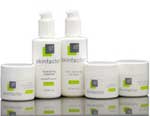 Nuchoice's skin care products include
hydrating cleaner
foaming cleanser
skin refining tonique
anti wrinkle serum
renewal enzyme peel
vitamin c serum
cellular moisturizing cream
night repair creme
hydrating oil
Weight Management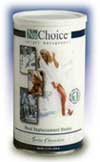 NuChoice has one flagship product in the weight management area and it's what they call a 'meal replacement shake'.
Basically you eat normally on one day and then use the meal replacement shake the next day. You then alternate between the two each day until you've met your target weight.
You can get a more indepth detailed description on NuChoice's product range over at their website. I had a bit of trouble with the navigation menus (clicking the 'show selected items' box for example returns no results), but I found the best way to navigate it was to use the drop box and select the different product categories.
Clicking 'next' seems to mangle the results and display a mishmash of products so keep that in mind to.
Note: There is also a software anti-virus division of NuChoice which I believe is currently in pre-launch. No you didn't read that wrong, NuChoice are branching out into computer software via a monthly subscription anti-virus package called Emmunize.
Given that Emmunize has its own compensation plan and is essentially being launched as an independent opportunity I haven't included the product here as part of NuChoice. I will revew Emmunize separately at a later date and update this area when the time comes.
At the time of publication Emmunize is viewable on the NuChoice online storefront (for $6.99 for a 1 computer license or $7.99 for 3 computers). For some reason however you cannot access the product area on the NuChoice website without a login and password.
The NuChoice Compensation Plan
Update 20th September 2013 – NuChoice have recently updated their compensation plan and have adopted a matrix based business model. You can read a full review of NuChoice's new compensation plan here.
/end update
The NuChoice compensation plan utilises a unilevel compensation plan payout structure.
This means that for every new NuChoice distributor or preferred customer you enrol, they are placed in your organisation in a leg directly underneath you.
For preferred customers naturally the leg will only ever be one level deep but for distributors, as they enroll people themselves your unilevel will expand vertically (a new level per person enrolled).
A unilevel organisation is unlimited levels deep and wide, depending of course on how many retail or preferred customers and distributors you have in your downline.
NuChoice Membership Ranks
Several components of the NuChoice compensation plan are determined by your NuChoice membership rank. The membership ranks and their applicable qualifications are as follows;
Sales Representative – Enrol for $25 and sign a Distributor Application
Sales Manager – Meet the monthly minimum autoship requirement ($45) and maintain 2 personally sponsored active distributors
Director – Meet the monthly minimum autoship requirement ($45) and maintain 3 personally sponsored active distributors
Regional Director – Have $100 a month on personal autoship, 4 personally sponsored active distributors and $2000 monthly group volume in your unilevel organisation
National Director – Have $100 a month on personal autoship, 7 personally sponsored active distributors and $15,000 monthly group volume in your unilevel organisation
International Director – Have $100 a month on personal autoship, 10 personally sponsored active distributors and $30,000 monthly group volume in your unilevel organisation
Diamond Director – Have $100 a month on personal autoship, 15 personally sponsored active distributors (2 of which must be qualified International Directors), and $150,000 monthly group volume in your unilevel organisation
Retail Commissions
Although NuChoice do set recommended retail prices for their products, distributors are able to set their own prices.
Retail commissions are only available to customers you sell NuChoice products to who don't sign up as preferred customers or distributors themselves.
NuChoice's retail commission is the direct difference between the wholesale price of their products and the retail price you sell the product for.
Preferred Customer Commission
Preferred customers create an account with NuChoice and in turn receive a 15% discount on each order made, or a 20% discount if they opt in for a monthly autoship order (autoship is $45 a month worth of product).
As a NuChoice distributor who enrols a preferred customer or new distributor, you will receive a 30% commission on their order.
If someone you've enrolled enrols a preferred customer (2nd generation), you receive a 5% commission on their order.
I'm not entirely sure how the customised pricing works here, but I'd assume that distributors are only able to set their own pricing when it comes to retail sales, not  preferred customer sales.
Unilevel Commissions
The monthly residual commissions paid out on the income of your enrolled distributors. The unilevel commissions pay out eight levels deep, according to your NuChoice membership rank.
These payouts are as follows;
Sales Representative – 5% on level 1 and 8% on level 2
Sales Manager – 5% on level 1, 8% on level 2 and 10% on level 3
Director and higher – 5% on level 1, 8% on level 2, 10% on levels 3 and 4, 3% on level 5 and 2% on level 6-8
Fast Start Bonus
The Fast Start Bonus is triggered each time a NuChoice distributor sells a Fast Start Pack ($299).
The Fast Start Bonus is a one time commission paid out at $100 per Fast Start Pack sold.
To qualify for the Fast Start Bonus, NuChoice members must they themselves have bought a Fast Start Pack.
Matching Bonus
NuChoice pays out a percentage matching bonus based on the Unilevel commissions of your sponsored distributors. The Matching Bonus percentage paid out is dependent on your NuChoice membership level and is as follows;
International Director – 15%
Leadership Bonus
The Leadership Bonus is an additional percentage commission paid out an infinite level down your unilevel organisation. The percentage paid out is dependent on your NuChoice membership rank and is as follows;
Regional Director – 1%
National Director – 2%
International Director – 3%
Diamond Director – 4%
Leadership Fast Start Bonus
In addition to the regular Fast Start Bonus outlined above, NuChoice members of rank Regional Director or higher qualify for an additional Leadership Fast Start Bonus. This bonus is paid out as follows;
Regional Director – $100
National Director – $105
International Director – $110
Diamond Director – $115
Joining NuChoice International
For those wishing to join NuChoice International, there are 2 basic options;
You can sign onto the company as a Sales Representative for $35 or
Purchase a Fast Start Pack for $299 ($420 retail product value)
Note that joining NuChoice International as a Sales Representative makes you ineligible to receive Fast Start Bonuses (unless you purchase a Fast Start Pack yourself at a later date).
Conclusion
With a strong retail product offering you'd want to hope that NuChoice's compensation plan similarly had a strong retail focus, but to be honest it's a bit hit and miss.
The retail commissions are there of course but, whilst the variable retail pricing sounds interesting, with the dawn of internet marketing I believe it's effectively going to muscle out new members of NuChoice.
If I joined the company today there's no doubt a group of well established NuChoice distributors already advertising the product range over the internet. These established marketers can no doubt afford to take a greater hit in profits than me, as a new Sales Representative, would be able to.
Thus if I want to compete I've got to compete with them on price. In effect, that limits me strictly to the local market but even then, anyone with an internet connection can jump online and see what NuChoice products are going for on the internet.
Good luck conducting repeat business if someone jumps online and see they can get the exact same product shipped to them cheaper from another distributor.
On top of this you've also got the preferred customer discount which, whilst it does offer a 5% greater discount for autoship orders, isn't mandatory.
Even though I'm able to set my own retail prices as a NuChoice Distributor, I'm still directly competing against the company, who offer a flat rate 15% commission to anyone who signs up as a preferred customer.
Yes I still get the commissions but the 15% (20% with autoship) discount greatly negates the supposed benefit of being able to set my own retail profit margins.
This then leaves us with the autoship game, which whilst it does provide a decent enough paycheck (you only have to reach the rank of National Director, which has no group volume requirements), you're locking yourself out of the Leadership Bonus and Leadership Fast Start Bonus.
These two bonuses are quite considerable if you're serious about sticking with NuChoice for the long-term and growing your organisation.
Of course sales wise this brings us back to problem number one and competition. Compromising, I'd say your best bet would be to forget about pure retail altogether and steer the muddy waters between balancing preferred customers and recruited distributors.
Obviously autoship alone isn't enough so you'd probably want to get them using the vitamins or something they're going to use regularly (the nutrition products) and hope that your customers find value enough in the other products and make additional purchases.
Not straight forward retail sales but not straight forward recruitment either.
If NuChoice got rid of the variable retail prices its distributors are able to set for themselves we'd probably see a much more even playing field for new members, but with NuChoice launching back in 2002, this probably isn't going to be happening anytime soon.
It's a novel concept but ultimately dictates the manner in which new members have to try to compete with older well established NuChoice distributors.
This in turn will no doubt hamper your efforts to grow your organisation as not everyone you recruit is going to be up to this challenge.