NexusICO Ponzi collapses, withdrawals disabled

The NexusICO Ponzi scheme has collapsed.
Withdrawals have been disabled and NexusICO has locked down its social media profiles.
From what I've been able to piece together, on or around April 20th NexusICO's website went down.
NexusICO affiliates were able to log in again on or around April 26th, only to realize withdrawals had been disabled.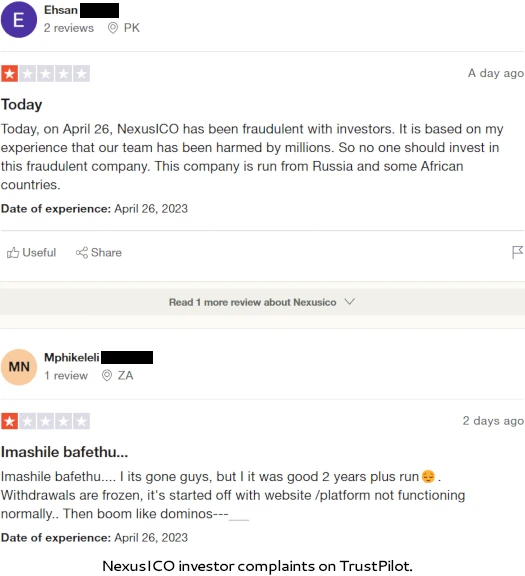 As I understand it NexusICO withdrawals remain disabled. NexusICO's exit-scam ruse appears to be unspecified "maintenance".
In what appears to be an attempt at keeping new investment rolling in, NexusICO's website is still up.
NexusICO is still updating its social media profiles, however commenting on every platform except YouTube has been disabled.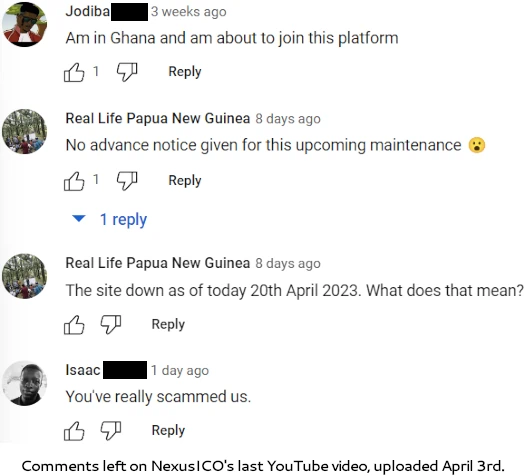 NexusICO was a Boris CEO Ponzi scheme that originally targeted French speakers and south-east Asia. NexusICO recruitment outside of Africa however has long-since collapsed.
At the time of its collapse, the vast majority of NexusICO bagholders are from Ghana.
SimilarWeb tracked ~24,000 visits to NexusICO's website in March 2023. 97% of that traffic is pegged to Ghana.
Total NexusICO victim numbers and how much they've lost is unknown.