Network Empire Review: SEO, websites & monetization

SEO has been a bit of a rollercoaster these last few months. Recently Google busted several blog linking networks and have made some advancements in the way they detect dodgy link practices, along with major changes to their anchor-text evaluations.
While the dust is still settling, the SEO industry is currently in quite possibly experiencing the largest amount of experimentation the sector has seen in years.
If the above makes little sense to you, think of SEO like a car and then imagine someone telling you that what you've been putting into your car doesn't work anymore (or won't work as well). They're also not going to tell you what to replace it with.
Oh, and you can no longer drive on roads anymore.
That's a basic analogy explaining the magnitude of the most recent changes made over the past few months in SEO. With that in mind, it might seem like a strange time to be joining a MLM company with SEO at its core.
Nonetheless, read on for a full review of the Network Empire MLM opportunity.
The Company
Network Empire claim to be based in Kolkata in India with a 'technical support office in Hamilton, New Zealand'.
India:

DC/9 Shastri Bagan
Baguihati, Kolkata 700059

New Zealand:

247A Cambridge Road
Hillcrest, Hamilton
New Zealand 3216
As for who owns or operates the business, there is no information on the Network Empire providing any details of company ownership.
The domain networkempire.net (not to be confused with networkempire.COM, which appears to be a marketing website), was registered on the 28th June 2011 however the registration information is set to private.
Further research has revealed that the CEO and owner of Network Empire is a one Mr. Rajesh Chatterjee. Chatterjee appears to be based in New Zealand with the technical side of the business being run out of India.
Chatterjee seems to have somewhat of a history in online marketing and has been a member of various MLM companies. The most prominent of these is probably Dubli, a penny auction MLM company that has floundered in several markets for a few years now without gaining any real traction.
This appears to be Chatterjee's first attempt at running a MLM company.
The Network Empire Product Line
Network Empire sell websites to their members. These websites are made to order with a four-week lead time and can be operated by the purchaser or managed by Network Empire and added to a global profit pool.
Websites independently managed serve as the retail component of the business and the websites managed by Network Empire are monetized by the company with the earnings generated by the websites shared amongst members.
Monetization methods Network Empire use include Adsense, ClickBank, MaxBounty, private banner ads and in-text links.
The Network Empire Compensation Plan
Network Empire monetize the member owned websites they manage and share out the profits of these efforts amongst members. In addition to this Network Empire also offers out recruitment commissions to their members.
Website Commissions
Each membership to Network Empire comes with 2 websites and website commissions are paid at a fixed rate of $10 monthly for the first 3 months and $20 each month thereafter for 3 years.
Note that this monthly commission is per membership fee paid and not per website (2 websites together pay out the monthly commission).
Network Empire advertise their website commissions as paying out a '577% (ROI) in 3 years and 3 months'.
Recruitment Commissions
In addition to website commissions, Network Empire also pay out several recruitment commissions.
10% of the website commissions are paid down on four levels ($1 for the first 3 months and $2 for 3 years thereafter)
$10 per every personally recruited customer  and $1 down an additional three levels (members your personal recruits recruit and so on and so forth)
Recruitment bonus of $10 (for the life of your website commissions) per month for every 5 new members signed up
Recruitment bonus of $50 for signing up three new members between the 1st-10th, 11-20th or 21st-31st days of any given month
Joining Network Empire
Membership to Network Empire is a fixed fee of $135 and comes with 2 websites (members can manage them themselves or let Network Empire do it).
There is no limit on the amount of memberships (websites) members can purchase.
Conclusion
As far as managing your own websites that you purchase from Network Empire, there aren't any problems I can see with that. You pay them a fee, they design two websites for you and what you do with them is then up to you.
When we consider the 'let us rent your website' option, things start to look a bit dodgy.
For starters, the fixed monthly website commissions you earn aren't tied directly to your website. If your website(s) that Network Empire is managing for you isn't profitable, you still get paid.
Thus in actuality the $135 membership fee functions more as an investment buy-in with the $750 guaranteed commissions effectively becoming a return on the initial $135 investment.
Network Empire themselves acknowledge this effective investment by expressing the $750 commission as a 577% ROI paid out over 3 years and 3 months.
With nothing to be done on the member's behalf other than handing money over to Network Empire, pretty much this side of the business operates as a passive investment opportunity offering a 577% ROI over 3 years.
The recruitment commissions are tied into the sales of websites but with no differentiation between investments and 'let me manage my own website' retail sales, there's a huge question mark over the legitimacy of the payouts too.
In fact, I'd even go so far as to argue that the presence of the passive investment opportunity coupled with the recruitment commissions paid out pretty much alone raises some huge red flags with the Network Empire opportunity.
And we haven't even looked at the websites yet.
Network Empire's websites are based on the WordPress platform with the company providing several examples of monetized blogs they have designed.
By clicking on a few examples, it's easy to see that the websites Network Empire design are thin-content made-for-Adsense sites, all utilizing the same WordPress theme.
Furthermore it appears that Network Empire are using their websites to form a blog link network to boost their search engine rankings (most of the sites link to survey-based domain(s) (presumably owned by Network Empire) that have nothing to do with the topic of the websites the links feature on).
As a SEO strategy, blog link networks are extremely risky at the moment with several high profile blog link networks being de-indexed by Google last month.
That aside, I picked some random portfolio blogs Network Empire list and the search engine ranking results were pretty underwhelming. The company seems to be targeting exact match domain names and filling them with thin content websites and stuffing them with contextual links to their other websites and third-party advertising.
These kind of websites typically rely on search engines to obtain traffic as they offer little value to attract non-search traffic or retain long-term readers.
To test the SEO skill of Network Empire, I ran some of their portfolio websites through a search engine rank checker (the target keywords are in brackets):
holidayinndeals.net ("holiday inn deals") – does not rank on first 10 pages of Google for search term
multilevelmarketingsoftware.org ("multilevel marketing software") – page 3
cheapflights-canada.com ("cheap flights canada") – does not rank on first 10 pages of Google for search term
earnmoney-onlinesurveys.com ("earn money online surveys") – does not rank on first 10 pages of Google for search term
overstockcoupon1.com ("overstock coupon") – does not rank on first 10 pages of Google for search term
As you can see, with the exception of multilevelmarketingsoftware.org, the results are pretty indicative that Network Empire's websites aren't ranking.
Sure, these websites might attract a few long-tail keyword searching visitors, but when you register keyword specific domains like in the above examples, generally you're hoping to rank for those specific keywords.
No search ranks means no traffic, which of course in internet marketing means no revenue.
No revenue and the passive investment side of Network Empire really starts to come to the forefront. It's all very well to claim you sell SEO optimized websites to clients and base your shared revenue off that, but if those sites aren't even ranking and meanwhile you're offering fixed guaranteed monthly returns to said clients… then you've got a problem.
Finally, given that SEO marketing is pushed so heavily on the Network Empire website, I thought I'd see if Network Empire themselves rank for the term "network empire".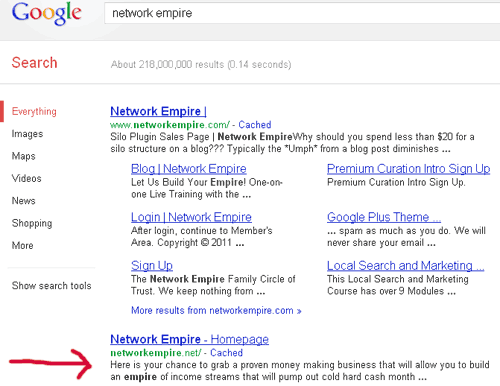 They do… but come in at second to the .com version of the domain name (which was only registered 3 months before the .NET variant).
Surely whether or not Network Empire can rank number 1 for their own name and not be confused with another marketing company would have been a major consideration when deciding on a company name?
For a MLM company that claims to 'know how to make money from the Internet economy', this seems to be a pretty major blunder. And when you combine with a questionable investment scheme and no less than four recruitment based commissions… it doesn't exactly inspire much confidence in the Network Empire opportunity or its long-term viability.