Money Tel Review: Cell airtime recruitment scheme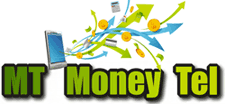 Money Tel are based in Zimbabwe with the company's website providing a corporate address in the country's capital, Harare.
No specific information is provided on the corporate structure of the company, however the provided Harare address belongs to "Fagnol Investments" who appear to be the parent company of Money Tel.
A LinkedIn profile for Money Tel exists, naming a "Takwana Hove" as the CEO and founder of the company.
I wasn't able to find an MLM history for Hove, however the Money Tel's LinkedIn profile states that
the Co-Founders of Money Tel (have) combined years of experience in Direct Sales, Retail, Multi-Level Marketing (MLM) and Customer Services.
No further information is provided.
Read on for a full review of the Money Tel MLM business opportunity.
The Money Tel Product Line
Earn a portion of what people do every day, and that's paying for more airtime. Making cents from thousands makes a lot of sense and cents!
From the above marketing copy (taken from the Money Tel compensation plan documentation), Money Tel apparently market cell phone airtime.
That said, I was unable to find any specifics on costs, plans or what networks they use, with Money Tel affiliate membership providing a fixed amount of airtime.
Retail sales of airtime are mentioned in Money Tel's compensation plan material however no specifics are provided, with the company simply stating
Retail: The foundation of the opportunity is Retail Sales. direct retail sales allows you to increase the volume of airtime used within your network.

As an MT Money Tel Independent Distributor, you can sell
products to Retail Customers personally.
Again, no mention of service providers, costs or plans are mentioned.
The Money Tel Compensation Plan
The Money Tel compensation plan offers affiliates retail, recruitment and residual commissions via a unilevel compensation structure.
Retail Commissions
Retail commissions are offered on retail sales of airtime by Money Tel affiliates, paid out as follows:
Basic – 0.25%
Junior Manager or higher – 0.5%
Recruitment Commissions
Money Tel pay out commissions on the recruitment of new affiliates as follows:
Basic – $1
Junior Manager – $2
Senior Manager – $4
Promotion Commissions
Upon a recruited affiliated reaching one of Money Tel's three additional affiliate ranks above Senior Manger, the affiliate who recruited the affiliate paying for a promotion receives a commission.
How much of a promotion commission is paid out depends on the affiliate membership level being upgraded to:
Executive Manager – $4
Director – $8
Executive Director – $10
Residual Commissions
Residual commissions in Money Tel are paid out using a unilevel compensation structure. A unilevel compensation structure places an affiliate at the top of the structure, with every personally recruited affiliate placed directly under them (level 1):

If any level 1 affiliates recruit new affiliates of their own they are placed on level 2 of the original affiliate's structure. In turn, if any level 2 affiliates recruit new affiliates they are placed on level 3 and so on and so forth.
Using the above unilevel compensation structure, Money Tel pay out commissions on monthly sales volume of recruited affiliates, paid out down four levels of recruitment:
Basic – 0.25% on level 1, 1% on levels 2 and 3 and 0.5% on level 4
Junior Manager – 0.5% on level 1 and  1% on levels 2 and 4
Senior Manager – 0.5% on level 1, 1% on level 2 and 1.5% on levels 3 and 4
Executive Manager, Director and Executive Director – 0.5% on level 1, 1% on level 2 and 2% on levels 3 and 4
Leadership Rewards
The Money Tel compensation plan material mentions a car bonus, revenue sharing pool, medical benefits "and much more", however no further specifics on any of these bonuses and commissions are provided.
Joining Money Tel
Affiliate membership to Money Tel comes in three initial levels:
Basic – $10 upfront, $12 a month thereafter
Junior Manager – $20 upfront, $18 a month thereafter
Senior Manager – $40 upfront, $25 a month thereafter
Affiliates can then "upgrade" their rank to either Executive Manager, Director or Executive Director by paying more to Money Tel each month:
Executive Manager – $30 a month
Director – $50 a month
Executive Director – $70 a month
Conclusion
You don't need to sell anybody on our product since practically the entire world knows what a cellphone is. But in order to make that cell phone work, users need a distributor to provide them with airtime. That's where you come in.

Don't hesitate or else your next door neighbor may just beat you to this great opportunity.
There's noticeably a distinct lack of detail on anything not related to recruitment of new affiliates and the resulting commissions generated on the Money Tel website.
For starters, no specific information is provided on the airtime the company (re)sells. I don't know what the cell phone service market is like in Zimbabwe but I'd have thought wanting to know who is providing the service (it's not Money Tel) is a universally important factor in switching service providers.
As far as I could see, Money Tel do not provide this information. Nor do they provide any specifics as to the terms of service their airtime is provided under, including specific costs and service provider contract details.
What is focused on are the commissions paid out on the recruitment of new affiliates (red flag), and the monthly residual commissions paid out on the affiliate membership sales and continued monthly payment to Money Tel for airtime.
There is no limit to the number of people you can sponsor/introduce directly. The more people you personally introduce the more money you will make.
Putting aside the recruitment commissions paid by Money Tel for signing up new affiliates (which alone drag Money Tel into pyramid scheme territory), one could make the argument that affiliates are purchasing airtime, however then the question of internal sales vs. revenue sales comes into play.
The lack of clarification on retail or specific details on the airtime being sold reveals that Money Tel are relying on the income opportunity to generate revenue (via affiliate purchases) rather than retail. No retail customers are going to purchase airtime without being provided even the most basic of information (service provider, cost, contract details etc).
Furthermore, every income example in the Money Tel compensation plan material ignores retail and exclusively focuses on revenue generated by recruited affiliates who recruit affiliates of their own: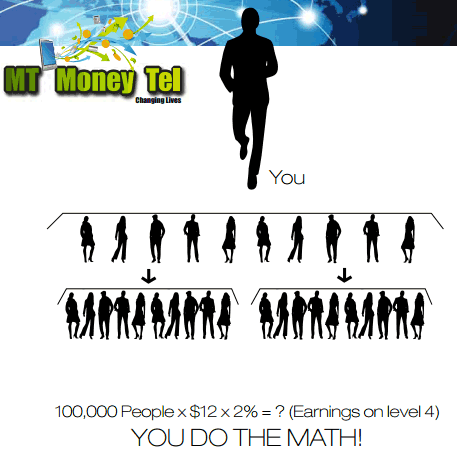 Put all of this together and you've got a recruitment scheme where affiliates are paid for recruiting new affiliates and also the monthly fees they pay to participate in the scheme (autoship should never be a required purchase to qualify for commissions).
Affiliates can increase their commissions by paying more money into the scheme each month, which in turn increases the commissions paid to their uplines and as such will no doubt be heavily pushed by affiliates participating in the scheme onto those they recruit.
The end result? Product value goes out the window and you're left with affiliates paying a monthly fee, only because it qualifies them to earn commissions on those they've recruited (down four levels) who also do the same.
Adding to all of this is that Money Tel also provide affiliates who have recruited a minimum of 3 new affiliates airtime loans.
Money Tel offering up to $100 in airtime credit that must be paid back with a 15% interest rate within a month (or airtime top-up).
What happens if an affiliate cannot make the repayment is not disclosed.
What's really worrying about this is that Money Tel pay out commissions on these loans. So in effect, you have the company lending affiliates money and paying a commission on the loan, with the expectation the affiliate will pay the company back the loan + 15% interest.
The recruitment commissions and complete lack of focus on retail sales are bad enough, introduce a 15% interest loan scheme into the mix and there's some real issues with Money Tel (as an MLM company) that need to be carefully considered.