Money For Causes Review: Weekly fee pyramid scheme

Money For Causes went into prelaunch a few weeks ago and is headed up by owner Amy Jacobellis.
Money For Causes does not provide their location on their website, however the company's website domain ("moneyforcauses.com") was registered on the 18th of December 2012 and provides an address in the US state of Texas.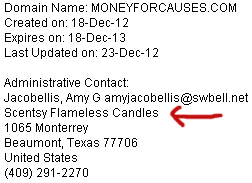 Somewhat curiously, Jacobellis lists the name of the MLM company Scentsy in the Money for Causes domain registration (image right), indicating a possible relationship between the two companies.
Scentsy is an MLM company founded in mid 2004 who market "scented wickless candles and decorative ceramic warmers". The company is also a member of the Direct Selling Association (DSA).
Jacobellis isn't listed as an executive on the Scentsy website, however in 2009 she credited herself as "working at" the company:

In addition to "working" for Scentsy, Jacobellis is also an affiliate of the company, maintaining a downline under the "The Young and the Wickless" team name.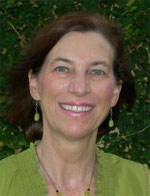 On her personal website, Jacobellis (photo right) openly focuses on the recruitment of Scentsy affiliates, asking readers to contact her to get around Craiglist's rules on recruitment advertising for any opportunity that cost money:
We should all be advertising and finding people who could easily sell Scentsy to their friends. I am looking for what I call "repeat hosts and hostesses."

Some of those repeat hosts and hostesses will turn into consultants, and you can start building your team.

I found all my recruits from advertising, and I personally have signed up only 13 consultants. Now my team consists of 192 consultants.

If you can just find a few recruits and get them into the habit of advertising daily, your team will grow, I promise!

If you go to RESOURCES on your workstation, and click on "Consultant Spotlight," and go to the very last page, you will see a map of where the Scentsy Consultants are.

Small towns are a great place to advertise, consultants in small towns do great. Think about advertising where we don't yet have enough consultants.

Scentsy lets us advertise for recruits, but not advertise our products for sale. And on Craig's LIst, we can't advertise for anything that costs money to join, so this is kind of in-between.

Small towns are free, larger towns cost $25. I personally don't want to pay, because the ad will need to be reposted daily, and there are so many towns that are free.

I posted the ad under "retail/wholesale." You can put it under any category you think is best. You should try to re-post the ad daily.

You can't post on Craigslist for actual recruiting, because it costs money to join, and craigslit (sic) doesn't allow those ads. I had to make it into a job that doesn't require any investment to make it follow Craig's list rules.

Change the wording for each ad you post. I just add a word at the beginning or change the orders of the sentences. Otherwise, Craig's list will flag you and take your ad down for posting the same ad.

They may also say you are posting too fast. Ask me how to get around this.

Although I am just advertising for them to be my host, I am hoping that as we form a relationship and they start selling, they will want to become a consultant.
Money For Causes appears to be Jacobellis' first MLM venture on the admin side of things and on the company's website she explains why she started it:
Before I developed this program, I was already making money passively from a couple of network marketing programs.

In late 2012 I decided to break down some of the compensation plans out there and see how many people it would take to earn $5,000 to $10,000 a month.

I NEEDED to make that much, to keep my kids in college and graduate school. In the spring of 2012, my husband was forced to take a job that paid 1/3 less than his previous job.

Causes was started as a way to raise money for college. And the next stage, graduate school, and the next stage, paying for student loans.
Read on for a full review of the Money For Causes MLM business opportunity.
The Money For Causes Product Line
The Money For Causes website is heavy on the income potential claims and commissions available to affiliates but unfortunately contains little to no information about any retailable products or services.
As far as I can tell subscription (membership) to the company itself appears to be the only product Money For Causes are offering:
When you become a subscriber, you can earn commissions on four levels, or tiers.

You will pay for your $10 or $40 weekly subscription, but you will also be paid on every subscriber who is in your affiliate organization, 4 levels deep.​
Bundled with Money For Causes membership appears to be some sort of marketing resource, which the company claims will teach new affiliates 'exactly how to find and enroll subscribers'.
The Money For Causes Compensation Plan
The Money For Causes compensation plan revolves around members paying either $10, $40 or both a week in membership fees, with these fees being split amongst the existing members who recruited them.
Both membership fee commission structures pay out on four levels of recruitment using a unilevel compensation structure.
A unilevel compensation structure places an affiliate at the top of the structure, with every personally recruited affiliate placed directly under them (level 1).
If any of these level 1 affiliates recruit members of their own, these members are placed on level 2 of the original affiliates structure. If any level 2 members recruit new affiliates, they are placed on level 3 and so on and so forth.
Using the above compensation structure, Money For Causes pay out down four levels of recruitment as follows:
$10 a week membership fee
$5 weekly from level 1 recruits
$1 a week from levels 2 to 4 recruits
$40 a week membership fee
$20 a week from level 1 recruits
$5 a week from levels 2 to 4 recruits
Joining Money For Causes
Membership to Money For Causes is either free or paid.
Paid members must pay a weekly membership fee of either $10 or $40, enabling them to earn commissions as set out above.
Free members are also able to sell membership to the company, however they only earn on one level of recruitment (members they personally bring into the scheme).
Note that paid members free members recruit are not retail subscribers, they count as paid members with full access to the Money For Causes income opportunity.
Conclusion
Referring to Money For Causes as the 'best money making program in existence', Jacobellis tells prospective Money For Causes members that, apart from understanding a company's compensation plan, the only other thing they need to learn is 'how to get as many subscribers as you need to make the money you want'.
Unfortunately in MLM this equates to recruitment commissions which equates to Money For Causes being nothing more than a two level pyramid scheme.
You pay your $10, $40 or both a week, recruit others who do the same and get paid. No products or services are sold to retail customers.
The free membership option is no better, despite only paying out one level. The free membership option could be considered as a legitimate non-MLM single level affiliate program, however when you factor in that every recruited paid member can earn via the recruitment of additional paid members, it becomes evident we're in clear pyramid scheme territory here.
For someone who's been involved in network marketing since at least 2009 and is an "employee" and affiliate of an MLM company with DSA membership, it's sad to see Amy Jacobellis professing her participation in "passive" MLM schemes and trying to start her own membership based pyramid scheme.
Clearly Jacobellis is hoping that by starting her own scheme, she can build on her past "passive income" experiences:
If you follow all our lessons, you will reach the point where you are paid every week without even working any more.
Simply put, she should know better. Despite the company name, the only "cause" here appears to be Jacobellis' own hip pocket and those first few members that get in at the top.