Mannatech distance themselves from EmSquared

Part of EmSquared review last week saw me call out EmSquared for their claimed "100% transparency", but then failure to disclose that founder Sam Castor/Caster also founded their charity partner, MannaRelief.
As such the article was titled EMSquared Review: Mannatech charity opp spinoff? I thought that was pretty straight forward, seeing as Mannatech use the same charity. This information is available on the Mannatech website, although you'd be forgiven for missing it:

MannaRelief is an independent, nonprofit organization. It is not owned or operated by Mannatech, Incorporated.
Anyway, according to Mannatech, apparently we were "incorrect" in asking whether or not Castor's newly launched EmSquared was a Mannatech charity spinoff.
Yesterday, purely by chance and out of curiosity, I punched in a search string that appeared in my website statistics report. On the first page of results was a new press-release from Mannatech, published some 9 or so hours ago (at the time).
What caught my eye was this line:
Mannatech (Ozedit: promotional waffle spam removed) announces today that is has no affiliation with a new company EMSquared, Inc., founded by Sam Caster who created Mannatech in 1993 and severed ties with the company in March 2014.

Other websites have mentioned Mannatech when discussing Caster and EMSquared, and one site incorrectly referred to EMSquared as a Mannatech spin-off.
Given BehindMLM was the only site to mention the MannaRelief connection, they're obviously talking about us. Again, the headline clearly read Mannatech charity spinoff, so I'm not sure what the problem was there.
The reason Mannatech use MannaRelief, is because both companies were founded by Sam Castor/Caster (I'm just going to use Castor for the rest of this article).
Castor was CEO of Mannatech, until regulatory action against the company saw him resign. He was then banned from 'serving as a director, officer, or employee of Mannatech for five years'.
That ban expired in February of 2014 and a month later in March Castor founded EmSquared.
Castor still appears in Mannatech promotional videos as a "founder and visionary", however, and this was news to me, Mannatech's press-release reveals
On March 4, 2014, Mannatech issued a press release announcing that Caster had voluntarily chosen to end his consulting relationship with the company.
Huh?
Armed with this knowledge I went in search of this March press-release and sure enough – there it was.
COPPELL, Texas (March 4, 2014) – Mannatech (Ozedit: promotional waffle spam removed) announces that company founder, Sam Caster, has voluntarily chosen to end his consulting relationship with the company to use his skills to focus on his calling of caring for malnourished children throughout the world.
Now I've obviously found these press-releases from Mannatech once I knew of their existence, but how did I miss them when I perused the Mannatech website earlier this month for the EmSquared review?
That's easy.
Mannatech's website has a "latest news" section, but like the first paragraph of their press-releases, is little more than waffle spam: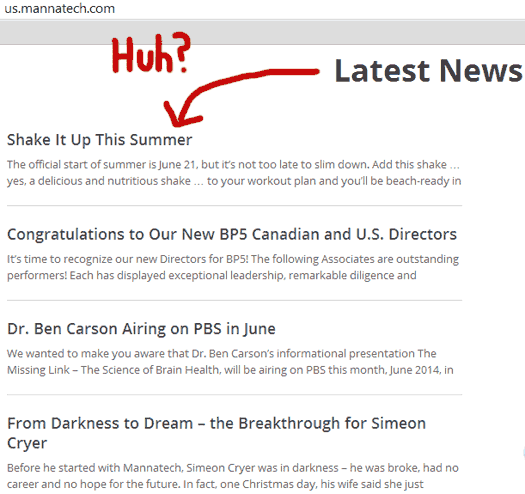 Affiliate marketing material is news now?
If you want to read actual news on Mannatech (and I only discovered this by wasting my time and clicking everything), you have to scroll all the way to the bottom of the website and click the tiny "investor relations" text.
This takes you to another subdomain website, where on the small menu to the right you need to click "news releases" twice… and then finally you are taken to a list of actual Mannatech news.
Note that these press-releases don't rank well in Google searches, because Mannatech syndicate them to the usual PR spam website (duplicate content). So unless you click through using the above method (or get lucky with an unrelated Google search like I did), finding news about Mannatech is a bit of a chore.
Mannatech's website does have a search bar, but punching in Sam Castor or Sam Caster turns up no results. Their news (the spam or the actual investor website news) is not searchable.
Note that the Mannatech investor site does have a "powered by Google" search bar, but here's what happened when I tried to use it: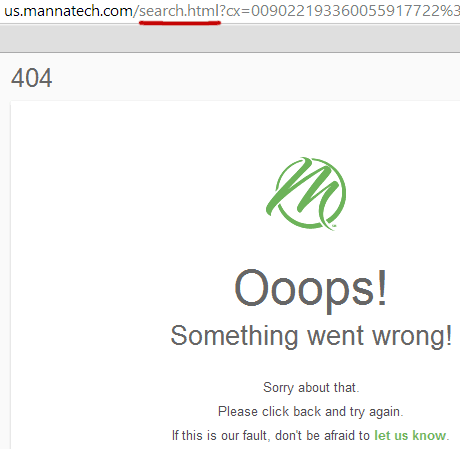 While I welcome Mannatech's disclosure re. Sam Castor and EmSquared, however I had to find out about it, I think they might want to look at how Mannatech disseminate news about the company.
Quite frankly it's currently a bit of a mess. Leave alone the issue of making corrections to statements that were never made.