LuLaRoe's gastric sleeve pressure group is next level creepy

While I'm aware of the common association of cultish tendencies within MLM companies, it's not something I tend to dwell on.
Extreme fans can be found cheering anything on, so I think definitively drawing a line between fanaticism and a cult is pretty difficult. And it's not made any easier by those inside or who have left often not willing or feeling unable to speak up.
A recent VICE documentary on LuLaRoe has shed light on a gastric sleeve pressure group within the company.
With compelling testimony from someone on the inside, this is some of the creepiest MLM related behavior I've ever come across.
For those unfamiliar with gastric sleeve surgery, 'the stomach is reduced to about 15% of its original size, by surgical removal of a large portion of the stomach'.
This reduces food consumption, with weight loss being the intended goal.
According to former consultant Courtney Harwood, she became aware of LuLaRoe's gastric sleeve group at a hotel dinner with co-owner DeAnne Stidham.
At the time Harwood was ranked Mentor, the highest obtainable LuLaRoe consultant rank.
According to Harwood, Stidham and her son were discussing splitting a meal.
Sensing confusion on Harwood's part, DeAnne purportedly explained;
The reason we split meals is because our stomachs are really small, because we've all had the gastric sleeve.
Then came the pitch.
As recounted by Harwood;
She goes, "You know my sister Lynnae coordinates it all.

Me and her will work with you. And you go to Tijuana, you have the gastric sleeve and then you can come back to my house the next day in California. Then we'll fly you home.
VICE's documentary includes bizarre footage of DeAnne Stidham appearing in what seems to be a testimonial video for the Mexican clinic.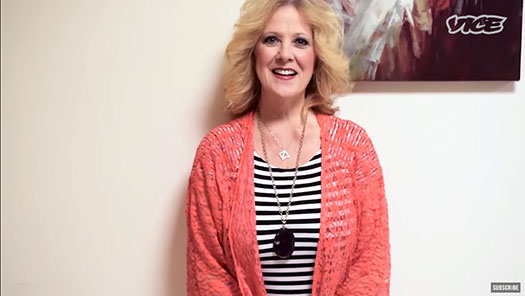 Further research reveals the clinic is named Obesity Not 4 Me and run by Dr. Alberto Michel.
In the testimonial video, DeAnne boasts about having "lovingly and excitedly brought down" eighteen surgery referrals.
After the hotel dinner, Stidham added Harwood to a private "Tijuana Skinnies" group chat.
According to Harwood, the group consisted of LuLaRoe consultant who had either gone down to the Mexican clinic, or were thinking of doing so.
Upon joining the group, Harwood states Lynnae Knapp began texting her every day.
Recalls Harwood;
Lynnae, I mean she was texting me everyday;

"Courtney we've got to get you on the schedule. I'm taking six people down there, we have room for one more… let's go and get (you) on the schedule.
Apparently Stidham and her sister referred to taking LuLaRoe consultants down for surgery as "the schedule".
A tearful Harwood recounts that having been otherwise comfortable with her appearance, the pressure on her to have the surgery left her feeling betrayed.
They had hyped me up to feel so beautiful, and I was looking in the mirror going "they're looking at me, and I'm fat… and I need to have this surgery to be like them".
Harwood eventually opted to try a weight loss balloon over the gastric sleeve.
Following an adverse reaction to insertion of the balloon however, it had to be taken out.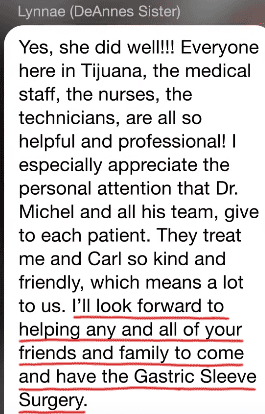 After disclosing removal of the balloon in the Tijuana Skinnies group, pressure from Lynnae resumed immediately.
I get a text from Lynnae … who said, "See I told you it wasn't gonna work. When can we get you down to Tijuana to have the gastric sleeve?"

And I was thinking to myself, "lady, I just about died."

But you don't say no. You do not say no.
Harwood fobbed Lynnae off for a few weeks by claiming she needed to heal.
Eventually however Lynnae stopped pestering her. Harwood was removed from the Tijuana Skinnies group shortly after that.
Harwood quit LuLaRoe in October 2017. She was the first Mentor ranked consultant to do so.
I… honestly… you have MLM company owners pushing gastric surgery onto their consultants – and for what?
I know LuLaRoe are big on social media marketing… but surely the surgery pressure couldn't have just been to enhance LuLaRoe consultants' marketing appeal? My god.
In a 2018 interview with Bloomberg, LuLaRoe consultant Stacy Kristina stated she
was told by DeAnne herself that she likes her leaders to be a size small or medium.
Another consultant revealed to Bloomberg that the surgeries cost $4000 but were booked for $5000. Lynnae purportedly pocketed the difference.
Whether or not LuLaRoe's Tijuana Skinnies group chat still exists is unclear.
Dr. Michel's Obesity Not 4 Me clinic appears to still be operational.
Note that there is no suggestion or implication of professional misconduct on their part.
VICE's documentary is titled "Why Women Are Quitting Their Side Hustle: Leaving LuLaRoe".
It was uploaded to VICE's official YouTube channel on May 22nd, 2019.
I recommend watching the whole thing, but if you want to skip to the gastric sleeve group stuff it starts 20 minutes in.