Likwel Ponzi scheme collapses, withdrawals disabled

The Likwel Ponzi scheme has collapsed.
In a post to Likwel's official Telegram channel on September 9th, the scam announced it was "forced to freeze the activity of our company for 2 years."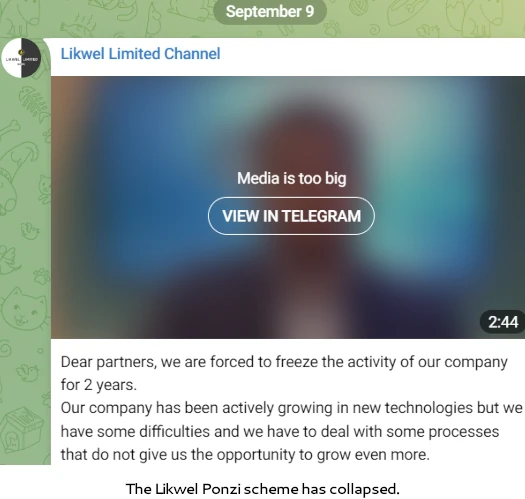 Instead of coming up with an elaborate story, Likwel kept its exit-scam simple;
Our company has been actively growing in new technologies but we have some difficulties and we have to deal with some processes that do not give us the opportunity to grow even more.
The Ponzi scheme did embellish on math though, going on to claim that only 18% of its investors loss money.
This is of course baloney. Like any Ponzi scheme, the majority of Likwel investors lost money.
Over the past few months, Likwel held a series of staged promotional events in Kazakhstan, Russia, Cyprus, France, Spain.
Likwel had been touting a Dubai event on September 20th.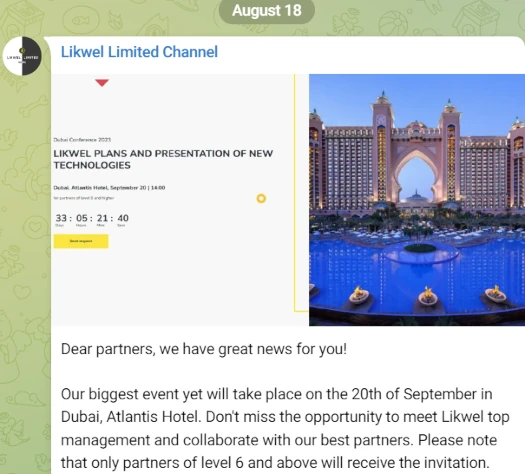 As part of its exit-scam, Likwel informed investors the staged event "will be postponed".
Based on traffic analysis by SimilarWeb, the majority of Likwel victims are believed to be from France (54%) and Poland (36%).
Traffic to Likwel's website stalled between July and August, which is likely the actual reason for the Ponzi scheme's collapse.
As reviewed here on BehindMLM, Likwel solicited investment on the promise of up to 2.25% a day.
The Ponzi scheme is believed to have been run by Russian scammers, fronted by Boris CEO Anton Kozlov playing "Hector Miles".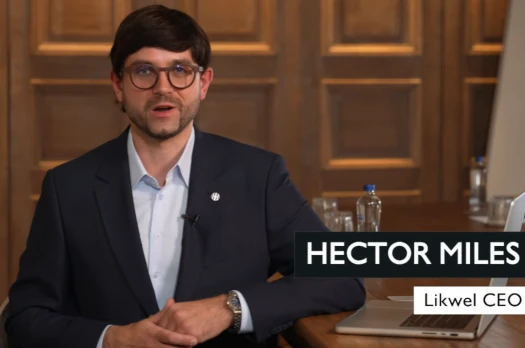 The Bank of Russia issued a Likwel pyramid fraud warning in December 2022. This appears to mark Likwel targeting investors outside of Russia.
Pending unlikely action by authorities, total Likwel victim numbers and how much they lost remains unknown.
Update 12th September 2023 – Likwel's website and social media profiles have now also been deleted.