Legalcare Review: Recruitment driven legal service

Claiming to be "the UKs fastest growing network marketing company", LegalCare is based in East Sussex and is headed up by CEO and founder Paul Careless (actual name).
Careless (photo bottom right) is billed as one of "the UK's best known entrepreneurs" on the LegalCare website, with his company bio stating that he's 'rapidly built and sold several successful businesses over the last few years' and 'excels at creating and executing disruptive business models'.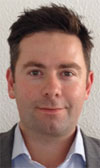 Examples of Careless' past business ventures include:
HenHeaven and The Stag Company (2001 – 2006, CEO and founder)
MoneyExpert.com (2006-2010, Marketing Director)
Aska (2011-2012, CEO and Founder)
Aska is short for "Aska Professional Limited" and uses the trading name "Right Solicitor" (rightsolicitor.co.uk).
Right Solicitor is an "ask-a-solicitor" Q&A website which claims to 'generate over 10,000 enquiries every month and continue to grow, month on month'.
On the LegalCare website, Right Solicitor is credited with  being 'the inspiration for the LegalCare model' and as far as I can tell, is Careless' first venture into MLM.
Read on for a full review of the LegalCare MLM business opportunity.
The LegalCare Product Line
LegalCare offer membership based legal services for 14 GBP a month or 150 GBP a year.
Describing the service, LegalCare state
for a small monthly subscription you can have access to Solicitors whenever you need them, from the small issues, to the life-changing ones.
Specifics on the legal services offered appear to be
"unlimited access to legal advice"
template legal documents
a will pack
document review service
family cover (5 people)
Should a member require additional legal services, LegalCare state that
in the unlikely event we were not fully able to help with your issue and you need to formally instruct a solicitor to deal with it, you will receive up to a 25% discount on our partner law firms' standard fees.
The LegalCare Compensation Plan
Being a membership based service, the LegalCare compensation plan pays out commissions based on the recruitment of new members and their paying of monthly or annual membership fees.
Commissions are paid out to LegalCare associates via a unilevel compensation structure, placing an associate at the top of a unilevel team. Any personally recruited members are placed directly under the associate (level 1), able to scaled an infinite number of positions wide.
If any level 1 recruited associates recruit new members of their own, they are placed on level 2 of the original associate's team. If any level 2 associates recruit new members, they are placed on level 3 and so on and so forth.
Commissions are paid out as a percentage of monthly membership fees (calculated pro-rata on annual membership fee payments), with the percentage paid out down three levels of recruitment:
Level 1 – 12%
Level 2 – 6%
Level 3 – 4%
After 100 memberships have been sold LegalCare associates receive an 'increase in (their) rate of commission', however no further information is provided in the company's compensation plan.
Joining LegalCare
Membership to LegalCare is 14 GBP a month or 150 GBP annually.
Conclusion
On its own, the LegalCare legal services provided are most definitely a retailable service. Unfortunately with the attached MLM opportunity, there appears to be no differentiation between LegalCare associates and customers.

LegalCare associates sign up for "free", but then must subscribe to the 14 GBP a month legal service. Whether you wish to be a customer or not the signup process and requirements are the same.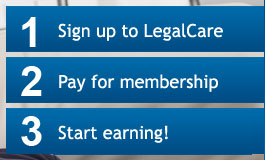 LegalCare simply the explanation of the signup process by reducing it to
1. Sign up to LegalCare

2. Pay for membership

3. Start earning!
The problem with this is that there's no differentiation between associates and customers (members who sign up for the service at a retail level and are not able to participate in the business opportunity).
Effectively LegalCare associates are paid to recruit new LegalCare associates, and whether they actually use any of the membership benefits is irrelevant to the company's compensation plan or commissions structure.
As a LegalCare associate you pay for monthly membership fee and you are paid a commission for signing up new LegalCare associates. If they sign up new LegalCare associate you earn even more money, paid out down three levels of recruitment.
With all commissions tied into company membership, commissions paid out on the recruitment of new members and recurring payment of membership fees, LegalCare fits the definition of a recruitment driven pyramid scheme.
Kind of ironic when you consider the niche LegalCare are operating in…